Dutchmen Sneak Past Team Mac Observer
12 April 2000 - Dan Knight
Out of nowhere, those sneaky Dutchmen* on the SETI@Netherlands team have edged past Team Mac Observer. As the SETI Checker chart below shows, those number-crunching Dutchmen (the black line) came out of nowhere - 45th place on March 24 - to edge past Team Mac Observer (orange) by less than 100 work units on April 11.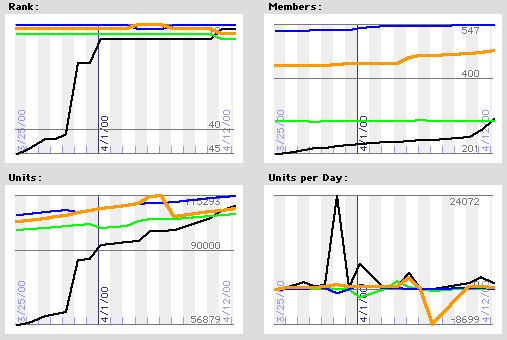 That's twice in one week we've been knocked down a level. Between losing our #1 member (see Team Mac Observer Dealt Major Setback) and the surprise appearance of SETI@Netherlands in the top 20, we could use some more help. If you'd like to help Team Mac Observer move up in the rankings, see SETI@home: Join a Team. (Except for Team Mac Addict, all the Mac teams in the top 50 have been pushed back a step or two over the past week.)

* Nothing personal. My parents and grandparents left the Netherlands for Canada in 1950, so my roots are about as Dutch as can be.
Recent articles about SETI@home
Links