Eccentrica Gallumbits Blows Past Team Mac Observer, Team BeOS
17 April 2000 - Dan Knight
I was looking forward to Monday morning and the chance to announce that of Team Mac Observer had again eked past Team BeOS.
It didn't quite happen, although we are currently within 2000 work units of Team BeOS.
Last Friday I looked at the twenty top teams, as well as those moving toward the top. Of Eccentrica Gallumbits (EG) I wrote:
Another new team with a stellar growth curve is Eccentrica Gallumbits (5 members, #39 this week). They entered the Top 100 just this week and have turned in as many as 14,500 units in a day. (The team name is a relatively obscure reference from Douglas Adams' Hitchhiker's Guide to the Galaxy series.)
Just how stellar a growth curve? See the chart below, in which EG appears in black: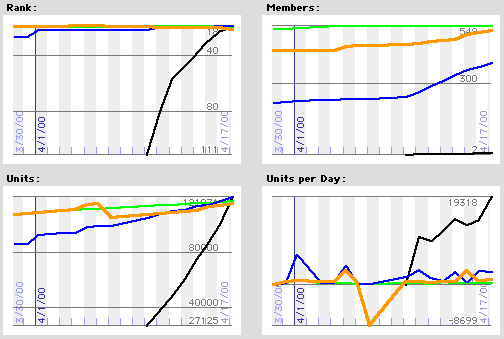 With just seven members today, they zoomed past almost 20 teams over the past few days to reach #19. Not bad for a team that only joined the Top 200 about a week ago!
As for Team Mac Observer (orange in the chart), we are still gaining on Team BeOS (green), although SETI@Netherlands (blue) is moving further ahead of us. I feel confident Team Mac Observer will climb past Team BeOS to regain #20 by the end of the week - unless another obscure team zooms past all of us like SETI@Netherlands did early last week and EG did over the weekend.

Recent articles about SETI@home
Links