Team Mac Observer Passes Team BeOS
19 April 2000 - Dan Knight
Thanks to everyone who has been working with Team Mac Observer (TMO) and a number of recent additions to the team, we've moved past Team BeOS in the club ratings.
As the chart below (generated by SETI Checker) shows, our total number of work units (orange) has been slowly closing on Team BeOS (blue) since the day a key member left TMO. thanks to a lot of new units posted overnight, we shot past Team BeOS several days earlier than anticipated.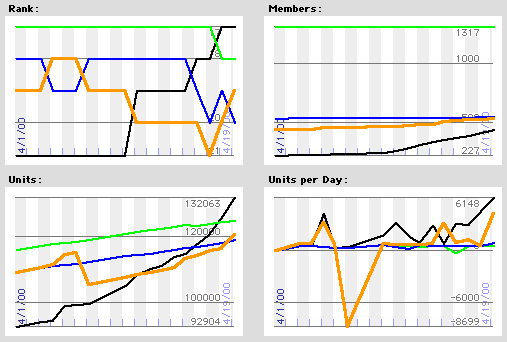 The SETI@Netherlands (black) team continues to roar past one team after another, moving to 17th place in the club standings. Their next goal is to pass SETI@Home Poland, which should take place in the next few days.
As for Team Mac Observer, our next target is Team Lockergnome (green), which we are slowly closing on. Yesterday's infusion of work units will definitely help us get there, but it could take a week or two before TMO moves up to #18.

Recent articles about SETI@home
Links