The PowerBook Duo 210 was the first dockable Mac. By eliminating the internal floppy drive (as Apple had done with the PowerBook 100) along with other size- and weight-saving measures, Apple got it one down to 4.2 pounds.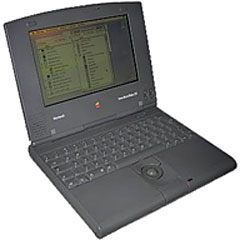 Because of its design, PowerBook Duos cannot use a floppy drive, external hard drive or other SCSI device, connect to an external display, or be used on a network without a dock.
The Duo sports a 4-bit passive-matrix screen similar to the 6.8 lb. PowerBook 160.
Details
Acceleration
Online Resources
Cautions
Keywords: #powerbookduo #powerbookduo210
Short link: http://goo.gl/DEKXaR
searchword: pbduo210