MacBooks Drive Mac Sales, LED Backlighting This Year, Flash Laptops, Battery Update, and More
This Week's Mac Notebook News
Compiled by Charles Moore and edited by Dan Knight - 2007.05.04
This Week's MacBook, PowerBook, and iBook News
All prices are in US dollars unless otherwise noted.
General Apple and Mac desktop news is covered in The Mac News Review.
News & Opinion
Apple Updates
Products and Services
News & Opinion
MacBooks Drive Q2 Mac Sales
Macworld UK's Jonny Evans reports:
"Laptops drove Apple's Mac sales in its March quarter, the company confirmed last night.
"MacBook and MacBook Pro sales grew 79 per cent year-on-year - 59 per cent of all Macs sold were portable systems."
Link: MacBooks Drive Apple's Q2 Mac Sales
Apple's Switch to LED Backlighting Begins This Year
ITWire's Stephen Withers reports:
"Apple plans to introduce the first Macs with LED backlighting for their flat panel displays before the end of the year, Apple CEO Steve Jobs has announced.
"iPods already use LED illumination for their much smaller displays, but like other vendors, Apple uses fluorescent lamps for its computer screens. These lamps contain mercury, an environmental hazard.
"...LED backlights are thinner and lighter than fluorescents, they use less power (thus boosting battery life) and provide more even illumination."
Link: Mac Switching to LED Backlighting
Most Notebooks to Use Flash by End of 2009
DailyTech blogger Brandon Hill says:
"The use of NAND flash memory in notebooks is expected to increase sharply in the next few years. We've seen the steady rise in availability of flash solid-state drives in the past few months from Adtron, Samsung and SanDisk. Dell has even gone so far as to add SanDisk's 1.8" 32 GB UATA 5000 SSD as a $450 option on its Latitude D420 and a $300 option on its Latitude D620 ATG. The company is also currently offering the drive by itself for a whopping $549 on its website.
"Likewise, NAND flash is used onboard in Santa Rosa notebooks as a part of Intel's Robson initiative. Last, but certainly not least, NAND flash is also used in hybrid hard disk drives (HHDDs) which are currently shipping from Samsung."
Link: Over Half of Notebooks to Use Flash by Q4 2009
Flash Laptops Promise Speedy, Quiet Future
Reuters reports:
"A faster, quieter laptop has arrived, with cool, lightweight flash chips where the hot-and-heavy hard drive once sat, but limited capacity and high prices mean the technology is not yet ready for the mass market.
"It won't take too long. Prices of flash memory, used currently in cameras, phones and iPods, are falling by half each year and analysts expect around 20 percent of new laptops to be running on flash drives by 2010.
"Fujitsu has begun selling a 32 GB flash-drive laptop to corporate users willing to pay $1,399 extra, and there is speculation that Apple and Sony will be next to launch machines with solid-state drives (SSDs), as they are known in the sector."
Link: Analysis: Flash Laptops Promise Speedy, Quiet Future
The Case of the Cracking MacBooks
Macenstein's Lab Rat reports:
"There are numerous reports popping up on threads across the Apple support forums . . . detailing what appears to be a potential flaw in the latest MacBook's design. Posts dating as far back as August of 2006 have grown into lengthy threads consisting of folks whose MacBook cases have begun to mysteriously crack in the exact same spot.
"It appears the flaw is an equal opportunity offender, as both black and white MacBooks seem to be affected. The predominant theory seems to be that the plastic nubs meant to protect the screen when closing the MacBook are actually applying a little too much pressure to the lower right edge of the casing, causing a section of the edge to break off."
Link: The Case of the Cracking MacBooks
Yet Another Gripe: MacBook Hinges
TheAppleBlog says:
"My main computer is an Apple Intel Core Duo MacBook Pro. It is a beautifully designed piece of technology. Since I spend so much time on my notebook (remember, it's not a laptop), I have plenty of gripes. I've already mentioned my annoyance with the notebook's heat, but today I'm focusing on the hinge.
"When I first got the MacBook Pro, I noticed its hinge right away. It was extremely different than my Titanium PowerBook G4's hinges. The hinge allows the bottom of the display to be very close to the keyboard, which gives the MacBook a very unique look. However, the MacBook's display cannot be flattened out to extreme angles. I am not certain why Apple notebooks cannot have a different hinge that allows for a flattened display.
"Now why would I care about such a thing? Why would anyone need or want a notebook display that can lay as flat as the keyboard? There are times when I could benefit from another ten degrees of rotation from the hinge when I am sitting with the notebook as a laptop so I can see the display better. There are other times where I am showing something to another person and the best way for them to see is if I flatten out the display. I just tilt my wrists to compensate for the lack of flexibility of the hinge."
Note: At least this type of hinge seems more robust. The TiBook hinges were fragile and trouble-prone, as were the hinges of the otherwise rugged PowerBook G3 Series. However, I agree that the limitation to relatively narrow opening angles of Apple's current notebook hinge designs (which date back to the dual USB iBook of 2001) are a pain, particularly for use with certain laptop stands. The main rationale is that it gives the machine a lower profile when open. cm
Link: Yet Another Gripe: MacBook Hinges
Put RAID in Your MacBook, PowerBook, or MacBook Pro
Macenstein's Helper Monkey reports:
"If that 60 GB-200 GB drive that came with your Mac laptop just isn't cutting it these days, and you're not put off by the thought of never listening to a CD or watching/burning a DVD again without an external hookup, then MCE has the solution for you. Their OptiBay Hard Drive kit adds a second hard drive to your MacBook, MacBook Pro, and yes, even your old PowerBook, by replacing the SuperDrive with up to a 160 GB of extra storage space."
Link: Put a RAID 0 in Your MacBook, PowerBook, or MacBook Pro
The 12" MacBook Pro: I Don't Think So
Low End Mac's Trevor Wale says:
"There have been a number of rumours and columns on various Mac websites suggesting that Apple could be preparing to release a 'true' replacement for the 12" PowerBook.
"Dreaming of a 12" MacBook Pro
"The general consensus is that it would constitute a 12" widescreen MacBook Pro. It would sit between the high-end 13" black MacBook and the lower end 15" MacBook Pro. To make it stand apart from the consumer MacBook line, the 12" model would sport an anodized aluminum shell and include a graphics chipset with dedicated video memory like its larger siblings.
"Additionally, you would get all of the new Macintel bells and whistles such as a Core 2 Duo CPU, built in iSight, Front Row and the remote, a super fast front side bus, and all of the other benefits the Intel transition has brought to Apple notebooks.
"You would have all of this for a couple of hundred pounds more then the high-end black MacBook.
"This is how I would see Apple positioning such a product - and to be honest I would welcome a 12" MacBook Pro. Having been an owner of 12" PowerBook G4 that was a joy to own, I was one of the many Mac fans who mourned its death and subsequent replacement.
"Apple stated that the 13" MacBook is its spiritual successor, but I'm not satisfied. As far as I'm concerned, the MacBook has nothing to do with the 12" PowerBook. It's larger, uses "vampire video", has a polycarbonate case, and . . . well . . . just has none of the "cool factor" or obvious superiority that the 12" PowerBook had over the iBook (the PowerPC equivalent of the MacBook).
"There was something about the 12" PowerBook that was just so damn cool. It was absolutely tiny - what would practically be considered a subnotebook in the Windows world - but with none of the shortcomings. Every time I removed it from my bag and opened it up, you could almost hear the gasps of awe that would emanate from onlookers. The same thing would happen with most Apple laptops, but with the 12" PowerBook it was just little more prevalent. All of these factors make me crave a 12" MacBook Pro.
"Unfortunately, I just don't think it's going to happen. The bottom line is Apple feel that they have already provided us with a replacement, the 13" MacBook."
Editor's note: Trevor may be right, but I hope not and still am of a mind that we will see a MacBook Pro mini or whatever, although perhaps more likely a really small NAND flash memory based unit than a Macintel version of the late, lamented 12" PowerBook. I think the biggest reason for the delay is that while the 12" PowerBook was based heavily on iBook engineering (and indeed built by Apple's Asustek iBook supplier), a MacBook Pro based on the MacBook (also Asustek) would suffer from the same objection (too big and heavy), so a MacBook Pro mini will have to be from scratch, unlike the 15" and 17" MacBook Pros which are developments of the former 15" and 17" PowerBooks. cm
Link: The 12" MacBook Pro: I Don't Think So
Apple Says Some Notebooks May Have Battery Issues
Reuters reports:
"Apple Inc. said on Friday some batteries in its MacBook and MacBook Pro notebook computers may have performance problems, but they do not pose a safety risk.
"Apple said problems with affected batteries include not charging when the computer is plugged into an outlet.
"'The issues are not a safety risk, so consumers can continue using their batteries,' the company said in a statement.
"The affected batteries are in MacBook and MacBook Pro notebooks sold worldwide from February 2006 and April 2007, Apple said.
"Apple said it has issued a software update designed to improve battery performance."
Apple Updates
Apple Battery Update 1.2 for MacBook Pro and MacBook
Battery Update 1.2 updates battery firmware and improves battery functionality.
After Battery Update has been installed, each battery you insert into your MacBook or MacBook Pro will be updated automatically. Your computer's power cord must be connected and plugged into a working power source.
System Requirements
Mac OS X 10.4.8 or later
MacBook
MacBook Pro
System Support: Intel
Free
MacBook, MacBook Pro Battery Not Recognized
A new Apple Knowledge Base article says:
The battery of a MacBook or MacBook Pro computer may:
Appear to have no charge (zero percent)
Be unable to power the computer by itself; the computer might work only when it is connected to the MagSafe power adaptor, which only shows a green LED
Appear with a black "X" icon on the menu bar
Note: If a red "X" icon appears on the menu bar and the power adaptor displays an amber LED, see this article instead.
Products affected
Mac Book Pro (all models)
Mac Book (all models)
Link: MacBook, MacBook Pro: Battery Not Recognized or 'X' Icon Appears on Menu Bar
Calibrating Your Computer's Battery for Best Performance
An updated Apple Knowledge Base article says:
You can calibrate your iBook, PowerBook, MacBook or MacBook Pro computer's lithium ion battery for best performance.
The battery has an internal microprocessor that provides an estimate of the amount of energy in the battery as it charges and discharges. The battery needs to be recalibrated from time to time to keep the onscreen battery time and percent display accurate. With all iBooks and PowerBook G4 computers except the aluminum PowerBook G4 (15-inch Double-Layer SD), you should perform this procedure when you first use your computer and then every few months thereafter.
Link: Calibrating Your Computer's Battery for Best Performance
Determining Battery Cycle Count
A new Apple Knowledge Base article says:
This article describes how customers with portable computers running Mac OS X 10.4.x or later can determine the number of cycles on a battery.
Open Apple System Profiler (Choose About this Mac from the Apple menu and then click on the More Info button).
Click Power in the Contents list (under the Hardware section as seen below).
Cycle Count is listed under the Battery Information section.
Notes
A properly maintained Apple notebook battery is designed to retain up to 80 percent of its original capacity after 300 full charge and discharge cycles.
A charge cycle means using all of the battery's power, but that doesn't necessarily mean a single charge. For instance, you could use your notebook for an hour or more one day, using half its power, and then recharge it fully. If you did the same thing the next day, it would count as one charge cycle, not two, so you may take several days to complete a cycle.
iBook G3 and G4 Power Consumption and Thermal Output
An updated Apple Knowledge Base article says:
Learn about the power consumption and thermal output of iBook computers.
iBook G3 and G4 12-inch or 14-inch
All models with 45 or 65 Watt Wall Adapter

Power Consumption

Thermal Output

Idle
CPU Max
Idle
CPU Max
13 W
53 W
44 BTU/h
181 BTU/h
Notes
Power consumption data (Watts) is measured from the wall power source and includes all power supply and system losses. Additional correction is not needed.
"CPU Max" is defined as running a compute-intensive test application that maximizes processor usage with battery in charge mode and is therefore maximum power consumption of the computer plus losses of the power adapter.
These numbers reflect power adapter maximum power consumption operating within ambient temperature range of 50° F to 95° F (10° C to 35° C).
Link: iBook G3 and G4: Power Consumption and Thermal Output (BTU) Information
OS X 10.4.9 Security Update 2007-004 v1.1 (Universal)
Security Update 2007-004 is recommended for all users and improves the security of the following components:
AFP Client
AirPort
CarbonCore
diskdev_cmds
fetchmail
ftpd
gnutar
Help Viewer
HID Family
Installer
Kerberos
Libinfo
Login Window
network_cmds
SMB
System Configuration
URLMount
Video Conference
WebDAV
System requirements:
Mac OS X 10.4.9 (Intel)
Mac OS X Server 10.4.9 (Universal)
System support: PPC/Intel
Products and Services
Corsair Rugged USB Flash Drives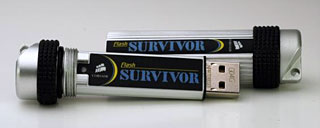 PR: Corsair has unveiled the extremely rugged line of USB 2.0 flash drives - Flash Survivor™. Designed and engineered to be the industry's toughest USB drive, Flash Survivor is water-resistant, CNC-milled aluminum encased, and shockproof to safely store user's information and files in the most demanding environments. Offering unique features and the best price/performance solution in the market - Flash Survivor is immediately available in two variations:
Flash Survivor GT 8 GB, $129.99 MSRP
Flash Survivor 4 GB, $59.99 MSRP
Flash Survivor Features Include:
Water Resistant to 200 Meters (650 Feet) / 20 Atmospheres Sealed with an EPDM (Ethylene Propylene Diene Monomer) waterproof seal, Flash Survivor is designed to provide 200 meters of water resistant durability. During these tests, no leaking or compromised integrity of the data on the drive was found.
Shock Proof Triple Point Protection
Flash Survivor features triple-point protection against shock and impact: Encased in CNC (Computer Numerical Control) milled aluminum (as found in aircraft part production) ensures consistency in material quality, thereby guaranteeing the USB drive's toughness.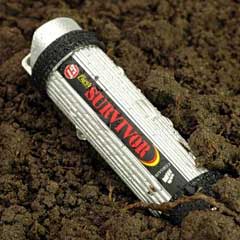 Additional protection from shock and vibration is achieved through the use of rubber molded collar shielding. When dropped, the durable rubber absorbs the impact force to prevent damage to the inner drive and the USB connector. Engineered outer metal tube with two end caps provides enforcement to the hollow tube and prevents it from collapsing when abused. 5 Times faster than other drives (GT version). Preloaded with a security application with 256-bit AES encryption, the most secure encryption algorithms available.
"Corsair has built the Flash Survivor family specifically for customers with a 'Bring It On!' attitude - for someone who doesn't want to worry if his/her equipment can stand up to the active lifestyle they lead,"said Jack Peterson, VP of Marketing at Corsair. "Storing your valuable information on a USB flash drive capable of weathering the storm of everyday life while ensuring your data is safe - that is what Flash Survivor is all about."
Performance Driven
Built to Corsair's legendary quality and reliability standards, each Flash Survivor drive delivers sustained read/write performance up to 34 MB/sec and 28 MB/sec respectively. Engineered with highly screened NAND flash and an advanced memory controller, the new Flash Survivor drive features enhanced dual channel and interleave memory technologies. This means lightning-fast file transfer - up to 5 times faster than typical USB drives. Guaranteed!
Examples of file size transfer speed comparisons are:
Capacity Flash Survivor GT
20 office files (1.06 MB) - Less than 1 second
60 pictures (279 MB) - 17 seconds
One movie (1.63 GB) - 82 seconds
Average USB respectively
5 seconds
70 seconds
358 seconds
Security
The Flash Survivor family of USB drives is preloaded with a security application that allows users to create a hidden, password-protected partition on the drive. The password is encrypted with 256-bit AES encryption, the most secure encryption algorithms available.
The Corsair Flash Survivor GT 8 GB and Flash Survivor 4 GB are available immediately through Corsair's authorized distributors, resellers, retailers and e-tailers worldwide, priced at $129.99 MSRP and $59.99 MSRP respectively. All products are backed by a 10-year Limited Warranty complete with customer support via telephone, email, forum and TechSupport Xpress troubleshooting guide.
Link: Corsair Flash Survivor
Lexar ExpressCard SSD with Auto-Backup Software
PR: Lexar Media, Inc. has announced the introduction of its new ExpressCard SSD with auto-backup software. Roughly half the size of current PC Card solutions, the Lexar ExpressCard SSD is a high-capacity removable solid state drive (SSD) that promises to set a new standard for delivering high-performance, lower-cost storage expansion to notebook computers. The Lexar ExpressCard SSD comes bundled with auto-backup software, an innovative solution for protecting laptop computer files and data that allows for automatic regular (daily, weekly, or monthly) backup without user intervention after the initial setup. During this setup, the user will be able to set the folder and specific file types to be included or excluded from the backup process. In addition, this automatic backup software can also support multiple computers by recognizing the computer name and the appropriate backup setting for each computer.
The Lexar ExpressCard SSD is also ideal for use with Windows Vista as it is enhanced for use with ReadyBoost, a Vista feature that improves your system performance without having to add DRAM to your computer. The ExpressCard SSD serves as an additional memory cache, which is a reserve section of memory that the computer can access faster than if it were accessing data from the hard disk drive. Additionally, the ExpressCard SSD interface supports a direct connection to the chipset, allowing users to enjoy all of its extensive backup and ReadyBoost capabilities without having to unplug the card after every use; users simply keep their ExpressCard SSD in the slot as external storage.
Farshid Tabrizi, General Manager, USB Products noted: "The ExpressCard standard is the ideal form factor for leveraging PC card technology and providing notebook users with a simple, more reliable way to significantly boost system performance. With auto-backup software, the Lexar ExpressCard SSD will be especially appealing for traveling business people, small- and home-office owners, and anyone who wants a secure, hassle-free way to backup important documents and literally add more storage to their laptop. The Lexar ExpressCard SSD also does away with the external cables necessary for external HDDs or the awkwardness of UFDs sticking out of your laptop. We believe ExpressCard technology clearly represents the new generation for plug-in cards and is destined to replace current PC Card technology; in fact, many new laptops are already shipping with dedicated ExpressCard slots, including Dell, Fujitsu, Fujitsu Siemens, HP, Intel, Lenovo, LG Electronics, Microsoft, Sony, Texas Instruments, and Toshiba."
The Lexar ExpressCard SSD is shipping in 4 GB, 8 GB, and 16 GB capacities.
Two of the three sizes can be found here:
Lexar ExpressCard SSD 8 GB, $199.99
Lexar ExpressCard SSD 4 GB, $129.99
Link: OfficeMax
Portable USB 2.0 + eSATA Drive
PR: Other World Computing has announced the new OWC Mercury On-The-Go USB2+eSATA Portable Drive Solution. Universally accessible on any computer with a USB Port, the new OWC 2.5" portable hard drive provides exceptional performance via USB and USB 2.0 bus interfaces. Even greater levels of performance are available via the solution's external SATA (eSATA) port connection, providing transfer rates well beyond what USB and USB 2.0 Bus interfaces are able to support.
Shock-Isolation for Maximum Data Protection
Stylishly designed in a sleek, impact-resistant acrylic enclosure, the OWC Mercury On-The-Go USB2+eSATA Portable Drive Solution incorporates shock-isolation technology to give maximum protection for your precious data. Weighing less than 11 ounces, the portable drive is a must-have for users requiring reliable high-performance compact storage small enough to fit in a shirt pocket.
OWC Mercury On-The-Go Portable Drives can be used between any computer with an available USB or eSATA port. The solutions are portable and low-cost, utilizing the latest SATA 2.5" hard drives for maximum performance and reliability. Via USB, the drives power via the bus through the USB interface cable, so no A/C adapter is needed. However, since eSATA does not provide bus power, the included A/C Adapter must be used for powering the drive when connecting to eSATA.
The OWC Mercury On-The-Go USB2+eSATA Portable Drive Solution includes the cables for USB2 and eSATA and full retail licensed versions of the award-winning data backup software utilities, Prosoft DataBackup III for Apple OS X and NovaStor NovaBackup for Windows (a $59 and $49.95 retail value). The OWC Mercury On-The-Go USB2+eSATA Portable Drive Solutions are available immediately priced starting at $117.99, with capacities of 80 GB to 200 GB. A USB 2.0-only version is also available, priced starting at $99.97. It uses the same drives as the OWC Mercury On-The-Go USB2+eSATA Portable Drive Solutions and is fully USB bus-powered, but does not offer eSATA port support.
Link: Mercury On-the-Go USB2+eSATA Portable Drive Solution
Bargain 'Books
Bargain 'Books are used unless otherwise indicated. New and refurbished units have a one-year Apple warranty and are eligible for AppleCare.
There are two different versions of WallStreet running at 233 MHz, the cacheless MainStreet version and the later Series II with a level 2 cache. It's not always possible to determine from the vendor's listing which is being offered, so we've included links within this paragraph to the two models. The same goes for the PowerBook G4/667 (VGA) and G4/667 (DVI), the titanium vs. aluminum 15" PowerBook G4 at 1 GHz, and 1.25 GHz to 1.5 GHz 15" PowerBooks.
PowerBook, iBook, and MacBook profiles linked in our Portable Mac Index.
New this week; A couple of MacBook Pros back in stock plus one MacBook model and the 12" PowerBook.
refurb 12" PowerBook G4/1.5 GHz, 512/80/SD, APX, BT, $1,199
refurb 2.0 GHz Intel Core 2 MacBook Duo, black, 1 GB/120/SD $1,299
refurb 15" 2.16 GHz Intel Core 2 MacBook Pro, 1 GB/120/SD, $1,599
refurb 17" 2.33 GHz Intel Core 2 MacBook Pro, 2 GB/160/SD, $2,299
Lombard PowerBook G3/333, 128/4/CD, $219.99
Lombard PowerBook G3/400, 128/4/CD, $299.99
Pismo PowerBook G3/400, 128/6/DVD, $299.99
12" PowerBook G4,867, 256/40/Combo, $599.99
14" iBook G4/1 GHz, 640/60/SD, $599
15" PowerBook G4/1 GHz, 256/60/SD, APX, $849
17" PowerBook G4/1.5 GHz, 512/80/SD, APX, BT, $1,249
refurb 17" PowerBook G4/1.5 GHz, 512/80/Super, APX, BT, $1,399
Apple Certified Reconditioned iBook G4/1.2 GHz/256 MB of RAM, 60 GB internal drive, internal Combo Drive, internal 56k modem, 14.1" TFT display - $799
refurb 15" PowerBook G4/1.33 GHz, 256/60/Combo, APX, $999
refurb 15" PowerBook G4/1.5 GHz, 512/80/Combo, APX, $1,099
refurb 15" PowerBook G4/1.67 GHz, 512/80/SD, APX, $1,349
refurb 17" PowerBook G4/1.5 GHz, 512/80/SD, APX, BT, $1,199
refurb 17" PowerBook G4/1.67 GHz, 512/120/SD, APX, BT, $1,288
12" iBook G3/500, 192/10/CD, $284.95
12" iBook G3/700, 256/20/CD, $379.95
12" PowerBook G4/867, 256/40/Combo, $899.95
12" iBook G3/600, 256/20/CD, $249
12" iBook G3/800, 256/30/CD, $329
Add AirPort for $65
17" PowerBook G4/1.0 GHz, 512/60/SD, $925
Add Airport Extreme for $50
TechRestore is offering a $25 discount to 'Book Review readers off any PowerBook or iBook in stock. Just enter the code CWM during checkout when ordering online. The coupon code is valid from now through 2007.12.31.
12" iBook G3/900, 256/30/Combo, $439.99 less $25 = $414.99
12" PowerBook G4/1.33 GHz, 256/60/SD, $899.99 less $25 = $874.99
15" PowerBook G4/1.5 GHz, 512/80/SD, $999.99 less $25 = $874.99
17" PowerBook G4/1.5 GHz, 512/80/SD, $1,199.99 less $25 = $1,174.99
12" clamshell iBook G3/300, blueberry, 64/3/CD, $169.95
12" clamshell iBook G3/366, Key lime, 128/10/CD, $329.95
14" Lombard PowerBook G3/400, 128/20/DVD, $259.95
14" Pismo PowerBook G3/400, 256/20/DVD, $379.95
15" PowerBook G4/500, 256/20/DVD, $449.95
Apple eMate 300 PDA, touch screen in great working shape, $69.99
12" iBook G3/300, 128/3/CD, OS X 10.2 installed, tested battery and power cord, $259.99
12" iBook G3/600, 128/20/CD, OS X 10.2, working battery and power cord, $299.99
12" iBook 500, 128/10/CD, OS X, $209
12" iBook 500, 128/30/CD, OS X, $279
12" iBook 600, 128/30/CD, OS X, $329
For deals on current and discontinued 'Books, see our 13" MacBook and MacBook Pro, MacBook Air, 13" MacBook Pro, 15" MacBook Pro, 17" MacBook Pro, 12" PowerBook G4, 15" PowerBook G4, 17" PowerBook G4, titanium PowerBook G4, iBook G4, PowerBook G3, and iBook G3 deals.
We also track iPad, iPhone, iPod touch, iPod classic, iPod nano, and iPod shuffle deals.
Join us on Facebook, follow us on Twitter or Google+, or subscribe to our RSS news feed
Links for the Day
Mac of the Day: Macintosh 512K Fat Mac, introduced 1984.09.10. The first Mac with enough memory for serious work.
Recent Content
Custom Search
Follow Low End Mac on Twitter
Join Low End Mac on Facebook
Favorite Sites
MacSurfer
Cult of Mac
Shrine of Apple
MacInTouch
MyAppleMenu
InfoMac
The Mac Observer
Accelerate Your Mac
RetroMacCast
The Vintage Mac Museum
Deal Brothers
DealMac
Mac2Sell
Mac Driver Museum
JAG's House
System 6 Heaven
System 7 Today
the pickle's Low-End Mac FAQ
Affiliates
Amazon.com
The iTunes Store
PC Connection Express
Macgo Blu-ray Player
Parallels Desktop for Mac
eBay

Advertise