Limited USB Bus Power in Santa Rosa Macs, 1 TB in Your 'Book, MacBook Cooler, and More
This Week's MacBook, PowerBook, and iBook News
Compiled by Charles Moore and edited by Dan Knight - 2008.05.16
All prices are in US dollars unless otherwise noted.
General Apple and Mac desktops is covered in The Mac News Review. iPod, iPhone, and Apple TV news is covered in The iNews Review.
News & Opinion
Reviews
Tech Trends
Products
Software
News & Opinion
Recent Macs Limit USB Bus Power
The Apple Core's Jason D. O'Grady says:
"Remember my theory about 10.5.2 causing poor audio quality in Skype? I pretty much convinced that 10.5.2 is the culprit, but there's another theory floating around out there - that it's related to USB ports.
"...It seems that only the front USB port on the MacBook offers a full powered, full speed bus. On the MacBook Pro the magic USB port is the left one, the right one is hubbed.
"The rear USB port, the one nearest the screen, is in fact already on an internal hub, shared with everything USB inside the case: the keyboard, the Bluetooth, the trackpad, the iSight camera and the infra-red receiver. Adding a four way hub to this is bound to end in disaster."
Editor's note: This impacts all Santa Rosa MacBook and MacBook Pro models and all aluminum iMacs, not just the newest ones. All Macs based on the Santa Rosa chipset only allow use of a single high-powered USB device, such as a hard drive, connected to the computer. dk
Link: All USB Ports Aren't Created Equal
Existing USB Ports May Face Trouble Powering New Breed of Peripherals
Pertinent to current blogosphere discussion of USB port issues on MacBooks, last August ZD Net's David Berlind reported:
"Contrary to popular belief, at least from a power perspective . . . not all USB ports are created equal. Yes, they all offer 5 volts. But where they often differ, according to Verenkoff, is on amperage which could be equally important to the peripheral people are looking to power - particular power hungry devices like hard drives....
"[The first issue] is Amps vs Volts....
"Where as all USB ports support the 5 volt requirement in the USB specification, amperage varies from one system to the next. 500 milliamps (ma) appears to be the standard with many notebooks supporting more....
"Devices like USB keychain flash drives and mice run at 5v but only require limited amounts of power (or amperage). However, larger devices like 3.5" USB Drives, external speakers, etc. require significant power and often need to be plugged into the wall....
"Every computer has different amperage at their USB ports. For example, even in some of the new MacBooks, we've observed a low amperage of 500ma...."
Link: Existing USB Ports May Face Trouble Powering New Breed of Peripherals
Hitachi Beats Fujitsu to Market with 7200 rpm 320 GB TravelStar Drive
The Register's Austin Modine reports:
"Hitachi is updating its TravelStar laptop hard drive range with a more capacious 320 GB disk that spins at 7,200 rpm.
"The refresh follows Fujitsu's announcement of its own 320 GB, 7,200 rpm notebook disk drive, for which the company staked a 'world's first' claim back in March.
"As we pointed out then - the timing left an opening for a rival hard drive makers to swoop in and beat Fujitsu to market. Here's that prophesy fulfilled on cue. Fujitsu says its MHZ2 BJ 320 GB will go on sale at the end of June. Hitachi is shipping its version now."
Link: Hitachi Slips Past Fujitsu with Speedy 320 GB Laptop Drive
Put 1 TB in Your MacBook, MacBook Pro, or PowerBook G4
Channel Register's Chris Mellor reports:
"MCE Technologies has a dual 500 GB hard disk drive kit to produce 1 TB MacBooks by using the SuperDrive optical disk drive bay.
"The kit uses two 2.5-inch drives spinning at 5,400 or 7,200 rpm and with capacities of 100, 120, 160, 250 or 500 GB. One replaces the standard drive whilst the other replaces the SuperDrive optical disk drive in its bay. It connects to the MacBook's internal ATA bus and is seen by the Mac OS X operating system as just another hard drive which can be managed with Apple's Disk Utility."
Link: Build a 1 TB MacBook
Up to 1 TB of Storage Inside Your MacBook Pro, MacBook, or PowerBook G4
In my The Agenda column on PB Central I noted:
"A terabyte is an awful lot of data space. It blows me away that the 500 GB Maxtor 7200 RPM hard drive in my SimpleTech Pininfarina SimpleDrive external hard drive has 1000 times the storage capacity of the 500 MB drive that I thought was pretty roomy in my first Apple laptop - a 1996 PowerBook 5300....
"And yet, there are users for whom even 500 GB is not adequate - people who work with video or just like to collect movies, for example, and the relatively limited capacity ceiling has been an inhibitor to them working with notebook computers rather than desktop machines, but now long-established Apple laptop storage media specialists MCE have addressed that limitation with their new MCE OptiBay Hard Drive, which was created for users who want as much hard drive space as possible inside their MacBook Pro, MacBook, or PowerBook G4... period."
Link: Up to 1 Terabyte of Storage Now Available Inside Your MacBook Pro, MacBook, or PowerBook G4
Apple Promo References 2.6 GHz MacBook
Engadget's Ryan Block briefly comments on Apple's Hot News site is running this promo for a 2.6 GHz MacBook, suggesting it's probably a typo, not premature announcement.
Link: Apple Promo References 2.6 GHz MacBook
Apple to Issue Refunds for Sparky Power Adapters
Register Hardware's Austin Modine reports:
"Apple has agreed to give US and Canadian customers two separate settlement offers to make charges of faulty and misrepresented products go away.
"Canadian owners of older iPods can get a CDN $45 (credit) rebate over claims the battery life in its devices were much shorter than advertised.
"Americans who purchased replacement power adapters for PowerBook and iBook notebooks will get cash refunds between USD $25 and $79 over accusations the device did a fine impersonation of a Morning Glory sparkler on Independence Day.
"Assuming they kept the receipts...."
Link: Apple to Issue Refunds for Sparky, Prematurely Dying Products
Apple to Provide Refunds for Troubled Power Adapters
Bloomberg News reports:
"Apple Inc. agreed to pay refunds of $25 to $79 to as many as 2.3 million Macintosh computer owners to resolve claims that some of its power adapters were prone to spark....
"In 2001, Apple recalled about 570,000 adapters sold with PowerBooks after reports of overheating. Apple advised customers to stop using the adapters and offered free replacements.
"The adapter 'dangerously frays, sparks and prematurely fails to work,' the plaintiffs said in court filings."
Link: Apple to Provide Refunds for Power Adapters
Reviews
Axiotron Modbook: A Tablet PC, Mac Style
Ars Technica's Jacqui Cheng reports:
"The rumors of the Modbook's demise have been greatly exaggerated. Introduced in January of 2007 at the Macworld Expo, Axiotron's modified MacBook caught the attention of many Mac users who had been waiting for Apple to introduce its own tablet-like machine - particularly artists and graphic professionals.
"Unfortunately, Axiotron encountered a number of setbacks throughout 2007 that ultimately caused the Modbook to be delayed for a year, causing some to write off the Modbook as vaporware. At Macworld 2008, Axiotron CEO Andreas Haas spoke with us about what caused the delays, why the company chose to go ahead with a Mac-based tablet, and what the future looked like for the Modbook.
"With Axiotron fulfilling all of its backed-up preorders and catching up on orders from Macworld, the company is finally on track and has a shipping product. Without any official tablet-like product from Apple, the Modbook is the only machine of its kind that runs Mac OS X, and it's the perfect time to put one through its paces."
Link: Tablet PC, Mac Style: a Review of the Axiotron Modbook
Tech Trends
12 Pound Notebook Touted as Server Replacement
Register Hardware's Tony Smith reports:
"We've all heard of laptop computers that have been designed to replace desktop PCs, but this is the first time we've come across one that's intended a server replacement.
"Notebook specialist Eurocom this week unwrapped the Phantom-X, a machine equipped with an quad-core, 95W, 12 MB of L2 cache Intel Xeon X3360 processor running at 2.83 GHz; three 3 GB/s SATA hard drives in a 1.5 TB RAID configuration; and 8 GB of DDR 2 memory."
Editor's note: At 12 lb., this 17" notebook computer isn't the most portable thing going, and its battery only provides one hour or runtime. dk
Link: Vendor Touts Notebook as Desktop Server Replacement
Products
Zefyr Portable Notebook Cooler for MacBook, MacBook Air
PR: A MacBook under continuous demanding usage will become uncomfortably warm, and the noise generated by the internal fans will become disruptively loud. Without proper thermal management, your MacBook may overheat to a point where it runs slower or even locks up. As a subtle yet effective cooling solution, Zefyr is designed to maintain your MacBook's system stability even under peak loading conditions.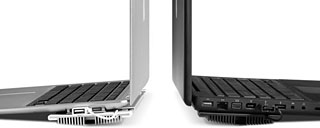 At the core of Zefyr's design is a high-thermal conduction interface compound, which enhances heat dissipation by providing a direct heat conduction path between MacBook's bottom casing and Zefyr's cast aluminum heat sink assembly. The thermal interface compound is soft and compressive to ensure decent contact while preventing abrasive scratches to your MacBook. Heat accumulated in the heat sink is then expelled through the sides by a high-efficiency USB-powered fan that runs nearly silent.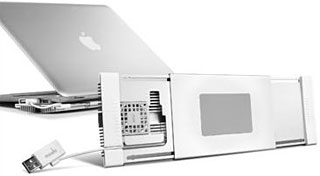 Zefyr is designed to strike a delicate balance between form and functionality. It is extremely portable and does not require the use of additional power adaptors. This allows you to utilize Zefyr on the go without any hassle. When Zefyr is put in place, you also gain the benefit of improved ergonomics through a slight tilt to the MacBook. Overall, Zefyr is an unobtrusive thermal management solution that offers you a more comfortable computing experience.
Key Features
100% cast aluminum heat sink assembly
collapsible design for enhanced portability
embedded USB-powered ultra-silent fan (<20dB)
conductive heat dissipation through compressive TIC (thermal interface compound) cooling pad
slightly elevated angle for better ergonomics
Zefyr sells for $75 and is available in silver or black.
Link: Zefyr High-Efficiency MacBook Cooler
iSobre Leather Sleevecases Look Like Interoffice Envelopes
PR: iSobre is a perfect companion for your MacBook or MacBook Air. These 100% hand made leather sleeves have a smooth, practical and sleek design that makes them as special as your MacBook.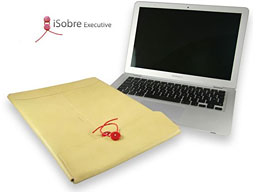 iSobre is available in two different sleeves (both exactly the same in design and dimensions) but with two different leathers to choose from.
Both the Student and the Executive iSobres are made out of high quality leather. The Student sleeve is a suede finish made out of pigskin. The Executive sleeve has a softly tanned finish made out of cowhide.
Both sleeves are handmade; nevertheless, the Executive Sleeve is slightly cheaper as is made out of pigskin. Also, the tanning process for the Executive sleeve takes longer, thus increasing the price.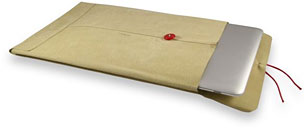 Both sleeves are perfect for both MacBook and MacBook Air - its dimensions more or less are 345 x 220 x 25 mm
The iSobre is made here in Cadiz, (South of Spain in the Andalusian Region).
iSobre Student: High Quality suede with a velvet effect finish. Euro 29,99
iSobre Executive: High Quality Full-Grain Leather with a soft tanning finish. Euro 49,99
Shipping will be made through FedEx and calculated automatically within PayPal.
Shipping charges are:
Europe: 15 Euro
USA and Canada: 20 Euro
Rest of the World: 30 Euro
Link: iSobre Hand Made Leather Sleevecases for MacBook Air and MacBook
Apricorn EZ Upgrade Notebook Hard Drive Upgrade Kit with SATA/PATA Support
PR: Apricorn, has released a dual interface version of its popular EZ Upgrade Notebook Hard Drive Upgrade Kit, a solution that allows the painless transfer of all data, applications, documents, address books, e-mail, settings, OS, and preferences from an old PATA/IDE or SATA notebook hard drive to a new hard drive in three easy steps.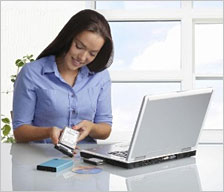 Compatible with both PC and Mac notebooks and featuring a high quality metal enclosure, the EZ Upgrade's dual SATA/PATA interface connects with any 9.5mm PATA/IDE or SATA notebook hard drive. Simply slide the easy open switch to release the hard drive tray, attach your notebook hard drive to the appropriate SATA or PATA connector, slide the tray closed and connect to your computer's USB port. Once connected the EZ Upgrade enables you to transfer your OS, settings, applications and all of your data to your new drive using Apricorn's Upgrade Suite, which features Apricorn's EZ Gig II cloning and imaging software for Windows and Shirt Pocket's SuperDuper! for Mac.
All you need to do to easily transfer your files to your new drive is connect the hardware; run the cloning software; and install the new hard drive into the notebook. After the upgrade is complete, the old drive can be reused in the EZ Upgrade enclosure as a portable Hi-Speed USB 2.0 backup system.
"Whether you want more capacity or better performance, our EZ Upgrade products continue to grow in popularity because of its ease of use and reliability - virtually anyone can do it," said Mike McCandless, Apricorn's Vice President of Sales and Marketing. "Our customers know they can rely on Apricorn's solutions, and if you run into a problem or have a question, help is a toll free phone call away."
The EZ Upgrade Notebook Upgrade Kit includes: Hi-Speed USB 2.0 hard drive enclosure (USB 1.1 compatible), USB cable, and Apricorn's Upgrade Suite containing cloning software for PC and Mac.
System Requirements
Mac system requirements:
CD-ROM Drive, Apple G3 or later, 64 MB RAM, available powered USB port (Bus Powered from most systems, optional AC Adapter sold separately if required)
Supported Operating Systems: Mac OS 9.2 or later & Mac OS X 10.2 or later
PC system requirements:
CD-ROM Drive, 128 MB RAM, Pentium II CPU, available powered USB port(1)
Supported Operating Systems:

Windows Vista™ Home basic/premium, Ultimate & Business
Windows XP Home and Professional SP2
Windows 2000 Professional SP4
Apricorn's EZ Upgrade is currently available online or through a network of resellers throughout the US and Canada.
$49
Models with hard drive are also available.
3 Year Limited Warranty.
Link: Apricorn EZ Upgrade Universal Hard Drive Upgrade Kit
External Battery Adds Up to 10 Hours MacBook Air Runtime
PR: QuickerTek announces an extended battery upgrade for the popular Apple MacBook Air. Users gain six to ten hours of additional battery power - beyond the battery life of the built-in battery. This is the only product that charges the MacBook Air while in use, and for only $299.95.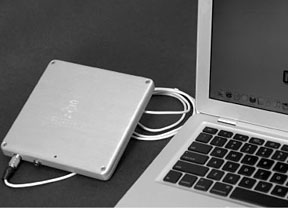 Since the MacBook Air has a nonremoveable battery, the typical user strategy of using multiple batteries is not possible. QuickerTek had already developed battery charging technology for MacBook and MacBook Pro laptops, but those solutions did not charge AND power the computer at the same time. QuickerTek's MacBook Air External Battery powers and charges the internal battery while in use.
A total of 12 to 16 hours of Air use are possible when using the External Battery Charger from QuickerTek. Users know the external battery is working because the battery charge percentage in the menu bar stays at 100% for hours, before the internal battery is used. While the stock MacBook Air recharges in four hours using the AC wall adapter, the External Battery Charger recharges in only three hours. Styled to blend with your Apple equipment, the MacBook Air External Battery Charger is lightweight and good looking. This product should not be used with MacBooks or MacBook Pro models.
Specifications
Physical: 5.5 x .5.5 x 0.6 inches
Weight: 1.2 lb.
Battery: Li-Ion Polymer, 6 to 10 hours of extended use on MacBook Air
Requires QuickerTek-modified MacBook Air power adapter
LED charging status indicator
Customers can either send in their MacBook Air MagSafe power adapter for an upgrade ($25), or buy an already-upgraded MagSafe adapter for use with the MacBook Air External Battery Charger ($100). Either way, the MagSafe is upgraded with military-spec parts for longer life. Compatibility with any MacBook Air is maintained.
Like most QuickerTek products, the MacBook Air External Battery Charger is backed with a one-year warranty on parts and labor.
Link: External Battery for MacBook Air
eTech Parts Do-It-Yourself Supplies for iPods, iPhones, and Apple Notebooks

PR: Based on a gold standard for customer service,eTech Parts is your one-stop repair parts shop with support for all makes and models of iPods, iPhones, and Macintosh Portable Systems, Cell Phones & Gaming Consoles
eTech Parts, LLC has officially released their new website assisting end users with electronics repairs. eTech Parts supplies thousands of Do-It-Yourself repair kits and repair parts for iPods, iPhones, Apple Laptop Computers (including MacBook Air, MacBook Pro, MacBook, PowerBook and iBook).
New programs coming online within the next several weeks. Among those are programs for Cell Phone and Blackberry support, PDA parts, and parts for most gaming system consoles including XBOX and popular Sony Consoles.
"We've been in business providing dealers with wholesale pricing and bulk orders," says Kyle Baccus, Co-owner & Director of Operations. "After assessing the market and looking at the competition, we've found that there are thousands of end users with the ability to perform repairs in their home on their own electronics. We are helping the customers that are willing to take on a repair themselves while allowing them to get it done as inexpensively as possible. Our new website is a breeze to navigate and finding your repair part with our drill down menus is easy."
eTech Parts is currently developing downloadable instruction packages for each repair part they sell. This will further assist each customer with the installation and use of the parts purchased.
eTech Parts doesn't stop there. They also have a full line of Gold Series refurbished iPods available at excellent pricing. They run advanced diagnostics on each hard drive (when applicable) and suspect units are recycled. The iPods have little or no physical signs of use, and each comes with a new set of headphones, charging cable and a 90 day warranty. It's a great way to join in the iPod craze without paying retail prices. In fact, they give each customer a 30 day return window with no restocking fees. You can't even get that from Apple, Inc.
In fact, it's eTech Parts company policy to never charge a restocking fee if an item is returned within their 30 day return period. This applies to their refurbished iPods and every part they sell. This is a great benefit and gives each customer the peace of mind that they are making the right decision.
With more than 100,000 parts in stock and a purchasing department constantly looking for new deals and large quantity purchases, eTech Parts are committed to providing our customers top quality repair parts at rock bottom prices.
eTech Parts, LLC
19953 W 162nd St.
Olathe, KS 66062
Phone: 913-948-6990
Fax: 913-948-6991
Email: Sales@etechparts.com, Purchasing@etechparts.com, Shipping@etechparts.com
Link: Refurbished iPods
Software
MiniBatteryStatus Widget Displays Battery Status
PR: MiniBatteryStatus is a small Dashboard widget that monitors battery status. Learn the current charge, remaining life, cycle count, current and maximum voltage.
MiniBatteryStatus is a small Dashboard widget that monitors battery status, charge percentage and remaining battery life. Integrated with Growl to alert you when it's time to recharge your battery.
MiniBatteryStatus widget monitors battery status and charge percentage. It displays colorful information to quickly notice your battery conditions.
The widget assumes different colors depending on the remaining charge of the battery. It is also aware of battery charging and plugged status. User can choose if the widget should display percentage, remaining time, capacity (current/maximum) and cycle count or just the charge gauge.
MiniBatteryStatus is ideal for Mac laptop users.
Features:
Growl integration. Be aware of what happens to your battery even when you're not looking at Dashboard. MiniBatteryStatus tells you when it's time to recharge your battery, when you're done charging and when the power source has changed with Growl notifications.
Universal Binary. You can run MiniBatteryStatus on both PowerPC iBooks and PowerBooks and Intel MacBooks and MacBook Pro's.
Lots of colors. Thanks to the revolutionary "arcoiris" engine, the widget color varies with continuity from green to red. Enjoy a plenty of awesome nuances from acid green to coral red.
Small widget size to save Dashboard real estate. iBooks and PowerBooks have limited desktop surface. Leave room to other cumbersome widgets, still monitoring your battery with style and no clutter.
Rewritten from ground up. Completely event driven. Same data from the system status item, instantaneous notifications.
Share battery data. The included battery data sharing service will make your battery remotely monitorable by MiniBatteryLogger. System administrators will be able to monitor the available energy supply of all laptops over the local network.
Minimum system requirements are Mac OS X 10.4 Tiger or later, and of course a battery-powered Macintosh.
New in version 2.6.7: Fixed error in the algorithm used to calculate the minutes of remaining time. The widget remembers the last view mode after a reboot. Improved version checking.
System requirements: Mac OS X 10.4 or later.
System Support: PPC/Intel
Free
Link: MiniBatteryStatus
Bargain 'Books
Bargain 'Books are used unless otherwise indicated. New and refurbished units have a one-year Apple warranty and are eligible for AppleCare.
There are two different versions of WallStreet running at 233 MHz, the cacheless MainStreet version and the later Series II with a level 2 cache. It's not always possible to determine from the vendor's listing which is being offered, so we've included links within this paragraph to the two models. The same goes for the PowerBook G4/667 (VGA) and G4/667 (DVI), the titanium vs. aluminum 15" PowerBook G4 at 1 GHz, and 1.25 GHz to 1.5 GHz 15" PowerBooks.
PowerBook, iBook, and MacBook profiles linked in our Portable Mac Index.
Only higher-end, recent (mostly Penryn) MacBook Pros this week, and the same for MacBooks. Each model comes with an Apple one-year warranty, and ground shipping is free. Changes this week are the addition of a 17" 2.6 GHz MacBook Pro with high-res display and a 2.2 GHz Black MacBook.
refurb 2.1 GHz Penryn MacBook, white, 1 GB/120/Combo, $999
refurb 2.2 GHz Core 2 MacBook, white, 1 GB/120/SD, $1,049
refurb 2.4 GHz Santa Rosa MacBook, white, 2 GB/160/SD, $1,149
refurb 2.4 GHz Santa Rosa MacBook, black, 2 GB/250/SD, $1,349
refurb 15" 2.4 GHz Core 2 MacBook Pro, 2 GB/160/SD, $1,749
refurb 15" 2.5 GHz Core 2 MacBook Pro, 2 GB/250/SD, $2,249
refurb 17" 2.4 GHz Santa Rosa MacBook Pro, 2 GB/160/SD, $2,199
refurb 17" 2.4 GHz hi-res Santa Rosa MacBook Pro, 2 GB/160/SD, $2,399
refurb 17" 2.6 GHz Core 2 MacBook Pro, 2 GB/160/SD, $2,399
refurb 17" 2.6 GHz hi-res Core 2 MacBook Pro, 2 GB/160/SD, $2,499
12" iBook G3/700, 256/20/Combo, $419.99
12" iBook G3/800, 256/20/Combo, $429.99
15" PowerBook G4/667 (VGA), 256/30/Combo, $599.99
15" PowerBook G4/667 (DVI), 256/30/Combo, $629.99
15" PowerBook G4/1.67 GHz, 512/80/SD, APX, $899
Pismo PowerBook G3/400, 128/6/DVD, $299.99
Pismo PowerBook G3/400, 256/40/DVD, $399.99
Pismo PowerBook G3/400, 256/60/DVD, $419.99
Pismo PowerBook G3/500, 128/6/DVD, $349.99
Pismo PowerBook G3/500, 256/40/DVD, $439.99
Pismo PowerBook G3/500, 256/60/DVD, $449.99
15" PowerBook G4/1 GHz, 256/60/Combo, $599.99
15" PowerBook G4/1.25 GHz, 256/60/Combo, $629.99
15" PowerBook G4/1.33 GHz, 256/60/Combo, $679.99
15" PowerBook G4/1.5 GHz, 512/80/Combo, $699.99
15" PowerBook G4/- 1.5 GHz, 512/80/Combo, $709.99
15" PowerBook G4/1.67 GHz, 1 GB/80/SD, Airport - $739.99
15" hi-res PowerBook G4/1.67 GHz, 512/80/SD, airport - $799.99
12" iBook G4/800, 640/30/Combo, $379
12" iBook G4/800, 640/30/Combo, APX, $410
15" PowerBook G4/1.5 GHz, 1 GB/80/Combo, APX, $715
15" PowerBook G4/1.67 GHz, 1 GB/80/Combo, APX, $805
15" 2.0 GHz Core Duo MacBook Pro, 512/80/SD, APX, $1,139
open box 2.2 GHz Core 2 MacBook, white, 2 GB/160/SD, warranty started, $1,049
open box 2.2 GHz Core 2 MacBook, black, 2 GB/160/SD, $1,299
open box 2.4 GHz Core 2 MacBook, black, 2 GB/250/SD, $1,449
open box 1.6 GHz MacBook Air, 2 GB/80, $1,749
open box 15" 2.4 GHz Core 2 MacBook Pro, 2/200/SD, $1,949
open box 17" 2.33 GHz Core 2 MacBook Pro, 2 GB/160/SD, $2,288
refurb 17" 2.4 GHz Core 2 MacBook Pro, 2 GB/160/SD, warranty started, $2,049
open box 17" 2.4 GHz Core 2 MacBook Pro, 2 GB/160/SD, warranty started, $2,349
17" 2.4 GHz Core 2 MacBook Pro, 2 GB/160/SD, $2,449
open box 17" 2.5 GHz Core 2 MacBook Pro, 2 GB/160/SD, $2,688
17" 2.6 GHz Core 2 MacBook Pro, 2 GB/160/SD, $2,699
clamshell iBook G3/300, Blueberry, 64/3/CD, $149.95
clamshell iBook G3/300, Tangerine, 64/3/CD, $169.95
12" iBook G3/500, 256/10/Combo, $279.95
Pismo PowerBook G3/400, 192/6/Zip, $269.95
15" PowerBook G4/400, 256/80/DVD, $449.95
For deals on current and discontinued 'Books, see our 13" MacBook and MacBook Pro, MacBook Air, 13" MacBook Pro, 15" MacBook Pro, 17" MacBook Pro, 12" PowerBook G4, 15" PowerBook G4, 17" PowerBook G4, titanium PowerBook G4, iBook G4, PowerBook G3, and iBook G3 deals.
We also track iPad, iPhone, iPod touch, iPod classic, iPod nano, and iPod shuffle deals.
Join us on Facebook, follow us on Twitter or Google+, or subscribe to our RSS news feed
Links for the Day
Mac of the Day: eMac, introduced 2002.04.29. 50 lb. 17" white G4 eMac replaced the iMac for the education market.
Recent Content
Custom Search
Follow Low End Mac on Twitter
Join Low End Mac on Facebook
Favorite Sites
MacSurfer
Cult of Mac
Shrine of Apple
MacInTouch
MyAppleMenu
InfoMac
The Mac Observer
Accelerate Your Mac
RetroMacCast
The Vintage Mac Museum
Deal Brothers
DealMac
Mac2Sell
Mac Driver Museum
JAG's House
System 6 Heaven
System 7 Today
the pickle's Low-End Mac FAQ
Affiliates
Amazon.com
The iTunes Store
PC Connection Express
Macgo Blu-ray Player
Parallels Desktop for Mac
eBay

Advertise