The Growing iBook & PowerBook Market
Dan Knight - 2000.02.25 - Tip Jar
It's a frustrating reality: portables make up only a small fraction of Apple's total computer sales. Based on Apple's data, PowerBooks were 14.5% of all Macs sold in fiscal 1997, 15.5% in 1998, and 10.2% in 1999.
Does this help explain the dearth of iBook and PowerBook sites on the Web? It hasn't been easy going supporting such a small market when over 85% of the Macs in use are desktops.
Still, there are a handful of good PowerBook and iBook sites out there just waiting for the inevitable rise of portable computing.
It's already started. Thanks to the iBook, Apple sold 235,000 iBooks and roughly 80-85,000 PowerBooks out of a total of 1,377,000 computers during the last three months of 1999. That brings portable sales to 23% of Apple's total during the first quarter of fiscal 2000 - very impressive.
If anything, the new 400 and 500 MHz Pismo PowerBooks and the improved iBooks should further grow the Mac portable market. Although some of what happened last quarter was pent-up demand for the iBook (which didn't ship until the very end of September), I think it's realistic that 25% of all Macs sold this year will be portables - even if Apple doesn't add new models such as a thin-and-light PowerBook or one with a huge screen.
And that figure will only increase.
Changes
Desktop computers have had their day in the sun. For almost 25 years they were the dominant species because of price, performance, and features. But unless you need the Velocity Engine of the G4, a huge monitor, or a special add-in PCI card, the new Pismo PowerBook may be all the computer you need.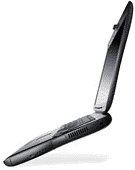 Best of all, you can now buy a PowerBook without paying a huge premium over the price of a desktop system. For instance, we've settled on the Power Mac G4/450 as our base computer at work. That's a $2,500 computer before we add a 19" monitor for about $450.
The 400 MHz PowerBook offers about 85% of the power for $2,500 - or $2,700 if we bump memory to 128 MB. Throw in $75 for a case, and it's still less expensive than the larger, more versatile Power Mac.
But the real strength is the portability. At this point, unless a user needs a huge screen or absolutely has no need to ever take a computer into the field, I recommend my employer buy a PowerBook instead of a Power Mac.
Sure, we could save money by using the slower Power Mac G4/400, but the new computers always go to our design department first, then their Macs trickle down to other parts of the business. Designers don't need the absolute fastest machines Apple makes, but neither do we want to set them up with the slowest. We've pretty much settled on the mid-speed Power Mac at any given time.
What About the iBook
Things are a bit different with the iBook/iMac comparison, but much closer now that Apple has increased memory and drive size on the iBook.
We do use some iMacs at work, especially for users who won't ever need a bigger display. These are generally people doing a lot of data entry or word processing, people for whom portability is not an issue.
But we also have an iBook, which does everything the old iMac did, but in a portable package. Unfortunately, the economics aren't quite the same here. The mid-speed iMac is the $1,300 iMac DV running a 400 MHz processor.

The iBook can't compete on cost - it retails for $300 more and runs at only 75% of the iMac's speed. And comparing the iBook SE to the iMac DV SE doesn't help much, although you do achieve 90% of the iMac's speed in that comparison.
No, the iBook has to stand on its portability, something it does quite well. Again, unless a user needs something bigger than the iBook's 800 x 600 screen, it's a great portable choice and an excellent value (a point I hope to drive home more completely next week by comparing the iBook to similarly priced Windows machines).
The Future
Everyone agrees that in the near future flat panel displays will replace traditional computer monitors. Although only a niche market now, as that market grows and prices drop, they will become a larger and larger segment of the display market.
My guess is that we'll see a flat panel iMac in 2002. (Update: The flat panel iMac G4 was introduced in January 2002.) This will make the iMac even smaller (mostly thinner) and lighter.
The cost of portables will continue decreasing along with the cost of the display, which is the most expensive component in a portable computer. There will still be a small price premium to cover the battery and AC adapter, but within two or three years portable computers could make up half the market as prices come closer and closer to those of desktop systems.
Within five years desktops could become niche products: iMac terminals for use in libraries, Power Mac servers to deliver files to your AirPort equipped iBooks and PowerBooks.
And Apple is poised to take full advantage of that. The iBook is already one of the best portable computing values on the market. The Pismo PowerBook is the most powerful laptop made. These two models probably meet the needs of 80% of the Road Warriors out there, although a lot would prefer something lighter or even larger - if Apple gave them that choice.
The Pentium III laptops run so hot and draw so much power that the newest models are designed to drop back to 500 MHz when running on battery power, so they're only 650 MHz machines when used with the AC adapter or if you deliberately choose to turn off the power reduction mode.
With the PowerPC processor, we don't have to worry about that. IBM has the ability to deliver G3/600 processors in short order, and the next revision of the G4 (expected in May or June) will have a lower power draw than the current one while breaking the 500 MHz ceiling of today's G4 design. It is conceivable we'll see a PowerBook G4 later this year. (Update: The first PowerBook G4 arrived in January 2001.)
The future will belong to the company with the best portables. Apple has been a leader in portable innovation since the Mac Portable (built in trackball, active matrix display, memory-free battery, long battery life) and is well positioned to build on its experience.
Recent Content on Low End Mac
World Book Encyclopedia 2012 DVD, Tommy Thomas, Reviews, 2013.03.05. "You may be asking yourself, in an age of Wikipedia and instant information, is World Book still relevant?"
Vintage Computer Festival SouthEast, April 20-21, 2013, Simon Royal, Mac Spectrum, 2013.02.25. Old Apple gear and old PCs.
Latest Deals on Low End Mac
Custom Search
Follow Low End Mac on Twitter
Join Low End Mac on Facebook
Favorite Sites
MacSurfer
Cult of Mac
Shrine of Apple
MacInTouch
MyAppleMenu
InfoMac
The Mac Observer
Accelerate Your Mac
RetroMacCast
The Vintage Mac Museum
Deal Brothers
DealMac
Mac2Sell
Mac Driver Museum
JAG's House
System 6 Heaven
System 7 Today
the pickle's Low-End Mac FAQ
Affiliates
Amazon.com
The iTunes Store
PC Connection Express
Macgo Blu-ray Player
Parallels Desktop for Mac
eBay

Advertise