New PowerBook and iBook
Yesterday Apple unveiled faster computers: the Power Mac G4 finally hit 500 MHz, the PowerBook G3 also reached 500 MHz, and the iBook saw a 22% speed boost to 366 MHz in the graphite special edition.
There's really nothing to say about the Power Mac G4/500 except that it's about time Apple reached the 500 MHz mark. Shoot, Intel now says it'll hit 1 GHz (1,000 MHz) during the third quarter, and the AMD Athlon has already hit 850 MHz.
iBook Updated
I'd call it a real smart move on Apple's part, bumping the blueberry and tangerine iBook to 64 MB of memory and a 6 GB hard drive. With Mac OS 9 requiring 40 MB, it was a bit ridiculous to sell a 32 MB computer. Best of all, Apple did this without raising the price.

But the best touch was the graphite iBook Special Edition (or SE). It's much more professional looking and over 20% faster then the regular iBook. Where most people in business would hesitate to carry a candy colored iBook, the SE will lose that stigma. Demand for a graphite iBook alone could probably command the US$200 premium, but Apple also bumped the processor to 366 MHz.
In terms of value, the iBook is probably the most laptop for the dollar, with the SE a close second. Buyers will no longer be forced to immediately buy a memory upgrade.
This is a pair of real class moves on Apple's part
The PowerBook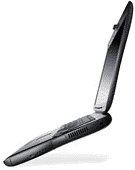 I almost missed it, but Apple's gone one step further in simplifying the product line. The new powerhouse portable isn't yet another PowerBook G3 - it's simply called the PowerBook.
The new PowerBook is no smaller than the Lombard model it replaces, although it is a couple ounces lighter. It uses the same 14.1" 1024 x 768 TFT screen, the same keyboard and trackpad, and the same drive bay accessories.
But beneath the surface, it's a whole new PowerBook. The 400 and 500 MHz processors run on a more efficient 100 MHz motherboard using Apple's unified architecture components. There's room for an AirPort card, so now the entire Macintosh line is AirPort-ready. And the SCSI port on the back of all previous PowerBooks gives way to a pair of FireWire ports.
Video is handled by the ATI Rage Mobility 128 for even better performance than the Lombard had. There's also support for a 21" monitor, although I can't find any specs on resolution.
Both models have a 1 MB backside cache, in contrast to the slower Lombard using a 512 MB cache. The new PowerBook uses the same kind of "yo-yo" AC adapter as the iBook. DVD is standard on both models.
The PowerBook/400 ships with 64 MB of memory and a 6 GB hard drive at US$2,500. For many business users, this is all the laptop they could need or want.
The PowerBook/500 has 128 MB of memory and a 12 GB hard drive for $1,000 more. I can't imagine needing that much power in the field, but this also makes it a more attractive desktop replacement, as does the build-to-order option of an 18 GB hard drive. Hook this up to a big monitor, a mouse, and a keyboard, and you've got a killer combination of portable and desktop power in a six pound package.
Apple typifies the new PowerBook as Pentium-crushing - and they're right. The fastest Windows laptops use a special Pentium III processor that runs at 650 MHz while using the power adapter, but slows down to 500 MHz in the field (to extend battery life). With full-time 500 MHz G3 performance and a 1 MB cache, the PowerBook will easily outperform the fastest Wintel laptops.
Conclusion
My wife will be buying a laptop for her business. I'd pretty much settled on suggesting the iBook because of price, but will definitely let her know about the iBook SE.
At work, we've been very pleased with the Lombard, so I see no reason we won't absolutely love the extra performance at the same price. It's the perfect portable for most users.
As for my personal use, the PowerBook offers everything I want in a laptop and then some - with one big exception. When Apple couples this with a higher pixel count screen (1152 x 870 or higher), I'll buy one and pretty much retire my desktop computer.
Although Apple hasn't quite met my needs yet, they have done a marvelous job with the new iBook and PowerBook configurations.
Recent Content on Low End Mac
World Book Encyclopedia 2012 DVD, Tommy Thomas, Reviews, 2013.03.05. "You may be asking yourself, in an age of Wikipedia and instant information, is World Book still relevant?"
Vintage Computer Festival SouthEast, April 20-21, 2013, Simon Royal, Mac Spectrum, 2013.02.25. Old Apple gear and old PCs.
Latest Deals on Low End Mac