The Best Portable, Desktop, and Minitower Macs
Korin Hasegawa-John - 2001.12.17
Some Macs are just really good. They have a balance of built-in features with plenty of room for expansion. They also have easy-to open, fun-lovin' cases. All of the computer below are PowerPC computers. I'm not biased against 68k Macs, but most of these are intended for everyday use. Also, a lot of you will not agree with me, but that's okay - these are just my opinions.
Minitowers
For a higher-end Minitower, I cast my vote with the G3 Yosemite, also known as Blue and White. This computer had many notable firsts: First to use Rage 128 video, first to have FireWire, first to use the 100 MHz System Bus, first Mac to use the what would become industry standard PC100 DIMM for RAM, and first to include ATA/33. It also included USB and an
ADB port (so you could add a keyboard that wasn't undersized or a mouse that didn't have more in common with a hockey puck than a real mouse), but had no serial or SCSI ports (some models had an Ultra Wide SCSI card and drive, giving you a SCSI port). All models include CD-ROM, and some include a 5x DVD-ROM drive and or a Zip drive.
The Yosemite is supported under OS X. It also has reasonable graphics performance, thanks to its advanced (for the time) 66 MHz PCI slot and Rage 128 with 16 MB VRAM. All of these goodies are housed in the fore-runner of the modern G4 case. It opens very easily (just pull a handle) and can be opened while running. There are two free hard drive bays inside and, if there's no Zip drive installed, a free bay above the speaker, too. Pretty cool. The biggest problems with this model are that it holds its value too well and the ATA/33 implementation, though faster than on older G3s, was tempermental and buggy.
Pricing? It depends on configuration. A 300 MHz model with a 6 GB drive and CD-ROM will go for $600 or so. At the top, a tricked-out 450 MHz model with a 9 GB SCSI drive and DVD-ROM will set you back $900 or more.
Lower down the list, the 8600 wins. Although the 9600 has some great features, so does the less costly 8600. They both use the same case, which is very easy to open. The 8600 has built-in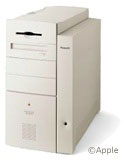 video, so video does not take up a PCI slot, as it does on the 9600. It also has AV inputs and outputs, something which the 9600 does not have. However, the 9600 does have four more RAM slots and two more free PCI slots. If you want to have the most expansion, go with the 9600.
The 8600 shipped in 200 to 300 MHz configurations; the 300 is probably the best buy. It had 4 MB VRAM, a 4 GB fast (7200 rpm) hard drive, 64 MB system RAM, and a zip drive, as well as a 24x CD-ROM. It has one full-size drive bay available for a hard drive, CD-RW. or whatever you want to put there. There's no OS X support from Apple, but if you upgrade the machine with G3 or G4, OS X can be installed via Unsupported UtilityX by Ryan Rempel. Also, there are no modern interfaces included, so unless you have a horde of SCSI, serial, and ADB peripherals, be prepared to invest in USB and FireWire cards.
Pricing for a stock 8600/300 should be about $300.
Desktop
Apple hasn't made a real modular desktop computer since 1998, unless you count the Cube. Therefore, only one computer has been chosen for this category.
Power Mac G3/300 AV Desktop (rev B). Don't be put off by the long name. The last of Apple's desktops used the same case as most of the excellent 7x00 series, so it's really easy to open. It includes AV in and out on it's Personality Card, has ATI Rage Pro graphics, and comes with a Zip drive. It also supports modern 3.3V RAM and EIDE hard drives, so those kinds of expansion are very inexpensive.
The G3 shipped in several configurations, with the 300 MHz model at the top. It included 6 MB VRAM (but lackluster Rage Pro acceleration), an 8 GB EIDE hard drive, and 64BM RAM, along with a Zip drive. There are no free drive bays, but you get three PCI slots. A DVD-ROM drive was a build-to-order option, but most of the beige G3s didn't have one. OS X support is provided by Apple.
There are lots of things to watch out for. First of all, make sure that you get the revision B motherboard. This includes better EIDE support and a Rage Pro graphics chip (rather than the even worse Rage II+). As with the 8600 and 9600, there are no modern ports on these G3s, so unless you have a slew of legacy peripherals you will need FireWire and USB cards to connect new peripherals.
Laptop
At the high end sits the PowerBook G3 Pismo (a.k.a. FireWire). It was the first portable Mac to include FireWire. Other PowerBook firsts include AirPort, a 100 MHz system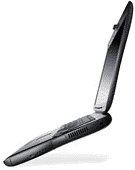 bus, and Rage 128 graphics. Other goodies include a 5.25" drive bay (for the included DVD-ROM drive, which supports CD-RW drives, hard drives, Zip drives, an extra battery, and all sorts of other stuff), an S-Video out port for projecting, a CardBus PC slot, and ATA/66 hard drives. The case is relatively easy to open for a laptop, and adding RAM isn't too much of a hassle. Weight is about 6 pounds, even with the large 14.1" screen, and OS X support is provided by Apple.
What to look for: The high-end 500 MHz model. It shipped with 12, 18, or 20 GB hard drives, a DVD-ROM drive, 128MB RAM, and the trademark 14.1"1024 x 768 screen of the G3 PowerBooks. If you can get another battery, go for it. You can take out the DVD drive and put the second battery in that bay, effectively doubling you battery life from three hours to six. Performance is comparable to a PowerBook G4/500 in non-AltiVec applications.
Many of the earlier G3s with 14.1" screens, especially the WallStreet series, have a problem with the screen clutches (the parts which hold the screen in one place when it's open) breaking. This may have been solved in the Pismo, but they might not be old enough to experience the problems yet.
Price: It's the most expensive on the list. For a 500 MHz Pismo with a 12 GB hard drive, 128 MB RAM, DVD-ROM, and an extra battery, you'll pay about $1,700. For the same price, you can get a G4/400, but it doesn't include the nifty expansion bay.
Lower down, a perennial favorite, the PowerBook 1400c. Sure, it's slow as death by today's standards, but the screen's nice, it keeps running, and it can survive falling down a flight of stairs. This was the first PowerBook to
include an 11.3" screen and a CD-ROM drive. No OS X support, even with a G3 upgrade, because it only supports 64 MB RAM. The case is very easy to open, and it's virtually indestructible (my old one survived falling down the stairs in my house and still ran fine). There is a 5.25" expansion bay, which includes a CD-ROM and a floppy module. You can also add a hard drive, a Zip drive, or a magneto-optical drive. Weight: 7 pounds with the CD drive, 6.5 with the floppy. It has two PC card slots.
What to look for: The mid-range 133 MHz model. The higher-end 166 MHz model costs more and isn't too much faster. The lower end 117 MHz model has no L2 cache, so it's much slower than the others. It includes a 1.3 GB hard drive, an 8x CD-ROM, and a floppy. Look for one with a combo modem/ethernet PC card, since neither a modem nor ethernet is built in. Also, if you can pick up one with a video-out card, go for it, since video-out is not built into the motherboard.
What to look out for: The 117 MHz model. It's slower than death. Also, look out for the passive-matrix model. It's labeled 1400cs rather than 1400c. Passive matrix screens use less power, but at the expense of quality. It's a bad trade.
Price: A 1400c/133 with 48 MB RAM, a CD drive, a 28.8 modem, and ethernet should go for about $450. You'll pay a premium for more RAM, but it's worth it, as RAM is hard to find (and expensive) for this model.
Those are my picks for some of the best, fairly modern Macs out there. There are a lot of other choices that are very good, such as the PowerBook 2400c, the Power Mac 7300, the Power Mac 9600, the Power Mac G4/400 (Sawtooth), and others. However, the ones above are, in my opinion, the best due to their combinations of features and price.
Join us on Facebook, follow us on Twitter or Google+, or subscribe to our RSS news feed
Not sure if you should upgrade your old Mac or replace it? Check the Mac Daniel index to see if we've already addressed your problem.
Today's Links
Mac of the Day: Mac Pro, introduced 2006.08.07. The last Mac to go Intel, the Mac Pro has two dual-core Xeon CPUs at 2.0-3.0 GHz. 8-core option added in 2007.
Recent Content
Custom Search
Follow Low End Mac on Twitter
Join Low End Mac on Facebook
Favorite Sites
MacSurfer
Cult of Mac
Shrine of Apple
MacInTouch
MyAppleMenu
InfoMac
The Mac Observer
Accelerate Your Mac
RetroMacCast
The Vintage Mac Museum
Deal Brothers
DealMac
Mac2Sell
Mac Driver Museum
JAG's House
System 6 Heaven
System 7 Today
the pickle's Low-End Mac FAQ
Affiliates
Amazon.com
The iTunes Store
PC Connection Express
Macgo Blu-ray Player
Parallels Desktop for Mac
eBay

Advertise