iMac Startup Problem Solved, PowerBook 5300 and WallStreet Memories, Removing Languages, and More
Charles Moore - 2006.09.11 - Tip Jar
Re: iMac G3 Bizarre Startup Problem
From Mat Schulte
SUCCESS! Although . . . I'm not exactly sure why. I did the reset-NVRAM thing, as outlined in the article linked above, and that did not immediately seem to do the trick. Then I also fiddled around with some of the procedures outlined on this page: http://www.bombich.com/mactips/openfirmware.html
During the course of the day, I also ended up reinstalling Panther yet again, but only after dragging onto the hard drive a different 9.2.2 system folder (the one used as Classic on my wife's G4 iMac) via the network.
I wish I could file a more precise follow-up, but the fact is it was a long day, and I didn't really keep track of the order of experiments, nor when exactly the magical moment was when I saw that old smiley face Mac OS pop up on the screen.
But anyway, it's working fine now, and I got huge hugs from my daughter for it, so thanks very much to you and Steven Hunter!
- Mat

:-)


C.
PowerBook 5300 Memories
From Andrew J. Fishkin, Esq.
Charles,
I really enjoyed your article on the PowerBook 5300's birthday. I too owned one back in the day, a 5300c (1 MB VRAM version) purchased through Apple's employee discount program for the then-princely sum of $2,700. I was moving up from a PowerBook 520 purchased about 8 months earlier on the same program, which itself was an upgrade to a PowerBook 145b.
Your article brought back fond memories of this compromised, though capable machine. I concur with your assessment that System 7.5.2 was responsible for most of the 5300s bad press, and found that under Mac OS 8.1 the 5300 was both fast and stable.
Thanks for the memories,
Andrew J. Fishkin, Esq.
Hi Andrew,
Glad you enjoyed the article.
Yes, I found that System 7.5.5 was the sweet spot for me, although I tried out up to Mac OS 8.5.
Charles
I Love My PowerBook 5300
From Joshua Coventry
I must also say that I love my PowerBook 5300, too. The passive matrix screen is really bad, but they all are. Someday I plan to get an active matrix 5300 (I think the ce model). More RAM would be good, too, but sadly the 5300/190 use their own proprietary RAM that is extremely hard to get ahold of.
Thanks for the article, it was a good read.
Joshua Coventry
Hi Joshua,
The 5300c had a 640 x 480 dpi active matrix display, and the 5300ce was the first Mac laptop ever with a 800 x 600 display.
RAM is definitely a challenge with these 'Books now.
Charles
PowerBook 5300 Not Apple's Most Expensive Laptop
From hoddy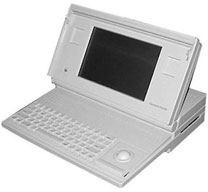 Correction to "The PowerBook 5300 Turns 11: A Reminiscence"
"...the 5300 also has the distinction of being the most expensive laptop Apple ever sold, with the top-end 5300ce model originally selling for a whopping $6,500!"
Depending on what you consider "laptop". The Mac Portable (is it really a laptop?) sold for $7,300 (with hard drive) and $6,500 (without hard drive).
Hi,
It's a debatable point. It's hard to seriously consider the Mac Portable, at 16 pounds or so, being a "laptop." On the other hand, I have included it in The Compleat Buyer's and User's Guide to Antique and Collectable Macintosh Laptops articles on MacOpinion since 2002, noting that "it was absurdly expensive at $6,500 ($7,300 with the optional hard drive), and weighed nearly as much as the CPU/monitor unit of the original compact desktop Macs."
Charles
Kanga Is All I Need
From William D. Bandes
Ho! I just happened on your 5300 reminiscence.
I feel the same about my Kanga, except it's still steaming along with its 12.1" display, CD-ROM drive, and WiFi with a PCMCIA card from MacWireless. Plus a USB-2 PCMCIA card from IOGear.
Running OS 8.6, this gem is all anyone could want!
At home, it's connected to a Magnavox 15" LCD TV, which doubles as a monitor. On the road, it's on the Net everywhere.
It started about $5,600, but I bought it new in-the-box a year later for $2,400.
I don't think this gem can be stopped! And it has the crisp 5300 styling. And it's solidly made. I love it so much that I picked up an identical twin el cheapo in case of trouble. I have an external CD writer, scanner, and backup HD. I have all of the great old inits still running which give me a boffo environment.
In case I really need OS X, I picked up an old WallStreet, which dual-boots 9.2.2 and 10.2.8. It sits idle in a closet most of the time.
Best regards from another retard; everybody else thinks that I'm crazy.
Bill
Hi Bill,
I understand the enduring attraction of the 5300/3400/3500(Kanga) family. Good on you for squeezing the value out of yours, and if it continues to satisfy you needs and tastes, more power to you.
Being as the original G3 was only built for five months and it was monstrously expensive new, there are not a whole lot of them available in the used- refurb channels, and it's destined to become one of the more collectable PowerBooks.
Charles
Another WallStreet/PDQ Upgrade
From Larry
You missed one:
http://www.wegenermedia.com/wllstg4.htm
Which is a G4/500 priced $10 lower than their G3/500. They also require you to return an original processor card with a L2 cache or the price is $30 more.
Thanks for the heads-up, Larry.
Charles
Pismo Upgrades Solves Problem
From J.D.
Greetings!
While your article is a few years old - and you may already know this - I figured you might appreciate the feedback since your article was one of the ones I used when my Pismo decided to get sick. Long story short, it became clear I had a "hardware" problem. I was lucky to be referred to a Mac expert not connected with Mac who gave me advice rather than charging me $$$ to figure out the problem. He basically determined in a few minutes that I had a problem with either the memory, the hard drive, or the processor-processor board. When I cleaned up everything and loaded OS X - changed my 9nome for piXies! - I would get "kernel panics" and the thing would crash even when started on an external disc.
Welcome to eBay - found a cheap and better hard drive. Found cheap 1 GB total memory . . . but I still had problems.
So . . . it came down to the processor or something connected to it - "cache" chip. After reading your article, I contacted the various dealers. Did I need to get a new processor?
One vendor was very helpful:
http://www.wegenermedia.com/pg4550.htm
Their kit was far cheaper than others and, yes, it took only about ten-minutes to exchange. What I liked was they agreed to give me a major discount in repair if it turned out I had "something else" wrong.
Now PowerBook is happy. I rarely get the "spinning" ball unless I am downloading while running my old Photoshop off of System 9 et cetera.
Do not know if this helps or is relevant.
Best,
- J.D.
Hi J.D.,
Thanks for the report.
I've found Wegeners good folks to deal with.
Glad you got your problem ironed out.
Charles
G3 Dual USB iBook Thoughts
From Jimmy James
In your latest Miscellaneous Ramblings, one writer asked about the reliability of dual USB iBooks. One thing to consider is that the failure is due to a faulty ATI Radeon board. The 8 MB VRAM ATI Rage 128-equipped 500 and 600 MHz iBooks (original and Late 2001 models) don't have this issue. You lose Quartz Extreme and the ability to run some games, but if reliability is an issue to you, then this is an important factor to consider!
The Jimmy James
Excellent point, Jimmy.
However, the Radeon 7500 GPU in my own 700 MHz 12" iBook has been trouble-free for nearly four years, although statistically, this model was about the most problem-plagued in that regard.
Charles
Re: Problem Reading CD-R
From Tom Lee
Hi Charles,
Another terrific column - congrats! I saw the question about the Beige G3 having trouble reading CD-Rs. You were correct in thinking that no special drivers are needed. Some drives - particularly older ones - are finicky about the type of dye used in the CD-R media, so that might be his problem. My old clamshell iBook is this way, and it's about the same vintage.
I recommend trying Taiyo Yuden media (they also OEM their stuff under other brand names), burned at about 4x or 8x. In my informal "compliance testing lab" (i.e., big room full of old Macs), that seems to be readable on every Mac I own. Other brands may work, too, of course, but I can attest to TY working with all the Macs I have. This includes an old Performa 630CD, a TAM, PowerBook 3400, WallStreet, dual USB iBooks, TiBooks - you get the idea. :) I've used other media, burned at higher speeds, and they will work with most, but not all, of my Macs. Perhaps this is the problem in this case, too. Just a thought.
- Cheers,
Tom
Hi Tom,
Thanks for the kind words and helpful tips.
Charles
Re: Beige G3 Unable to Read CD-R
From Steven Hunter
If it has a DVD-ROM drive, that would explain it. A lot of early DVD-ROM drives simply will not read CD-R/RW discs. I was never quite sure as to the reason but I suspect it has something to do with the method the drives used to detect if the disc inserted was a DVD or CD.
Also check to make sure the "ISO 9660 File Access" and "UDF Volume Access" drivers are in the Extensions folder. I don't know if Apple's CDs are ISO-9660 compliant, so that can't be a totally reliable test.
BTW, I have yet to find a single CD drive that does not read CD-R discs. The oldest CD drive I've ever seen (an old external SCSI 2x) read a disc I burned just fine. Of course, there's a first time for everything... It may also help to use CD-R discs with a silver reflector layer rather than blue or green.
Thanks Steven,
Charles
Removing Mac OS X Language Packs
From Tom Gabriel
Hi Charles,
I recently installed Mac OS X 10.3.3 on my Power Mac G4 and did not specify "English Only" in the language selection, which took a lot of time installing the various language packs, which I will all but certainly never use. But I then went ahead and installed the 10.3.9 upgrade with Java security update.
The system has been doing great, but I've since been told that the language packs slow system response and take up unnecessary space on my hard drive.
My questions: Can I reinstall the original 10.3.3 system via the "Upgrade" option, even though I have a higher version, 10.3.9, and specify "English Only", then reinstall the 10.3.9 upgrade? And if so, is it really worth it doing to do so?
Thanks for any help you can give.
God Bless,
Tom Gabriel
Hi Tom,
An easier way is to just use Monolingual, a freeware program for removing unnecessary language resources from Mac OS X, in order to reclaim several hundred megabytes of disk space. It requires at least Mac OS X 10.3.9 (Panther) and also works on Mac OS X 10.4 (Tiger).
Charles
Hey Charles,
Excellent help, as usual. Monolingual worked like a champ! A couple of things I found to be helpful:
You have to be signed in as "Administrator" or sole user.
If you choose English, as most of us will, do not delete any other "form" of English (such as British, Canadian, or Australian).
After Monolingual has done its thing, boot from your OS X installation disk and in Disk Utility run "Verify Permissions" and "Verify Disk". This gets everything back the way it should be.
BTW, in case any of your readers would be interested, sourceforge.net also makes a freeware application called Audacity for Mac OS X (and a version for OS 9), which is a music/sound source editing program which can clean up sound files for CD recording or whatever, adjust sound levels, and do some other things that programs like Toast or Audion (or iTunes) don't even pretend to do.
Thanks for the information, and God Bless,
Tom Gabriel
Join us on Facebook, follow us on Twitter or Google+, or subscribe to our RSS news feed
Charles Moore has been a freelance journalist since 1987 and began writing for Mac websites in May 1998. His The Road Warrior column was a regular feature on MacOpinion, he is news editor at Applelinks.com and a columnist at MacPrices.net. If you find his articles helpful, please consider making a donation to his tip jar.
Links for the Day
Mac of the Day: 14" 600 MHz iBook G3, introduced 2002.01.07. The first 14" iBook ran at a comfortable 600 MHz.
Recent Content
Custom Search
Follow Low End Mac on Twitter
Join Low End Mac on Facebook
Favorite Sites
MacSurfer
Cult of Mac
Shrine of Apple
MacInTouch
MyAppleMenu
InfoMac
The Mac Observer
Accelerate Your Mac
RetroMacCast
The Vintage Mac Museum
Deal Brothers
DealMac
Mac2Sell
Mac Driver Museum
JAG's House
System 6 Heaven
System 7 Today
the pickle's Low-End Mac FAQ
Affiliates
Amazon.com
The iTunes Store
PC Connection Express
Macgo Blu-ray Player
Parallels Desktop for Mac
eBay

Advertise