Apple's 10 Worst Products
Dan Knight - 2010.02.23 - Tip Jar
Follow Low End Mac's blogs: LEMblog and Low End Mac Services.
Popularity:











Short link: http://bit.ly/95hCPz
As a longtime Apple user - I cut my computing teeth on an Apple II+ circa 1979 - I get a kick out of reading articles about the 10 Best or 10 Worst Apple products of all time. The latest of these, Top 10 Worst Apple Products of All Time, appeared on the Australian PC Authority website last week.
I have to say that for a change, I wasn't disappointed with the list of "worst" Apple computers and accessories. Here's the list compiled by Shaun Nichols and Iain Thomson:
Let's take a Low End Mac look at these choice:
Mac Portable: Widely Misunderstood
The Mac Portable (1989) was a lousy laptop. Then again, it was never intended to be one. Old timers will remember the earliest successful portables: The 23.5 lb. Osborne 1 (1981) with its 5" display, the 26 lb. Kaypro II (1982) with its 9" screen, and the 28 lb. Compaq Portable (1983) - the first portable IBM compatible computer. These were large, heavy beasties, often compared in size to a portable sewing machine, and they were hugely popular.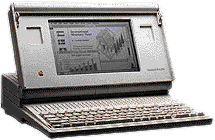 The Macintosh was also designed to be portable and originally shipped with a carry case that had room for the computer, keyboard, mouse, power cable, and a bunch of floppy disks. The first Macintosh (1984) weighed just 16.5 lb., so even with the case and accessories, it was a relative lightweight. I remember toting my Mac Plus between home and work when I was at ComputerLand of Grand Rapids. It was kind of big, heavy, and awkward, but it was portable.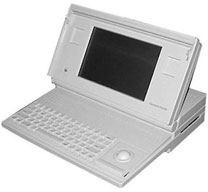 The Mac Portable was intended as a portable Macintosh, not a notebook computer. Compared to the suitcase-sized portables, the 16 lb. Mac Portable was a lightweight. Compared to the Mac Plus, it was a lot easier to tote - it even had a built-in handle. The Portable had twice the power of the Macintosh SE, supported over twice as much RAM, and had a larger display (640 x 400 pixels vs. 512 x 342 - 75% more pixels). It could run up to 10 hours from its battery, and its active matrix display was a treat in good light (but without backlighting, it was virtually unusable in low light).
The Portable had a great keyboard, and it could be used with a numeric keypad or a trackball. For lefties, the trackball could be mounted on the other side.
Mac users who wanted or needed a laptop would have to go the DOS route - or wait two years for the first PowerBooks, which would forever change notebook design.
At $6,500, the Portable sold well, although it was never a runaway success. It was a very competent, well designed computer and does not deserve a dishonorable mention on any list of worst Apple products.
Further Reading
Macintosh Color Classic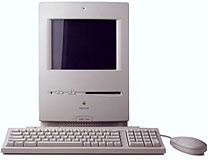 Although the Color Classic (Feb. 1993) has always had something of a cult following, it merits a place on any 10 Worst Macs list. There are several reasons for this:
On the plus side, the Color Classic was the first Mac with a built-in microphone and the first with a slide-out logic board. This made upgrades easy for those willing to swap the board from a 25 MHz LC 520, 33 MHz LC 550, or 33 MHz 68LC040-based LC 575.
One popular modification involves some hardware hacking that converts the built-in display to 640 x 480 resolution. It's a shame Apple didn't design the CC with dual screen resolutions.
Further Reading
10. Apple QuickTake
You'll be forgiven if you've forgotten that Apple ever made a foray into the world of digital cameras, as the first one was introduced in February 1994, there were only four models, and the line was discontinued in 1997.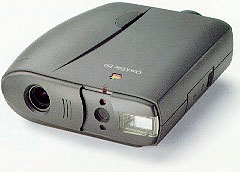 Apple's goal was to help create a consumer digital camera market. By standards of the past decade, they were nothing to get excited about, but the QuickTake 100, built for Apple by Chinon, was the first color digital camera to retail below the $1,000 mark (at a breakthrough $749). Maximum resolution: 640 x 480, and room for storing just eight images at that resolution. No LCD for reviewing your images. No zoom lens and no focus. There was a built-in flash. And it was Mac only.
The QuickTake 100 Plus and 150 added some minor improvements, and the QuickTake 200 was a whole different machine - essentially a Fujifilm DS-7 with the same 640 x 480 maximum resolution, but now the lens could focus. The 200 used SmartMedia cards (also largely forgotten nowadays) and had a much wider range of shutter speeds.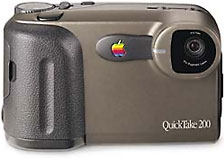 Iain Thomson pans the QuickTake, saying, "Apple chose a stinker of a product to slap its logo on."
The QuickTake cameras were not a commercial success, and they were discontinued in 1997 alongside the Newton and LaserWriter product lines as Apple streamlined for survival and put the focus fully on computers.
Further Reading
9. Apple Pippin/Bandai @mark/@world
Another largely forgotten system was the Apple Pippin, which was launched by Bandai in 1995 in Japan (1996 in the US) and pitched as a gaming console. Unlike most gaming systems, it used CD-ROM discs, had a computer operating system (a stripped down version of the Mac OS), and had a very small selection of titles.

Apple developed the Pippin technology and hoped to license it to multiple vendors, but only Bandai took the bait. The Bandai @mark (pronounced at-mark), as it was known in Japan, only sold 42,000 units worldwide.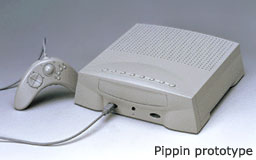 The technology was lackluster, and it faced competition from the Nintendo 64, Sony Playstation, and Sega Saturn. In 2007 GamePro rated it the worst gaming console of all time, and in 2006 PC World put it on a list of the 25 worst tech products of all time.
Further Reading
8. iPod Hi-Fi
Apple stinkers weren't limited to the 20th century. Although the iPod, introduced in October 2001, eventually became the dominant MP3 player (after it stopped being Mac only and added USB), little good can be said of iPod Hi-Fi, a dedicated speaker system/dock for the iPod introduced in early 2006.
First off, it was way overpriced. You could buy a Bose SoundDock, which was more versatile and sounded better, in the same price range. And then there was sound quality - definitely not high fidelity (a common complaint about iPod earbuds as well). It was only compatible with iPods with a dock connector, so first- and second-generation iPod owners were left out, and the remote control had very limited options.
iPod Hi-Fi was big, ungainly, and didn't provide the sound quality expected at the price. Apple finally killed it off in late 2007.
Further Reading
7. PowerPC
I was shocked to see the entire PowerPC processor family on this list. Shaun Nichols says:
"The PowerPC project was a marvelous piece of engineering, but not a great business decision.
"The merits of the chip itself are readily apparent today, derivatives of the POWER line are widely used for high-performance systems, gaming consoles and embedded systems.
"But it wasn't the right choice for personal computers."
Co-author Iain Thomson was also surprised, noting that the decision to adopt RISC architecture made sense at the time. By the late 1980s, it was already apparent that the Motorola 680x0 CPU family was running out of steam. Although architecturally superior to early Intel x86 designs, a new stream in CPU design had emerged promoting RISC (Reduced Instruction Set Computer) design. In brief, RISC design meant the CPU would process a reduced number of instructions but would execute them more efficiently than standard CPUs.
Apple's original plan was to adopt the Motorola 88000 RISC CPU, but Motorola was unable to produce chips until 1990, by which time Apple was looking at other options.
IBM produced its first RISC CPU, the 801, in 1980. The 15 MHz CPU was powerful, but IBM used it primarily for channel controllers and networking devices. The lessons learned from the 801 formed the core of IBM's POWER architecture, which was introduced in 1990 and remains with us to this day.
Apple teamed up with Motorola and IBM in 1991 to develop a new RISC architecture that used some of Motorola's 88000 technology and a lot of IBM's POWER technology. The first PowerPC CPU, the 601, was introduced in 1992 and made its way into Power Macintosh computers in March 1994. PowerPC chips remained at the heart of Macs through 2005, and in 2006 Apple moved its entire line of computers to Intel x86 chips.
The PowerPC architecture was superior to Intel's, but two things happened. On the PowerPC side, after the G3 design, IBM and Motorola parted ways. Motorola added the AltiVec processor and introduced the G4, but was unable to achieve clock speeds that would keep it competitive. Apple eventually convinced IBM to add a velocity engine with the G5 design, but in a world of 3 GHz Pentium 4 CPUs, it also lagged in terms of clock speed.
Burned by Motorola's inability to deliver a 500 MHz G4 when promised and IBM's inability to deliver a 3 GHz G5 when promised, Apple went to its backup plan. The company had been secretly porting OS X to Intel x86 architecture during the entire development process, and it threw in the towel on PowerPC in 2005.
The second important development was the Intel kept moving forward. Today's x86 CPUs are a far cry from the CPUs of the 1980s and 1990s. When Apple made the jump from PowerPC to Intel Core Duo in 2006, there was a big step forward in processing power.
Although PowerPC ran out of steam, I would never call it one of Apple's worst products. There were several times during the PowerPC era when Apple could claim the fastest notebook and/or the fastest personal computer on the market.
Further Reading
6. Mac OS 9
Iain Thomson mercilessly calls Mac OS 9 "Apple's last flogging of the dead horse that was System 7. It was a dog of an operating system in many ways...."
Ouch. Mac OS 9 was the culmination of many years spent improving System 7, which itself had been a big step forward from System 6. By version 9, the Mac OS had gained the ability to do things like format a floppy disk in the background, although it was still necessary to reboot the system when an application locked up. It was a dated operating system, but it remained eminently usable.
Shaun Nichols calls OS 9 a stopgap, which is closer to the truth. The Classic Mac OS was on its way out, but just as PowerPC Macs had been mostly backward compatible with 680x0 software and 32-bit mode in System 7 had been mostly backward compatible with 24-bit mode, Classic Mode in Mac OS X would be mostly backward compatible with Mac OS 9. Not System 7 or Mac OS 8.x; the line for Classic Mode was drawn at OS 9 - and later 9.1 and 9.2.2. And right up through Mac OS X 10.4, Classic Mode let those with PowerPC Macs run their classic apps.
Mac OS 9 was the end of the Classic Mac OS, and it pales in comparison to OS X 10.3 and later. Yet it was the culmination of an operating system family. The Classic Mac OS went out with a bang, not a whimper, and many of us still use it today. It does not deserve a place on this list.
Continued in Part 2.
Join us on Facebook, follow us on Twitter, use our Google+ page, or read our RSS news feed
Dan Knight has been using Macs since 1986, sold Macs for several years, supported them for many more years, and has been publishing Low End Mac since April 1997. If you find Dan's articles helpful, please consider making a donation to his tip jar.
Recent articles by Dan Knight
Links for the Day
Recent Content on Low End Mac
Recent Deals