Apple's 10 Worst Products (Part 2)
Dan Knight - 2010.02.23 - Tip Jar
Follow Low End Mac's blogs: LEMblog and Low End Mac Services.
Popularity:










Short link: http://bit.ly/95hCPz
Continued from Part 1.
5. eWorld
Apple's short-lived eWorld online service was another mid-90s disaster. Developed hand-in-hand with AOL, many maintain that eWorld is what AOL should have or could have been. Problem was, although eWorld might have become popular across the board, it lived in an Apple-only ghetto. The Windows version of eWorld was never finished, keeping 95% of the computing world away.
Worse than just being Apple-only (Mac and Newton), eWorld was not marketed at all. It was provided with new Macs, but you had to look for it, so it was never popular even among the Apple set. It was expensive compared with AOL and other services, and by the time Apple pulled the plug, AOL alone had about 30 times as many subscribers.
eWorld shows what could have been. It was not a technological failure; it was a failure in salesmanship. Launched in June 1994, it went dark at the end of March 1996.
Further Reading
4. Performas
Shaun Nichols states, "When Steve Jobs tells people 'we don't know how to make a cheap computer,' he's partially referring to the Performa line." Iain Thomson claims that "the Performa line produced some of the worst computers in the company's history." Were they really that bad?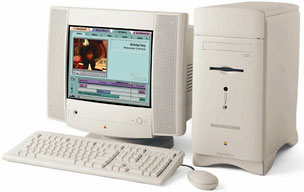 Apple launched the Performa line in September 1992 with the Performa 200, 400, and 600 - rebadged versions of the Classic II, LC II, and IIvx. The first two were identical to their Macintosh counterparts, but the Performa 600 was a slightly more crippled version of the handicapped IIvx - identical except that the "consumer" machine could not accept a Level 2 cache card.
The line came to an end in February 1997 when the Performa 5400 all-in-one and Performa 6400 minitower were replaced by the Power Mac 5500 and 6500. And, as Thomson says, some of the worst Macs ever were part of the Performa line.
However, there were also some excellent Performas. In particular, the Performa 630 was a great computer with a CD-ROM drive bay, an LC Processor Direct Slot, a modem/ethernet slot, and a video slot for either a TV tuner or a video I/O card. There was even a version with a DOS card. The 33 MHz 68LC040 CPU provided sufficient power for a home computer.
There were some real dogs - which we'll look at later - but overall the Performa hardware was generally identical to Macintosh models. The real problem was marketing, as some models were sold as Macs, as LCs (primarily to the eduction market), and Performas, and then sometimes with several different Performa model numbers. The Performa line confused matters, but by and large "some of the worst computers" in Apple's history were also available with other nameplates.
That includes the worst Mac ever, which we'll discuss shortly.
Further Reading
3. 'Hockey Puck' Mouse
Ever since Apple introduced the Lisa in 1983, the company was always about the user interface. It standardized on a one-button mouse with religious fervor, and when it finally produced the multibutton Mighty Mouse, it behaved as a single-button mouse by default. The shape of the mouse changed over the years, but with on exception they all fit the hand well.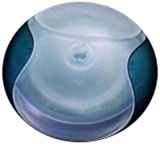 That exception, of course, was the round USB "hockey puck" mouse introduced with the first iMac in 1998. Unlike every mouse before or since, there was no tactile clue that you were holding the mouse with the correct orientation, so you might grab the mouse, move it right, and have the cursor move up-and-right or down-and-right. I was a case of poor ergonomic design and bad human interface, yet Apple stuck with it for years - even including it with its professional Power Mac models.
Curiously, Steve Jobs maintained that it was the best mouse ever created. Fat lot he knows! Or maybe he was only judging it by its visual design - it was quite stylish - and not its usability.
Apple did improve the round mouse along the way, adding a dimple at the center of the mouse button, finally providing some tactile feedback. If you didn't feel the dimple, you were holding it wrong. It was a small improvement to a bad design.
There was great rejoicing when Apple discontinued the round USB mouse in 2000, replacing it with the lozenge-shaped Pro Mouse that used the entire mouse as a button.
Further Reading
2. 20th Anniversary Macintosh
Iain Thomson says the 20th Anniversary Macintosh (TAM) was "very nearly a contender" for the #1 spot on the list, while Shaun Nichols has no issues with the computer itself - but definitely with its timing.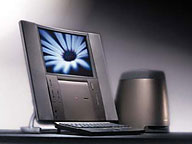 The timing was 1997. Apple was 20 years old and teetering on the edge of bankruptcy. The TAM was designed to celebrate that anniversary (not the Mac's anniversary) as elegantly as possible, costs be damned. The computer was essentially a PowerBook 3400c modified and reconfigured for desktop use. It had the same 12.1" 800 x 600 display, a motherboard with a faster bus and CPU, and even the keyboard was from the PowerBook - complete with trackpad. Memory topped out at 128 MB - even less than the PB 3400.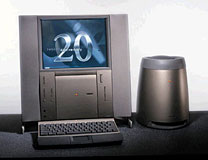 The machine had a front-loading vertical CD-ROM drive and a subwoofer, and it looked gorgeous. At $7,499, it had better!
Apple produced 12,000 TAMs, and they never sold well. However, with its flat panel display and thin design, it did foreshadow today's iMac design.
Further Reading
1. Apple III
I don't think anyone will disagree that the Apple III was by far the worst Apple product of all time. Steve Jobs insisted that the new business computer be compact and quiet, so there were no cooling fans or heat sinks. And the computer ran hot, and the chips would expand and partially unseat themselves from their sockets. The Apple III would lock up, and it was not good.
The Apple III could get so hot that it would damage floppy disks and warp its motherboard. Steve Wozniak said it was the first Apple designed by the marketing department, with the engineering subservient to marketing demands. The Apple III was an unmitigated disaster and merits the #1 spot on this list.
Further Reading
Missing from the List
PC Authority missed a few. The Mac LC, LC II, and Classic II are as deserving of a place on this list as the Color Classic, as they share the same hobbled logic board architecture. And of the four, the Classic II is the most crippled, as it is the only one without an expansion slot or any way to support color output.
Here are five Macs that deserve a place on the worst list in order of their introduction:
Classic II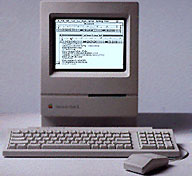 Apple deliberately limited the Macintosh LC to prevent it from cannibalizing Mac IIsi sales (and the IIsi was limited so it wouldn't steal Mac IIci sales). While it might have made sense to do that in October 1990, the Classic II was introduced a year after that - and six months after the 40 MHz Mac IIfx displaced the IIci as the fastest Mac.
In theory, the Classic II replaced the SE/30, which was more expensive and superior in almost every respect. The SE/30 had a 32-bit CPU on a 32-bit data bus; the Classic II put the same CPU on a 16-bit data bus. The SE/30 supported up to 128 MB of RAM; the Classic II was limited to 10 MB. The SE/30 had a Processor Direct Slot; the Classic II had no expansion slot. The Classic II did have 32-bit clean ROMs, while the SE/30 had "dirty" ROMs - the only advantage it had over the SE/30 other than price.
Performa 600 (a.k.a. Macintosh IIvi)
We looked at the Performa line above, noting that it included some of the worst Macs ever - but also some great ones. The Performa 600, introduced in September 1992, belongs on the list of worst ones. Where the LC had put a 32-bit CPU on a 16-bit bus, the Performa 600 (and its near-twin, the Mac IIvi) put a 32 MHz CPU on a 16 MHz bus. The result was worse performance than the older 25 MHz IIci, which had a 25 MHz bus.
The best way to improve IIvi performance inexpensively was to install a Level 2 cache card, but the Performa 600 was modified to make that impossible.
On the plus side, the Mac IIvx, IIvi, and Performa 600 introduced a new case design with room for an internal CD-ROM drive. This design remained in use through the Quadra era and into the first generation of Power Mac computers. A somewhat updated version of that design was used in the Power Mac 7200-7600 and the Beige Power Mac G3 - quite a legacy.
Further Reading
Macintosh TV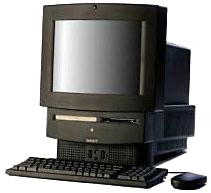 Long before Apple TV, there was Macintosh TV. Rolled out in October 1993, Mac TV took an LC 520, added a TV tuner with cable input, crippled memory expansion (limited to 8 MB vs. 36 MB on the 520), and made everything black. Only 10,000 units were produced, and they were available exclusively through Best Buy, if I recall correctly.
One the plus side, they were great for the dorm room, as you could watch TV fullscreen or use it as a Mac. On the minus side, memory upgrades were seriously limited.
Further Reading
Performa x200 Series
In terms of hobbled hardware design, Apple's low point began with the introduction of the Performa 5200 in April 1995 and the Performa 6200 in May 1995. Without getting too technical (we have links below if you're interested in that), here are the issues:
Over the years, things improved. The 603e solved the small cache problem, but most of these architectural problems persisted until Apple designed an entirely new motherboard, which was introduced with the Performa 5400 in April 1996.
As networking via modem or ethernet became more and more important, the Performa x200 series became worse and worse performers. These computers are at their best when they aren't networked. In all of Apple's history, only the Apple III is worse.
Further Reading
Mac mini Core Solo
There's only one Mac from the Intel era that belongs on a worst list, the 1.5 GHz Core Solo version of the Mac mini.
At 1.5 GHz, this was the slowest Intel Mac ever, and it was the only Intel Mac ever designed with a single-core CPU. Put those two factors together, and this was the slowest, least powerful Intel Mac by quite a margin. Apple never should have released a Core Solo model at all, and this model should be avoided unless you're the kind of person who is comfortable replacing that underperforming CPU with a Core Duo or Core 2 Duo.
Apple's 10 Worst Products
Comparing our 10 Worst Macs list with PC Authority's 10 Worst Apple Products list, here's my list of the ten worst in countdown order:
10. iPod Hi-Fi
9. Apple QuickTake digital cameras
8. eWorld online service
7. Classic II
6. Apple TV
5. Performa 600
4. 20th Anniversary Macintosh
3. Round USB "hockey puck" mouse
2. Performa x200
1. Apple III
Absent compared with PC Authority's list: the Performa line (although we list two Performa models), Mac OS 9, PowerPC CPUs, and the Pippin/@mark, which was an Apple technology but not released as an Apple btanded product. If we were to expand the list to a dozen items, the Color Classic and Pippin/@mark would round out that list.

Join us on Facebook, follow us on Twitter, use our Google+ page, or read our RSS news feed
Dan Knight has been using Macs since 1986, sold Macs for several years, supported them for many more years, and has been publishing Low End Mac since April 1997. If you find Dan's articles helpful, please consider making a donation to his tip jar.
Recent articles by Dan Knight
Links for the Day
Recent Content on Low End Mac
Recent Deals