The 60 MHz Power Mac 6100 was the entry-level Power Mac when Apple introduced its first PowerPC models in March 1994. Built into the Quadra 610 case, the 6100 contains a PDS (processor direct slot) that can be converted to a NuBus slot with an adapter.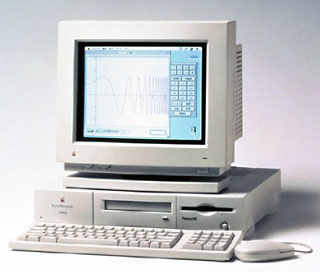 The Power Macintosh 6100 was also marketed under the Performa brand, where its model numbers were 6110CD, 6112CD, 6115CD, 6116CD, 6117CD, 6118CD. It was also sold as the Apple Workgroup Server 6150.
To save money, the 6100 uses system memory for video (up to 615 KB, depending on resolution and bit-depth), not separate VRAM. Thus, one way to improve performance is to add a video card, either the Apple AV card or a third-party video card. (This also makes it possible to run two monitors, one from system memory and the other from a video card.) Another is to add a 1 MB level 2 cache, as noted on our benchmark page. More details at PowerMac 6100 Graphics Updates.
The 6100 was boosted to 66 MHz in January 1995.
See our NuBus Video Card Guide for information on adding a NuBus video card, which requires a NuBus adapter.
Variants
6100av. Includes video-in and video-out. Supports 19″ and 21″ monitors. Has 2 MB VRAM. (AV card can be added to any 6100 with a free PDS slot.)
6100 DOS compatible. Card includes a 66 MHz 486DX2 CPU, SVGA output, and a single SIMM slot supporting up to 32 MB RAM. DOS card can share RAM with Macintosh, which is slower, or use its own memory. (DOS Compatibility Card can be added to any 6100 with a free PDS slot.)
Details
6100/60 introduced 1994.03.14; discontinued 1995.01.03
6100/60av introduced 1994.03.14; discontinued 1994.09.12
6100/66 introduced 1995.01.03; discontinued 1995.10.14
6100/66 DOS Compatible introduced 1995.01.03; discontinued 1996.05.18
6100/66av introduced 1995.02.03; discontinued 1995.04.03
code name: Piltdown Man
requires System 7.1.2 through 9.1
CPU: 60 or 66 MHz PPC 601
Bus: 30 or 33 MHz
performance, 6100/60

CPU 100, FPU 161, MacBench 5
1.8 (relative to Centris 650)
23.26, MacBench 2.0
3.13, Speedometer 4
22,989 Whetstones

performance, 6100/66

CPU 112, FPU, 177, MacBench 5
3.40, Speedometer 4

ROM: 4 MB
RAM: 8 MB, expandable to 264 MB using matching pairs of 80ns or faster 72-pin SIMMs (Apple does not support 64 or 128 MB SIMMs, since they were released after the computer and Apple has not verified compatibility.)
VRAM: none on motherboard, used 640 KB of system memory, 2 MB on AV card
Video:

onboard video supports thousands of colors at 640 x 480 and 256 colors at 832 x 624
AV card supports millions of colors at 640 x 480 and 832 x 624, thousands of colors at 1024 x 768 and 1152 x 870
motherboard video uses up to 640 KB of system memory
A dead or low-voltage PRAM battery can temporarily kill off built-in video – see Macintosh Computers: Low Battery Can Cause No Video for more information.

L2 cache: optional on 6100/60, 256 KB standard on 6100/66, supports 256 KB to 1 MB L2 cache
Hard drive: 160-250 MB on 60 MHz, 350-500 MB on  66 MHz
CD-ROM: 2x standard
Microphone: standard 3.5mm minijack, compatible with line-level input including Apple's PlainTalk microphone
ADB: 1 port for keyboard and mouse
serial: 2 DIN-8 GeoPorts on back of computer
SCSI: DB-25 connector on back of computer
Ethernet: AAUI connector on back of computer, requires AAUI adapter
one PDS slot (NuBus adapter available)
Power supply: 200W
PRAM battery: 3.6V half-AA
Height: 3.4 in
Width: 16.3 in
Depth: 15.6 in
Weight: 14.0 lb
PRAM battery: 3.6V half-AA
Gestalt ID: 75
Accelerators & Upgrades
Because the 6100 uses up to 640 KB of system memory for video (unless you're using an AV card or NuBus video card), you can really boost video and system performance with a 1 MB L2 cache. For more information, see What Is a Cache from The L2 Company [archive link].
An AV card or third-party video card will improve performance and free up about 600 KB of system memory.
NewerRAM has 128 MB SIMMs for 6100, Applelinks, 1/11/2000
MicroMac Speedy variable speed oscillator
Output Enablers 80-82 MHz clock accelerator (76-80 MHz version for 6100 DOS Compatible)
Griffin Mac-celerator (variable speed to 80/84 MHz for 60/66 MHz models, incl. fan), discontinued
Crescendo (120/132 MHz 604 or 180/200 MHz 604e) from Sonnet Technologies, discontinued
Crescendo/NuBus G3 (400/500 MHz G3) from Sonnet Technologies
210 MHz and 240 MHz MAXpower G3 from Newer Technology (210 MHz version reviewed on Macs Only!), discontinued
Online Resources
Cautions
You cannot upgrade from Mac OS 9.0 to 9.1 using updaters on NuBus models. You must use a full installation CD for OS 9.1.
We're dead serious about recommending matching RAM when upgrading the 6100 – bad things happen if you don't match SIMMs.
Outside of California, Apple discontinued support and parts orders for this model on 1 January 2001. You may be able to find dealers with parts inventory either locally or on our parts and service list.
Beware bogus 256K cache module AP2544-02 – it doesn't do anything on the 6100 or 7100.
The fan filter for the 610 and other models that use the same case is inside the power supply. Sometimes a "bad" power supply can be repaired by clearing the dust out of the mesh screen near the fan.
This case has poor air circulation, which can cause replacement hard drives or accelerators to overheat. If this happens, the first thing to try is removing the small horizontal insert on the back. If this fails, look into replacing the fan in the power supply (contact Newark Electronics at 1-800-463-9275 for information on their 25cfm fan) or moving the hard drive to the CD-ROM bay (assuming you don't have a CD-ROM player).
Keyword: #powermac6100
Short link: http://goo.gl/CIFN56
searchwords: powermac6100, performa611x