Launched in April 1997 as part of my personal website, The New Low End Mac User has evolved and grown. At this point, we've served up somewhere around 6.5 million web pages. Wow! This article looks at some important site developments in 1999.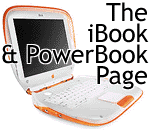 For a while, I had a page for PowerBook links, and then I launched a new section just for the iBook. I eventually decided it just didn't make sense to keep them separate, so I combined them in November. The iBook & PowerBook "home page" has the same kind of links you'll find on the Low End Mac or the iMac Channel home pages, but these are specifically related to portable Mac computing. The 'Book home page alone has been served up over 25,000 times since I launched it on July 22nd.
This is also an area where I think different about site design. Instead of a banner across the top, I put the Low End Mac and iBook & PowerBook Page graphics in the navigation bar on the right, something I've been doing more and more of over the year.
Increased Editorial Content
A year ago, you'd probably find 90% of the site content was written by me, about 9% from Scott L. Barber from our Quadlist email list, and a few random articles by others.
That began to change in January when Evan Kleiman started writing a regular iMac Musings column on The iMac Channel. His first article appeared on January 18; his most recent (#33) on December 22.
In February, we posted the first article by Paulo Rodrigues, Guide to P1 Features. Paulo has written nine article on various areas over the year, recently adding one about his decision to get an iMac instead of an iBook.
Charles W. Moore, a former co-conspirator from my MacTimes days, brought his Miscellaneous Ramblings to Low End Mac in September. We publish his column several times each month.
Weeks later, Steve Wood joined as a regular writer on our MacInSchool subsite. His View From the Classroom covers a wide range of subjects (mostly school related) and appears like clockwork almost every Monday.
Also in September, Rodney O. Lain wrote his debut article on Low End Mac, PowerBooks For All. It was well received, so we set up the Things Macintosh section for his writing in early October.
Mac Metamorphosis by Eric DeStefano also debuted in September, chronicling one user's move from the Wintel world to the Mac.
Between all that and my own output, you'll find new editorial content on Low End Mac almost every day of the week – and often two or three new articles.
The Return of Mac Daniel
Last year I launched Mac Daniel, an advice column. It grew from once a week to three times a week, and the email load soon became more than I could handle. I wrote fewer and fewer articles, got months behind on email, and canceled Mac Daniel in June.
But it was too good an idea to abandon. I contacted the volunteers on the Low End Mac help desk and got some help. Julie Fuggett, Manuel Mejia Jr, and Charlie Ruggiero are each contributing Mac Daniel columns about twice a month. They are a godsend.
Individual Articles
Some articles have taken on a life of their own, getting a lot of traffic weeks, months, and even years after they were first posted. Here are some of the top traffic generators for 1999:
The Email Lists
We started 1999 with seven email lists: Quadlist, Mac Webmasters, The iMac List, Vintage Macs, PowerBooks, PowerMacs, and SuperMacs. The oldest, most popular, and busiest list, Quadlist, had 432 subscribers. Ignoring overlap, the lists had a combined circulation of 2,285.
Over the course of 1999 we launched Compact Macs, MaX, Mac Canada, Outback Mac, and, just a week ago, G-List. Ignoring overlap, there are 5,375 subscribers between the lists. The largest number (738) receive the PowerBooks list, while most traffic (over 1,400 messages) is generated on the PowerMacs list. (That's part of the reason we're separating G3 and G4 machines on the G-List – 1,400 messages are a lot to read in one month!)
These lists have grown into very helpful communities of Mac users. Flame wars are very rare, although they do sometimes get into some interesting off-topic tangents. Despite that, they are an excellent source of information for Mac users.
Conclusion
Low End Mac had quite a year in 1999. Despite the increased number of Mac-related websites, we've actually grown the site to it's busiest level ever – and Macworld is just about to start.