'Book Reliability, Buying Before Intel, WiFi, 1.2 GHz TiBook Upgrade, Red Hot Ferrari Laptop, and More
This Week's PowerBook and iBook News
Compiled by Charles Moore and edited by Dan Knight - 2005.09.16
This Week's PowerBook, iBook, and Notebook News
General Apple and Mac desktop news is covered in The Mac News Review. iPod news is covered in The iNews Review. News about Apple's transition to Intel CPUs and other Intel developments is covered in The Macintel Report.
All prices are in US dollars unless otherwise noted.
News & Opinion
Advice
Products and Services
Tech Trends
News & Opinion
'Books Mostly Don't Break
Consumer reports has posted a char indicating the percentage of five-year-old products with and without a warranty that have ever been repaired or had a serious problem. They've also listed a sampling of brands that have been especially reliable over the past few years, along with brands that are among the more likely to have needed repair. In computers, the especially reliable brands are:
Desktop PC: Apple, Dell, Sony
Laptop or notebook PC: Apple, Toshiba
Buying a 'Book Before the Intel Switch
The Unofficial Apple Weblog's C. K. Sample III says:
"in the continuing days of the year 1 B.I. (Before Intel), I'm continuing to wonder how many of you will upgrade to a PPC-based Mac....
"I'm getting a 15-inch PowerBook fully tricked out.
"I was suddenly struck with a thought: 'Ye gods!' I exclaimed. I thought, 'I've done exactly what I said no one would do. I've bought a new PowerPC based Apple machine before the Great PPC to Intel Changeover!' Anyone else out there experience this epiphany? Are you planning on holding out on your desire to get a new computer until after Intel? "
The Well-Connected Laptop
cio-today.com says:
"Now that laptop users have been given a taste of wireless, it's likely that users will demand ubiquitous access, and the technologies to make it happen are finally coming together. But there are some important technical and business challenges the industry must addresses.
"WiFi has become a standard feature on laptop PCs since Intel introduced its Centrino chipset. About 80 percent of the more than 50 million laptops expected to ship worldwide this year will include built-in WiFi support.
"As welcome as WiFi connectivity is, it has three major weaknesses. WiFi service is available only at isolated hot spots, found mainly in hotels, airports and coffee shops. Because WiFi uses a shared connection, throughput can fall through the floor at well-attended conferences. And WiFi service lacks the seamless roaming that mobile phone users have come to expect.
"Now that laptop users have been given a taste of wireless, it's likely that users will demand ubiquitous access, and the technologies to make it happen are finally coming together. But there are some important technical and business challenges the industry must addresses."
Advice
Fixing the Power Connector on a PowerBook G3 (Kanga)
Hardmac's Lionel reports:
"André Sterpin is back with a bang, with a step by step guide to fixing the power feed connector of an elderly G3 PowerBook.
"It's as detailed and well-presented as usual."
Products and Services
1.2 GHz G4 TiBook Upgrade
[PR] Sleek. Sexy. Powerful. Just a few of the words used to describe the lust factor of the Titanium PowerBook G4 ("TiBook"). Your 550 or 667 (VGA) TiBook may still be sleek and sexy, but powerful, well . . . at least iTunes doesn't seem to have a problem - yet. With each upgrade of Mac OS X and your favorite applications, your TiBook seems to run just a tad bit slower. You've been holding out for the mythical PowerBook G5, but why wait when you can upgrade your current TiBook 550 or 667 (VGA) now with Sonnet's PowerBook Upgrade Service - power up to a G4 processor running at 1.2 GHz at the fraction of the cost of purchasing a new PowerBook.
1.2 GHz Titanium Makeover
Sonnet's in the business of giving your TiBook 550 or 667 (VGA) a new lease on life. A faster processor equals better performance, more power, uncompromising speed. With a Sonnet upgraded TiBook you'll feel the difference. Mac OS X moves. CDs import into iTunes like there's no tomorrow. iPhoto snaps open. Adobe Creative Suite? Apple Final Cut Pro? You'll have power to spare.
PowerBook Compatibility
Sonnet's TiBook Upgrade Service is available for the PowerBook G4 (Titanium) 550 MHz and 667 MHz (with VGA external monitor port). Your upgraded TiBook is completely compatible with your existing hardware, software, RAM, and peripherals. It also fully integrates with your system software, supporting Mac OS 9.2 through the latest version of Mac OS X. Take advantage of faster performance.
Other Sonnet processor upgrades are user-installable, but due to the complexity and technical skills required to upgrade a PowerBook G4's processor, Sonnet will send a custom, padded shipping container for your PowerBook, certified by FedEx for shipping and receiving notebook computers.
Once you receive the shipping container, fill out the enclosed processing form (also available as a PDF download), pack it along with your TiBook as instructed, and then send the entire package to Sonnet.
Sonnet upgrades your PowerBook G4 (Titanium) 550 MHz or 667 MHz (with VGA external monitor port) with a PowerBook G4 logic board upgraded with a G4 processor running at 1.2 GHz G4 with 512K L2 backside cache.
After initial inspection and approval, Sonnet upgrades your PowerBook. The service includes the installation of the upgrade CPU directly to the logic board, post-upgrade hardware inspection and testing, and final system tuning for maximum performance.
Due to international shipping requirements, this service is not available outside the continental US.
Compatible Models
Price $499.95
Transceiver Ensures Maximum Wireless Signal for 'Book Owners
[PR] Imagine sitting three or four blocks outside the office and still getting into the AirPort wireless network there, with signal strength to spare. That's the kind of power that these new Transceivers offer Apple PowerBook and iBook users. It is powerful, but also very easy to use, requiring no extra software or extra steps. This 500mW/27dBm high power comes at a relatively low cost of $200 .
This small Transceiver is not much larger than a antenna, clips onto the PowerBook or iBook case and is easy to travel with and easy to pop on and use, where ever mobile Mac users go. It connects to the 'Book through the AirPort card, already installed on the Mac - just like an antenna. It's ideal when trying to get a full-speed connection at large public areas such as airports, college dorms, expansive offices, hotels, outdoor commons, and can't seem to connect at any tolerably fast speed.
It comes with a power converter when working near a power outlet, and can also be powered from a FireWire port on the computer. Specifically, these Transceivers work with the following Apple computers:
Part # Mac model
27 XVR IB 12" & 14" iBooks
27 XVR Ti 15" titanium PowerBook
27 XVR AI 15" aluminum PowerBook 1.33 GHz and earlier
27 XVR AIP 15" aluminum PowerBook 1.5 GHz & 1.67 GHz
27 XVR AI 17" aluminum PowerBook all models
All models have a 2 pound shipping weight.
Rick Estes, president QuickerTek, Inc. stated, "Our new Transceiver for the PowerBook and iBook user is just a wireless powerhouse. You can sit down almost anywhere and not only get a signal, but get a fast connection - that's where the rubber meets the road. A few products can pick up a weak and unusable wireless signal, but making a high speed connection is the real challenge, and this new Transceiver has that and more," he continued.
Hapy Mayer of Small Dog Electronics said, "This new Transceiver makes long distance AirPort wireless networking a breeze. A QuickerTek PowerBook or iBook Transceiver and your computer makes a powerful mobile combination. We have them in stock and our customers are going to love them," he exclaimed.
Like most QuickerTek products, it's backed with a one-year warranty on parts and labor.
QuickerTek is a recognized leading innovator of antennas and RF products for Apple desktop and portable computers. QuickerTek products can be purchased at Mac dealers such as Small Dog Electronics, TechnoWarehouse, PowerBook Medic, DayStar Technologies and many others.
Hitachi's Notebook Hard Drive Upgrade Kit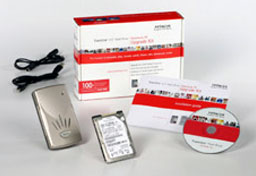 [PR] Hitachi Global Storage Technologies' Notebook PC Upgrade Kit delivers performance, capacity, and peace-of-mind in one simple package. Introducing the industry's first complete notebook upgrade solution &endash; this kit includes both a new internal hard drive for upgrade and components to create an external storage back-up solution using your existing hard drive.
Benefits
Increase the capacity and improve the performance of your notebook PC
Protect your data by creating a state-of-the art external back-up solution using your original hard drive
Extend the life of your notebook investment
Available in the following capacities: 100 GB, 80 GB, 60 GB, 40 GB
Package Contents
Award-winning high-performance 5400 RPM Travelstar 2.5" hard drive
Upgrade CD with Apricorn EZ Gig II software
High-speed USB 2.0 hard drive enclosure (compatible with USB 1.1)
USB interface cable
PS/2 auxiliary power cable (required if using with USB 1.1 port)
Installation guide
Prices range from $139 to $219.
Editor's note: If your 'Book has USB 1.1 instead of USB 2.0, you might a FireWire drive more to your liking. USB 2.0 is 40x faster than USB 1.1, and FireWire 400 is roughly 32x faster. dk
Adobe Messenger Bag for Creatives and Designers
[PR] Adobe Systems Incorporated has announced a collaboration with MEDIUM Design Group to deliver the ultimate messenger bag for creative and design professionals. This must-have bag has multiple compartments that hold all accessories and technology necessities designers use everyday. The limited-edition bags will be sold exclusively at Barneys New York and online at adobe.mediumdesigngroup.com, beginning in November 2005 for a suggested retail price of $250. Customers will be able to preorder the Adobe/MEDIUM Messenger Bag beginning immediately.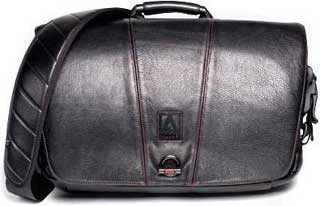 "The messenger bag symbolizes a concerted effort between MEDIUM and Adobe to forge a union of design and technology," said Scott Milden, Founder, MEDIUM Design Group. "From concept to creation, the product embodies the essence of creativity while satisfying the functional needs of designers."
Commissioned by Adobe and crafted by MEDIUM, the cobranded bag unites two companies that share a passion for design excellence. The carryall balances form and functionality with style and elegance. Produced in striking black leather and outlined in red stitching, it's designed to hold a 17-inch laptop, folders, PDAs, keys and cell phone. MP3 players fit perfectly in their own pockets, which include specially designed buttonholes and hooks, allowing users to run headphone cables outside the bag. A roll-top closure and unique rain cover protect valuables from the elements and safeguard creatives' must-have items.
The Adobe Messenger Bag is designed for the digital creative professional. Large interior pockets store sketchbooks and cables, while object specific thermoformed pockets organize a laptop computer, MP3 player and mobile phone. An oversized shoulder strap dissipates pressure from a heavy load while the unique roll-top closure system ensures that precious cargo remains inside. Crafted from high-denier nylon and supple full grain leather, there is even a deployment rain hood to protect the bag and everything inside from the elements. This product was designed by MEDIUM Design Group using Adobe Creative Suite software.
Bag Design
Compartments built for your digital lifestyle can hold a 17" laptop, cell phone, keys, and MP3 player
Solid construction to safeguard creatives' must-have items
Hooks on the strap clip earphone wires out of the way
A buttonhole enables users to run headphone cables outside the bag
Specially designed pockets can hold cables, files, folders, magazines, and digital devices, such as MP3 players, cell phones, or PDAs
A roll-top closure and unique rain cover protect valuables from the elements
Striking black leather with red stitching
Special Adobe/MEDIUM hangtag
Adobe logo on the front and on the rain cover
MEDIUM logo on the reverse of the bag
The bag was designed from beginning to end using Adobe Creative Suite 2 software, including Adobe Photoshop CS2, Adobe InDesign CS2, Adobe Illustrator CS2, Adobe GoLive® CS2 and Adobe Acrobat® 7.0 Professional.
MEDIUM designers created initial product design draft s in Adobe Illustrator CS2 soft ware and then generated realistic color renders in Adobe Photoshop CS2 soft ware. Ready for review, the design was converted to Adobe Portable Document Format (PDF) and e-mailed to other designers or posted to the MEDIUM Web site created using Adobe GoLive CS2 soft ware. For print marketing materials, MEDIUM is using Adobe InDesign CS2 soft ware.
MEDIUM Design Group's design process
Adobe Acrobat Professional 7.0 soft ware for commenting electronically and collaborating on designs
Adobe GoLive CS2 for creating the MEDIUM Web site, where designs are posted for review in Adobe Portable
Document Format (PDF)
Adobe Illustrator CS2 for specifications and blueprints
Adobe InDesign CS2 for creating print marketing materials such as catalogs
Adobe Photoshop CS2 for photorealistic rendering, colorization, and adjusting product photography
MEDIUM is a designer's movement, fashioning products for creatives. For more information contact Public Relations Manager, James Vaccaro at 805-560-3890 ext. 224 or visit the MEDIUM website.
Marware Protection Packs for PowerBooks
[PR] The PowerBook Protection Pack consists of a Wrist Rest and a Keyboard Cover. The wrist rest is a slip of PVC leather designed to prevent scratches and provide a smooth, padded work surface. The non-permanent special adhesive allows for effortless complete and clean removal. The dual-purpose Keyboard Cover is made of microfiber, the same material used for lens cloths. Perfect for protection against impurity transfer and for use as a screen cleaner.
Available for 12", 15", and 17" PowerBooks. The PowerBook Protection Pack is the perfect conclusion to your notebook protection needs.
2-port Serial ATA (1.5 Gbps) CardBus Card for Mac
[PR] Finally.... A SATA CardBus card for Mac users!
The SATA-CB01-MAC is a 2-port Serial ATA (1.5 Gbps) to CardBus PC Card featuring Silicon Image Sil3512 Serial ATA Host Controller.
SATA-CB01-MAC is designed to meet the demanding requirements of today's Serial ATA bus architecture. Its capability of performing 1.5 Gbps transfer speed enables the throughput and bandwidth to move data efficiently and quickly between the CardBus and Serial ATA buses.
Host Bus:
32-bit, 33 MHz
PCI 2.2 Compliant
Type II CardBus
PCI Bus Power Management:
Serial ATA:
Compliant with Serial ATA 1.0
48-bit sector addressing
Transfer Rate:
Supports PIO and DMA modes
Supports bus master
DMA at 1.5 Gbps burst rate
Serial ATA port:
2 External Ports (Signal Type)
OS Requirement: Mac OS X 10.2 or higher
Test equipment used:
PowerBook G4/1.6 GHz, 1 GB SDRAM
Maxtor DiamondMax model 6L100MO 100 GB SATA150 HDD
This product will be in stock on Monday, 26 September 2005.
Price: $59.95
Stop Thumbdrive Theft, Digital Disasters with SecurityDR Accessories
[PR] If you leave your thumbdrive at your local Starbucks or lose it on a business trip, your life is an open book - from the confidential Power Point you've taken to show a client to the personal financial data you're bringing to your accountant. Now you can stop thumb thieves with Digital Innovations' SecurityDR Data Guard Thumbdrive Lock (MSRP $14.99), a mechanical lock designed to keep any standard USB memory drive from prying eyes.
Just slip the metal Data Guard over the USB end of the thumbdrive, then set the built-in three-dial combination lock. If anyone tries to plug the locked memory drive into a USB port, the lock will block the connection. For added protection, the lock can't be removed without destroying the drive and its contents.
The Data Guard is part of a new line of digital accessories designed to protect electronics and other valuables against theft, loss and sabotage. Other SecurityDR products include:
SecurityDR PC Defender Screen Lock (MSRP $29.99), a three-piece wireless system that locks and conceals your PC screen when you walk a certain distance away. Install the software, plug one transceiver into your USB drive, and put the other on your belt or in your pocket. When you leave for a break or a meeting, the screen automatically locks and displays a screen saver. Walk back into range, and the screen unlocks by itself.
SecurityDR Secure Force Wireless Separation Alarm (MSRP $29.99), an electronic separation sensor and alarm system for laptops, cameras and other valuable items. Attach one sensor to the item; take the other with you. An alarm will sound whenever you and the item are separated by whatever distance you have established. This not only prevents theft but also ensures that you won't forget your computer, MP3 player, cell phone or other essentials.
SecurityDR Retractable Laptop Lock (MSRP $19.99), a compact cable locking system consisting of a security bolt that plugs into the laptop's security key slot and a six-foot retractable cable housed in a sturdy case the size of your hand. Thread the cable through a hole in the bolt, wrap it around a table or desk, set the three-dial combination lock, and you're safe.
SecurityDR Laptop Security Alarm (MSRP $39.99), a three-piece system that provides both a motion sensor and physical lock to double your protection against laptop theft. Plug the system's security bolt into your laptop's security key slot, release the cable from the housing, feed it through a hole in the bolt and around a table or desk, attach the motion sensor to the cable, and set the three-digit alarm code on the motion sensor. If a laptop thief strikes, the siren will sound and can be disarmed only with the code you have programmed.
SecurityDR Property Protector Security Alarm (MSRP $19.99), a credit card-sized electronic motion detector that can be used to protect cellphones, MP3 players, Sony PSPs, purses, wallets and other vulnerable items. A short cable connected to the sensor can be used to wrap the alarm around numerous items.
SecurityDR Media Vault Locking Case (MSRP $9.99), a lockable storage case for any combination of CD-ROMs, DVDs, flash memory cards, USB jump drives and/or Sony PSP UMD cartridges. Notebook-style plastic sheets store media safely; a user-settable combination lock keeps would-be thieves at bay. Stores conveniently in your DVD storage rack.
SecurityDR I-Spot Wireless Locator (MSRP $49.99), an electronic tracker that puts easy-to-misplace items like keys, cellphones, PDAs, remote controls, wallets and glasses just a beep away. The package consists of a handheld transmitter and four thumb-sized, color-coded wireless receivers that can be attached to four different items. Whenever an item is missing, press the button of the corresponding color on the transmitter, and follow the beeps.
All products will be available by the end of September from major retailers including Best Buy, Circuit City and Staples or online.
Tech Trends
Acer Ferrari Laptop Defines 'Cool'
TechNewsWorld's Rob Enderle says:
"Except for those of us who build our own desktop computers, laptops have become the product that increasingly defines our personalities and which one we choose says more and more about who we are. Until recently our choices were defined by vendors: Apple if you favored high design, IBM if you liked reliability and unique features like secret keyboard light, Dell if you were driven by price and Sony if small was your thing.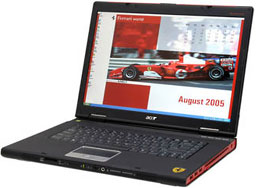 "But, like cars, which long ago moved away from basic black, laptops are getting a makeover. Some are even getting an extreme make over. This week let's take a look at laptops to lust after....
"The top of the list and at a reasonable cost of US$2,000 is the Acer Ferrari 4000 laptop computer. As some of you who follow me might recall, a year ago I fell in love with the previous version of this product and used it to point out how dull the Apple Titanium product looked in comparison. However, in all honesty, the Apple remained a better product to use because the original Acer had a desktop processor, a square 15-inch screen, and could get hot enough to cause physical pain.
"In the current version of this machine, the new AMD Turion processor solves most of these problems and, coupled with the high-end ATI chipset and a 15.4-inch panoramic screen, this is now truly a notebook that kicks Apple's butt. Granted, Apple is hobbled right now by an aging design, the departure of many key designers to OQO, and a slow migration to an Intel-based architecture. I'm expecting Apple to come back with a typical flourish next year, but until then, the Acer Ferrari notebook wins on cool."
ThinkPads to Gain Roll Cage
eWeek reports:
"Lenovo plans to equip its notebooks with a roll cage, in a small step toward its larger goal of becoming a bigger player in the world PC market.
"The PC maker, whose executives on Tuesday briefed reporters on its progress since acquiring IBM's PC group in May, has designed a magnesium alloy skeleton to stiffen its forthcoming ThinkPad Z Series internally, helping the model line to better survive falls, bumps and other shocks.
"The frame, dubbed roll cage, is largely invisible to ThinkPad owners. However, it personifies what Lenovo Group executives call 'the new Lenovo.'"
Bargain 'Books
Bargain 'Books are used unless otherwise indicated. New and refurbished units have a one-year Apple warranty and are eligible for AppleCare.
There are two different versions of WallStreet running at 233 MHz, the cacheless MainStreet version and the later Series II with a level 2 cache. It's not always possible to determine from the vendor's listing which is being offered, so we've included links within this paragraph to the two models. The same goes for the PowerBook G4/667 (VGA) and G4/667 (DVI), the titanium vs. aluminum 15" PowerBook G4 at 1 GHz, and 1.25 GHz to 1.5 GHz 15" PowerBooks.
The iBooks include AC adapter, battery and 60 day guarantee.
12" iBook G3/500, 10/192/CD-ROM, $329.99
12" iBook G3/600, 15/192/CD-ROM, $399.99
12" iBook G3/700, 20/192/Combo, $469.99
12" iBook G3/800, 30/256/Combo, $539.99
12" iBook G3/900, 40/256/Combo, $589.99
14" iBook G3/800, 30/256/Combo, $599.99
14" iBook G3/900, 40/256/Combo, $589.99
AirPort card (offer good only with iBook), $74.50
AirPort Base Station with it (offer good only with iBook), $39.50
PowerBook WallStreet G3/233, 128/4/CD-ROM, $200
PowerBook WallStreet G3/266, 128/6/CD-ROM, $229
12" iBook G3/500, 128/20/CD-ROM, $345
12" iBook G3/500, 128/20/CD-ROM, AirPort, $409
12" iBook G3/700, 256/30/Combo, $515
refurb 12" iBook G4/1.2 GHz, 256/30/CD-ROM, $799
refurb 14" iBook G4/1 GHz, 256/40/Combo, $899
refurb 14" iBook G4/1.33 GHz, 256/60/Combo, AirPort Extreme, $999
refurb 17" PowerBook G4/1.33 GHz, 512/80/SuperDrive, AirPort Extreme, $1,799
14" iBook G3/800, 256/30/Combo, PC133 SO DIMM 512 MB, Kensington Saddlebag (brown), Small Dog Coozie, $809
For more deals on current or recently discontinued models, see our Best Aluminum PowerBook G4 Deals, Best Titanium PowerBook G4 Deals, Best iBook G4 Deals, and Best iBook G3 Deals. For deals on iPods, see our Best iPod Deals.