DayStar nPOWER Multiprocessing Upgrade
Got a multiprocessor DayStar? Join the Old Mac MP email list.
Have a DayStar or Power Mac? Join the PCI-Power Macs email list.
Platforms Supported
Power Mac 7300, 7500, 7600, 8500, 8600, 9500 and 9600
UMAX SuperMac J700, S900
This is the media accelerator for professionals. DayStar's nPOWER Multiprocessing upgrades

deliver the world's fastest dual-processor media performance available for any Mac OS system and an extremely affordable TechWorks price! These powerful upgrades employ two PowerPC 604e processors for unparalleled speed.
Users desiring the fastest possible media performance, need multiprocessing performance. nPOWER makes it easy... simply open the cover, swap the nPOWER card with the current single processor card,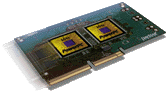 and add the system extension. Then restart and fly off to new levels of productivity! No special skills are required. Compute intense Multiprocessing applications, such as Video, Prepress, and 3-D will see immediate gains of 2- to 3-times faster. Even single-processor applications will run faster with the newer faster 180 MHz processor.
nPOWER is the de facto standard for multiprocessing. This same technology, developed here at DayStar, has been licensed to Apple Computer and UMAX for their MP solutions. DayStar's nPOWER is only available through Techworks. So, when you need more media performance - more than you can get from even the fastest single-processor Mac OS system - turn to StarTeck at 770-564-5685 .
System Requirements:
Power Mac 7300, 7500, 7600, 8500, 9500, 8600, 9600 or Umax SuperMac S900 and J700
Requires Apple System 7.5.2 or greater (not included).
Included software
MP Library - A Mac OS System 7 extension
DayStar nPOWER System utilities
Multiprocessing Performance Extensions for:

Adobe Photoshop including
- DayStar MP Booster and
- DayStar MP Plus Pack
Adobe After Effects
Adobe Premiere
Kodak kcms/Photo CD
Apple QuickTime 2.5
Strata StudioPro Blitz (Support in Application)
| | |
| --- | --- |
| Part Numbers: | Mfg# |
| nPOWER 360 - Dual 180 MHz PowerPC 604e | |
| nPOWER 400 - Dual 200 MHz PowerPC 604e | |
| nPOWER 450 - Dual 225 MHz PowerPC 604eev | |
| nPOWER 466 - Dual 233 MHz PowerPC 604eev | |
<back to DayStar index or Low End Mac home page>

---

Low End Mac Reader Specials

© 1998-2001 by DayStar Technologies, Inc. Posted by permission. All Rights Reserved.

Low End Mac is an independent publication and has not been authorized, sponsored, or otherwise approved by Apple Inc. Opinions expressed are those of their authors and may not reflect the opinion of Cobweb Publishing. Advice is presented in good faith, but what works for one may not work for all.
Entire Low End Mac website copyright ©1997-2016 by Cobweb Publishing, Inc. unless otherwise noted. All rights reserved. Low End Mac, LowEndMac, and lowendmac.com are trademarks of Cobweb Publishing Inc. Apple, the Apple logo, Macintosh, iPad, iPhone, iMac, iPod, MacBook, Mac Pro, and AirPort are registered trademarks of Apple Inc. Additional company and product names may be trademarks or registered trademarks and are hereby acknowledged.
Please report errors to .
LINKS: We allow and encourage links to any public page as long as the linked page does not appear within a frame that prevents bookmarking it.
Email may be published at our discretion unless marked "not for publication"; email addresses will not be published without permission, and we will encrypt them in hopes of avoiding spammers. Letters may be edited for length, context, and to match house style.
PRIVACY: We don't collect personal information unless you explicitly provide it, and we don't share the information we have with others. For more details, see our Terms of Use.
LEM Profiles
Sales
DayStar Specs
Tech Support
Helpful Links
Channels
Power Macs
iMac Channel
iBook/PowerBook
MacInSchool
Computer Profiles
iMac
Power Mac
PowerBook/iBook
Performas
Mac Clones
Older Macs
Lisa • NeXT
Editorial Archive
Mac Daniel's Advice
Email Lists
LEMchat (uses AIM)
Online Tech Journal
Consumer
advice, reviews
guides, deals
Software
Apple History
Best of the Web
Best of the Mac Web surveys
Miscellaneous Links
Used Mac Dealers
Video Cards
Mac OS X
Mac Linux
Macspeak
RAM Upgrades
About Low End Mac
Site Contacts