Nothing Beats the DayStar Millennium!
Got a multiprocessor DayStar? Join the Old Mac MP email list.
Have a DayStar or Power Mac? Join the PCI-Power Macs email list.
Introducing Millennium
A new generation of publishing technology has arrived. Millennium is a powerful new workstation with a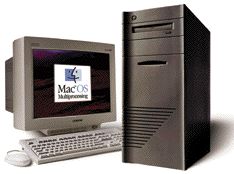 super fast PowerPC G3 processor. It blasts through the barrier of current computing technology.
The Millennium delivers unparalleled performance and ease-of-use for Media-Publishing professionals in prepress, graphics, 3D and animation. Unlike expensive workstations, Millennium delivers "better than SGI" publishing performance at a price comparable to many personal computers.
Millennium delivers extraordinary publishing performance by utilizing the scalable architecture within the PowerPC processor. DayStar developed the PowerPC multiprocessing technology in partnership with Apple. Today, the core benefits of this technology are imbedded in each Millennium. So, users get multiprocessing performance today, with the assurance of compatibility tomorrow.
Millennium was envisioned from the beginning to be the most powerful, yet user-friendly media-station ever created. DayStar designed Millennium around the most intuitive operating system in the world, the Mac OS. But ease-of-use doesn't stop there. Changing cards, adding a hard drive or upgrading memory is a simple two step process: Just pop open the side panel and plug in.
DayStar's Millennium is the only totally expandable, totally upgradable media-station available. Experience Millennium from DayStar Digital: The company with The vision to change tomorrow today!
Go to DayStar index or Low End Mac home page>
© 1998-2001 by DayStar Technologies, Inc. Posted by permission. All Rights Reserved.

Low End Mac is an independent publication and has not been authorized, sponsored, or otherwise approved by Apple Inc. Opinions expressed are those of their authors and may not reflect the opinion of Cobweb Publishing. Advice is presented in good faith, but what works for one may not work for all.
Entire Low End Mac website copyright ©1997-2016 by Cobweb Publishing, Inc. unless otherwise noted. All rights reserved. Low End Mac, LowEndMac, and lowendmac.com are trademarks of Cobweb Publishing Inc. Apple, the Apple logo, Macintosh, iPad, iPhone, iMac, iPod, MacBook, Mac Pro, and AirPort are registered trademarks of Apple Inc. Additional company and product names may be trademarks or registered trademarks and are hereby acknowledged.
Please report errors to .
LINKS: We allow and encourage links to any public page as long as the linked page does not appear within a frame that prevents bookmarking it.
Email may be published at our discretion unless marked "not for publication"; email addresses will not be published without permission, and we will encrypt them in hopes of avoiding spammers. Letters may be edited for length, context, and to match house style.
PRIVACY: We don't collect personal information unless you explicitly provide it, and we don't share the information we have with others. For more details, see our Terms of Use.
LEM Profiles
Sales
DayStar Specs
Tech Support
Helpful Links
Channels
Power Macs
iMac Channel
iBook/PowerBook
MacInSchool
Computer Profiles
iMac
Power Mac
PowerBook/iBook
Performas
Mac Clones
Older Macs
Lisa • NeXT
Editorial Archive
Mac Daniel's Advice
Email Lists
LEMchat (uses AIM)
Online Tech Journal
Consumer
advice, reviews
guides, deals
Software
Apple History
Best of the Web
Best of the Mac Web surveys
Miscellaneous Links
Used Mac Dealers
Video Cards
Mac OS X
Mac Linux
Macspeak
RAM Upgrades
About Low End Mac
Site Contacts