How Far Can You Go?
Andrew W. Hill
2002.01.03
Something that is often overlooked in budget computing is portability. I own a Blue G3 that does almost everything I need to do, and I am very happy with it. What it cannot do is come with me on vacation so that I can keep up with my email.
There are several options one can take depending on price range and capability, and whether or not one really needs a good battery.
A good battery is not always necessary in a laptop. While this seems to defeat the point of having a laptop, when you look at older systems things are a little different. I bought my mother a PowerBook 150 so she could keep up with her email when she visits her parents on the other side of the country. She needed something with a modem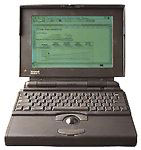 and an email program. Since the primary use of the computer involved a telephone line, adding a power cord to the equation isn't at all inconvenient. As it turns out, the original battery still holds a two-and-a-half hour charge, but Mom still always connects the AC power.
In my previous article covering desktops, I mentioned that the 68k machines were of dubious value. As a laptop, the story is a little different. While the lack of compatibility with newer computers prompted my gradual laptop upgrades (finally settling on a 2400c), for many people that just want to keep up with their email while on vacation, it is enough. While you might think that is all you would do on your desktop, as you discover new things that frequently changes.
Sometimes size is an issue. Size was an issue for me. My first laptop was a Duo 210, which I replaced after about a year with a 2300c. I used the Duo 210 to check my email on holidays and write essays in other peoples' dorm rooms.
There were a few drawbacks to this system. The first was that I would have liked to have been able to take notes with it in class. The battery only held a 10 minute charge, so this was not an option. The second was that there was no ethernet access on the machine. This made it difficult to exchange files with Windows machines as the Duo series lack any removable drives. Adding ethernet would have been expensive and bulky.
While I was using the Duo 210, a friend gave me her dead 5300cs. While this had the ethernet and the PowerPC chip, it was simply too large for me to carry around in the manner that I desired. I traded the 5300cs for a 2300c that I used for a few months until this past October. In October, I was offered a fantastic deal for a 2400c with 80 MB of RAM and a 4 gig drive, plus a whole bunch of expansion cards. I am writing this article on that 2400c. It weighs about four-and-a-half pounds, and in its Wetsuit 3.0 it is smaller than my mother's purse and about a third of the size as my CD wallet.
The PowerBook 500 models are an excellent series of laptops, but there are two main problems with these. The first is that they are very large and somewhat clunky. The second is that it turns out that the "intelligent" batteries aren't so intelligent after all, and they tend to be completely dead by now.
I am looking for a laptop for my father currently. He does not need a battery, but he needs to be able to run a PowerPoint 98 slide show on a digital projector. A 540c with a PowerPC upgrade card in it would be ideal for this. Size does not matter, as he would merely be throwing in the back of his car between lectures. It has an ethernet jack that he can use to connect to the network to transfer his slide shows from his Beige G3, so zip-swapping would not be needed.
When looking to buy an older laptop, you must look at exactly what you plan to do with it and be willing to be locked in by that. This is in contrast to buying a desktop, because there are more tradeoffs with laptops than with desktops.
For instance, a PowerBook 540 is more powerful than a PowerBook 180, but you may get better battery life out of the 180. Alternately, you could go for the Duo 210, which is slower than both of the other machines, but is also much smaller.
You must identify your priorities so you get what you need at the best price possible.
Join us on Facebook, follow us on Twitter or Google+, or subscribe to our RSS news feed
Andrew W. Hill (a.k.a. Aqua) has been using Macintosh computers since 1987 and maintains that the Mac SE is the perfect Macintosh, superior to all - including the Color Classic. He is on the verge of being evicted from the family home due to its infestation of Macs (last count: about 50). Andrew is attempting to pay his way through college at UC Santa Cruz with freelance Web design and Mac tech support.
Today's Links
Mac of the Day: Centris 650, introduced 1993.02.10. The replacement for the Quadra 700 has room for an internal CD-ROM.
Recent Content
---
back to Aquatic Mac index
\r\n\r\n"; if ((isset($pool) AND isset($type)) AND (isset($ip) OR isset($ok))) { if (!isset($siteid)) $siteid="270"; if (!isset($pageid)) $pageid="0"; if (!isset($force)) $force=""; if (!isset($keywords)) $keywords=""; if (!isset($pos)) $pos=""; if (!isset($optcode)) $optcode=""; getad($siteid, $pageid, $pool, $type, $ip, $force, $keywords, $pos, $optcode); # $adr = "http://adserver1.backbeatmedia.com:6789/servlet/ajrotator/$siteid/$pageid/viewHTML?pool=$pool&type=$type&ajip=$ip"; # $success = @readfile("$adr"); } ?>

Mac of the Day: Centris 650, introduced 1993.02.10. The replacement for the Quadra 700 has room for an internal CD-ROM.
List of the Day: 1st PowerMacs is for those using pre-PCI Power Macs.

Channels
Power Macs
iMac Channel
iBook/PowerBook
MacInSchool
Computer Profiles
iMac
Power Mac
PowerBook/iBook
Performas
Mac Clones
Older Macs
Lisa • NeXT
Editorial Archive
Mac Daniel's Advice
Email Lists
LEMchat (uses AIM)
Online Tech Journal
Consumer
advice, reviews
guides, deals
Software
Apple History
Best of the Web
Best of the Mac Web surveys
Miscellaneous Links
Used Mac Dealers
Video Cards
Mac OS X
Mac Linux
Macspeak
RAM Upgrades
About Low End Mac
Site Contacts

Aquatic Mac begun December 28, 2001. All Tech Reflections articles ©2001-2003 by Andrew W. Hill. Low End Mac is an independent publication and has not been authorized, sponsored, or otherwise approved by Apple Inc. Opinions expressed are those of their authors and may not reflect the opinion of Cobweb Publishing. Advice is presented in good faith, but what works for one may not work for all.
Entire Low End Mac website copyright ©1997-2016 by Cobweb Publishing, Inc. unless otherwise noted. All rights reserved. Low End Mac, LowEndMac, and lowendmac.com are trademarks of Cobweb Publishing Inc. Apple, the Apple logo, Macintosh, iPad, iPhone, iMac, iPod, MacBook, Mac Pro, and AirPort are registered trademarks of Apple Inc. Additional company and product names may be trademarks or registered trademarks and are hereby acknowledged.
Please report errors to .
LINKS: We allow and encourage links to any public page as long as the linked page does not appear within a frame that prevents bookmarking it.
Email may be published at our discretion unless marked "not for publication"; email addresses will not be published without permission, and we will encrypt them in hopes of avoiding spammers. Letters may be edited for length, context, and to match house style.
PRIVACY: We don't collect personal information unless you explicitly provide it, and we don't share the information we have with others. For more details, see our Terms of Use.