Why My 2400 Is Better than an iBook
Andrew W. Hill
2002.07.11
I sit on a 757 flying over the Rockies, typing on my beautiful PowerBook 2400c. It still has the stock 180 MHz processor, as well as a usable 80 MB RAM (RAM Doubled to 160 MB) and a 4 GB hard disk that is far less full than I ever anticipated.

Luckily, I've managed to get a seat in United's EconomyPlus section, giving me a much appreciated extra 4" of legroom. But it still has the small stock tables, the pull out kind. Luckily, the size of the 2400c lets me use it, even without pulling out the extension.

Nice little laptop.

Unfortunately, the same can't be said of the other two laptop users within sight. Both are large, clunky Windows 2000 Professional notebooks. The guy across from me is struggling through the eraser pointer on Excel, while the other's seems to have ran out of batteries after about three hours. I just turned my 2400c on - the biggest drawback is the one hour battery.

What I find amusing is that neither of the Windows laptops fit on the tray tables. The man a few rows in front of me had it angled on his lap in such a way that it tilted downwards, using the diagonal to get the extra precious inches. The guy across from me has an extra seat next to him. He's had his back tilted at about 45° to the left in order to type, but at least it isn't on his knee. He still had to extend the table though, and it shakes with every keystroke.

I would guess both laptops to have a 14" screen and a footprint roughly the same size as a piece of US Legal paper - perhaps an inch deeper. My 2400, on the other hand, has a 10" screen and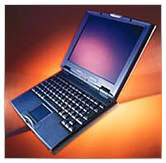 has a footprint smaller than a piece of US Letter. There's just one thing that prevent me from being completely happy with my laptop, the RAM limit. Processor, hard disk, and battery upgrades are available (for a cost), but the maximum RAM is 80 MB for most people, 112 MB for people with spare cash, and 128 MB for people with spare cash and a soldering iron.
This means OS X will not run happily and certainly won't run well. So why don't I buy a new laptop?
As the reader has undoubtedly observed by now, the largest reason to select a particular laptop is size. I don't want my laptop to have a bigger footprint than my US Letter notebooks or weigh more than 5 pounds. Start crossing off laptops - the only qualifying Macs are the Duo series, the 2400, and the white iBook.
I need a PCMCIA port, mostly to keep up with new developments - I have five cards for my 2400. Only the 2400 has the size I want and PCMCIA. The Titanium, which I have considered, is 5.3 lbs. (close), but is 8.5" x 14", so I couldn't carry it on top of books. Under, naturally, is not an option.
I don't care about optical drives on my laptop; that's what my desktop is for. I do have a FireWire PCMCIA card so I can use my QueFire 8x CD-RW to read application CDs and burn the occasional client's disk.
It would be real nice to see Apple release a new sublaptop. I know Steve Jobs has said he would not release such a such a machine on the pretext that it was merely half a computer. I disagree, and if tomorrow they released a 12" iBook with a PCMCIA slot, I will buy it tomorrow.
Make it a half inch thinner, kill the optical drive, and I'd pay a few hundred dollars extra.
<This article is available in a printer friendly format.>
Join us on Facebook, follow us on Twitter or Google+, or subscribe to our RSS news feed
Andrew W. Hill (a.k.a. Aqua) has been using Macintosh computers since 1987 and maintains that the Mac SE is the perfect Macintosh, superior to all - including the Color Classic. He is on the verge of being evicted from the family home due to its infestation of Macs (last count: about 50). Andrew is attempting to pay his way through college at UC Santa Cruz with freelance Web design and Mac tech support.
Today's Links
Mac of the Day: PowerBook 2400c, introduced 1997.05.08. This small-footprint PowerBook was created by IBM for the Japanese market.
Recent Content
---
<back to Aquatic Mac index>
---
\r\n\r\n"; if ((isset($pool) AND isset($type)) AND (isset($ip) OR isset($ok))) { if (!isset($siteid)) $siteid="270"; if (!isset($pageid)) $pageid="0"; if (!isset($force)) $force=""; if (!isset($keywords)) $keywords=""; if (!isset($pos)) $pos=""; if (!isset($optcode)) $optcode=""; getad($siteid, $pageid, $pool, $type, $ip, $force, $keywords, $pos, $optcode); # $adr = "http://adserver1.backbeatmedia.com:6789/servlet/ajrotator/$siteid/$pageid/viewHTML?pool=$pool&type=$type&ajip=$ip"; # $success = @readfile("$adr"); } ?>

Mac of the Day: PowerBook 2400c, introduced 1997.05.08. This small-footprint PowerBook was created by IBM for the Japanese market.
List of the Day: MacBooks covers Apple's Intel-based 'Books including the MacBook Pro and MacBook Air.

Channels
Power Macs
iMac Channel
iBook/PowerBook
MacInSchool
Computer Profiles
iMac
Power Mac
PowerBook/iBook
Performas
Mac Clones
Older Macs
Lisa • NeXT
Editorial Archive
Mac Daniel's Advice
Email Lists
LEMchat (uses AIM)
Online Tech Journal
Consumer
advice, reviews
guides, deals
Software
Apple History
Best of the Web
Best of the Mac Web surveys
Miscellaneous Links
Used Mac Dealers
Video Cards
Mac OS X
Mac Linux
Macspeak
RAM Upgrades
About Low End Mac
Site Contacts

Aquatic Mac begun December 28, 2001. All Tech Reflections articles ©2001-2003 by Andrew W. Hill. Low End Mac is an independent publication and has not been authorized, sponsored, or otherwise approved by Apple Inc. Opinions expressed are those of their authors and may not reflect the opinion of Cobweb Publishing. Advice is presented in good faith, but what works for one may not work for all.
Entire Low End Mac website copyright ©1997-2016 by Cobweb Publishing, Inc. unless otherwise noted. All rights reserved. Low End Mac, LowEndMac, and lowendmac.com are trademarks of Cobweb Publishing Inc. Apple, the Apple logo, Macintosh, iPad, iPhone, iMac, iPod, MacBook, Mac Pro, and AirPort are registered trademarks of Apple Inc. Additional company and product names may be trademarks or registered trademarks and are hereby acknowledged.
Please report errors to .
LINKS: We allow and encourage links to any public page as long as the linked page does not appear within a frame that prevents bookmarking it.
Email may be published at our discretion unless marked "not for publication"; email addresses will not be published without permission, and we will encrypt them in hopes of avoiding spammers. Letters may be edited for length, context, and to match house style.
PRIVACY: We don't collect personal information unless you explicitly provide it, and we don't share the information we have with others. For more details, see our Terms of Use.