Is Apple's Product Line Too Simple or Too Complex?
, 2005.06.24
What happened to the simplification of Apple's computer lineup? Starting in the late 90s, Apple trimmed its extensive computer lineup (quick, ask your nearest non-computer nerd what the difference is between a 7300 and a 7500!) and replaced their aging numeric model naming scheme with a simpler one - iMac, Power Mac, and PowerBook.
They dropped the PowerBook 3400c, 1400c, and 2400c in favor of the PowerBook G3 Series, which was available in various CPU speeds and size screens. They dropped the various Power Mac 7x00, 8x00, and 9x00 models, replacing them with the PowerMac G3. And they introduced a new product for consumers - a long-needed replacement for the old Performa line - the iMac.
Then Apple started adding products, including various versions of the iMac (different colors, and later the iMac DV, iMac DV+). They also introduced the iBook for students and consumers who wants to travel with their computers. The eMac was introduced for education.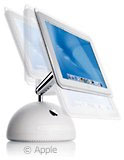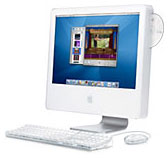 They also had the short-lived G4 Cube, the newer versions of the iMac with a G4 processor (left) followed by the model with a G5 (right), and then the Mac mini - for those who are switching from a PC or just want a low-cost modular Mac.
Within the past couple years, Apple has once again been criticized of having too many products and too confusing of a product line. The iMac is available at two different processor speeds and in two screen sizes, and then there's the eMac (Combo drive or SuperDrive), which is getting dated, and the iBook G4 (two sizes, two speeds, Combo drive or SuperDrive).
Now they have several different PowerBook models - 12", 15", and 17" with a Combo drive or SuperDrive. To make it even easier, they're all called PowerBook G4! (The conventional way to distinguish models is by screen size and processor speed, so you might talk about the 12" PowerBook G4 at 1.33 GHz or 17" PowerBook G4 at 1.67 GHz.)
If you think about it, Apple' has lots of customers to provide interesting computers to. If no one wants to buy an Apple computer, their sales are going to go down. They've got to keep up interest, and one way to do that is by adding new products.
They've got people interested in the iMac, and it's become a well-established brand. So have the PowerBook and Power Mac - the G5s are basically a standard in music production and art studios.
It's sort of like the car industry, where every company seems to be launching new models after initially simplifying their product line. Volvo dropped their confusing 2x0/7x0/8x0/9x0 lineup and replaced it with the V70, S70, and S90 - only to add the S60, S40, V40, V70, and now the XC90 SUV.
Mercedes tried to simplify their hopeless modeling scheme (put these in order of size: 420SEL, 300SL, 300CE, 190D, 300E) with something that someone might actually understand, so they added letters to signify the size of the car (C, E, S) and put the size of the engine after that (e.g. E320). Then they started adding models - right now they've got the B, C, CLK, E, M, R, S, and SL! The newest model in the series being the R, which is a sort of crossover SUV/minivan type vehicle. Overall, the lineup makes sense to someone who knows it well.
The idea is to familiarize someone (ideally new customers) with the initial lineup. You hear about the new modeling scheme, and you have a rough idea of what the Mercedes C-class, E-class, and S-class are like. You get an idea that the Volvo S70 is (fairly obviously) smaller than the S90.
Then they spring new models on you, and since you already have an idea of the lineup, you can follow along. You know what the C-class is like, so you figure the B-class would be one step down from that - a bit smaller, with a smaller engine and fewer features - and you'd be right.
That's what Apple's done. We know what an iMac is; we know what a PowerBook is. If the iMac is a consumer computer and the PowerBook is meant for the professional, then an iBook would obviously be combining elements of both.
Consumers aren't beyond understanding that a 12" screen is smaller than a 14" one. Apple's made the PowerBook lineup pretty simple: the 12" low-end model contains the least powerful processor, and the most powerful is available in the 17" version.
It's easy to understand once you're used to it - and Apple is relying on the world being at least somewhat familiar with their lineup. After all, even the BBC announces when Apple introduces new models, Volvo and Mercedes could only hope to get that kind of coverage.
Join us on Facebook, follow us on Twitter or Google+, or subscribe to our RSS news feed
Today's Links
Mac of the Day: 14" 600 MHz iBook G3, introduced 2002.01.07. The first 14" iBook ran at a comfortable 600 MHz.
Recent Content
Custom Search
Follow Low End Mac on Twitter
Join Low End Mac on Facebook
Favorite Sites
MacSurfer
Cult of Mac
Shrine of Apple
MacInTouch
MyAppleMenu
InfoMac
The Mac Observer
Accelerate Your Mac
RetroMacCast
The Vintage Mac Museum
Deal Brothers
DealMac
Mac2Sell
Mac Driver Museum
JAG's House
System 6 Heaven
System 7 Today
the pickle's Low-End Mac FAQ
Affiliates
Amazon.com
The iTunes Store
PC Connection Express
Macgo Blu-ray Player
Parallels Desktop for Mac
eBay

Advertise