Fishy Sounding Repair Plan, More Digital Minis of Classic Cameras, Info Manager Advice, and More
Charles Moore - 2004.11.01 - Tip Jar
Something Sounds Fishy about Wegener Media's Plan
From Anonymous
Charles,
In this article you mention Wegener Media's plan of replacing everything for $50. It sounds way too good to be true, since most places typically not only charge $99 for repair, but also the cost of buying the part needed for repair. A 17" screen alone costs $690, a 17" body frame another $560.
I've sent them an email inquiring if everything means everything including parts. Because if it does, then I'll finally be able to repair one part that I wasn't when I had my screen repaired from an accident. I've also asked they edit their website to make it clear whether or not parts are included in the plan.
Sincerely,
anonymous
Hi A,
I was pretty certain that the $50 charge referred to labor only, but thought I should check directly with David Wegener to make sure.
He replied:
Yes the $50 refers to labor, and it's fully explained on our service page.
http://www.wegenermedia.com/service.htm
It's basically $50 + parts. We don't install other folks' parts, as we can't guarantee them at all, but the total cost is $50 + parts for diagnosis, installation, and testing, with a 60 day guarantee.
Hope this clarifies things.
All the best.
Thanks,
Dave
Thanks to Dave, and I trust that will dispel any confusion.
Charles
Digital Miniatures of Classic Film Cameras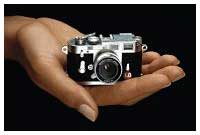 From Walter J. Ferstl
Hello Charles,
This little Rolleiflex is really a wonderful piece.
In my eyes, the following does have an even higher "must have" factor, the Digital Classic Camera Leica M3, by Minox, featuring 4 megapixel (3.2 megapixel hardware resolution):
Minox also has some more (mostly non-digital) mini versions of classic cameras (the scale is 1:2.5 in all of them), like some tiny Leicas, a Hasselblad, and a Contax.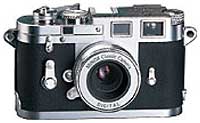 Thanks for covering such non-computer topics from time to time as well.
Referring to the little Digital Leica M3 by Minox, I just found the following system requirements on the Minox page (in English this time):
System requirements
Microsoft Windows 98SE/ME/2000/XP
Pentium-Prozessor or later
64 MB recommend
Video with 2-MB-RAM for displaying at least 16 Bit (High Color)
CD-ROM with 4x velocity
USB-port

:-(

Oh well...
Of course, technically, this camera might work perfectly with a Mac. But then, the symbolic value of not being properly addressed as a Mac user on a company's website isn't completely neglectable, either.
Regards again,
Walter.
Hi Walter,
Thanks for bringing this camera to my attention. It's not a twin-lens reflex, but I do love the Leicas as well, and this replica appears to be more of a serious camera than the Rolleiflex MiniDigi, which is way cool looking but only has a 2 megapixel CMOS and doesn't even support USB.
This Minox "Leica" replica has 4 megapixels, a 5-element glass lens, and USB support. Look on the Web page in the specifications under "Support" and it says:
"Support: WINDOWS 98/SE/ME/2000/XP/MAC compatible"
That's what it says on the Web page for my Digital Dream l'Espion mini digital camera, and it works just fine with my Macs.
And of course Minox is a classic and respected name in small camera design and engineering.
Charles
Optical Drive Friction
From Eric Fauss
Hi Charles,
I saw your column on Low End Mac and have found it very helpful and entertaining.
I have an issue with my iBook 600 DVD. My optical drive, a tray-loading one, seems to be off-kilter in its slot. The bezel (I guess the piece on the outside that is supposed to be flush with the edge of the computer) sticks out by a slight margin, and when looking at the side of it, it appears that the right edge is farther away from the top of the slot than left side, making me think that either something I did put it out of whack or it was installed incorrectly. When I play some CDs and DVDs, I hear the sound of friction, with some part of the disc hitting something. Is there anything you think I could do with this? I am adventuresome and would even try opening my machine.
Thanks,
Eric Fauss
Hi Eric,
You want to be sure you're really adventuresome before opening up a G3 iBook.
Something is evidently out of whack, and if it's misalignment it can probably be remedied, but this is not a job for the faint-hearted. For a detailed walkthrough of what you would be up against, make sure to check out the PBFixIt teardown instructions before digging in.
Good luck, and let us know how you make out.
Charles
New Panther User
From Glen Warner
Charles,
I am currently in the middle of migrating from my blueberry clamshell iBook to the brand spankin' new G4 iBook, but there are some apps that I need to replace in the new environment. Since you have your finger on the pulse of the Mac Internet (not to mention those laptops), I thought you might be the one to ask.
My old email client is Green. Since Mic seems to have disappeared without a trace (last I heard, he was trying to get work at Apple, but that was about two years ago), I need a client that will allow me to import my Green mailboxes. I did hear of a tip at (I think) ResExcellence about changing the type and creator code of the Green mailboxes to Eudora's, but once I do that, which mail client do I use? I am not sure if Mail will import mailboxes (not clear in Robin William's Big Book o' Panther), nor in the manual that came with my iBook.
Next app: Wabbit.
You probably know already, but Wabbit is/was a Web/FTP/email address manager. You can read about it here:
http://db.tidbits.com/getbits.acgi?tbart=01048
I have about 20 pages stored in my copy, and it would be great to be able to find something that works just as well.
So. Any suggestions?
TIA
-gdw
Hi Glen,
I don't know of any email client that will import Green Mail mailboxes directly, but here's how to convert them to Eudora mailboxes using ResEdit by changing the File Type and Creator Code info. Just drag a mailbox to ResEdit, and when the window opens (it will be blank) select "Get Info For -" from the File Menu. That will bring up a dialog box with the File Type and Creator Codes.
File Type:
Green - micO
Eudora - TEXT
Creator Code:
Green - micF
Eudora - CSOm
Change the Green codes to the Eudora ones, and the mailbox will convert when you save the operation.
Then just download Eudora and drag your converted mailboxes into the Mail Folder in the Eudora application folder (stored by default in the Documents folder). Start up Eudora and they should appear in the Mailbox Menu.
Personally, I'm a Eudora fan from way back, so that's as far as I would go, but most email client applications can import Eudora mailboxes.
I've never used a URL manager, but a couple of shareware apps. you could check out include:
• URL Manager Pro bookmark manager
• iURL
Charles
iBook Tote and Tilt?
From: Sam
Hello Charles,
A few years ago you wrote a short piece on the iBook Tote and Tilt. Based on your recommendation, I picked one up for my girlfriend's new 12" iBook (which was a replacement for an orange clamshell).
Fast forward to today: I've just replaced her 12" iBook with a 14". I started searching for a new Tote and Tilt, and I found nothing. Are there any alternatives out there for those that still miss the handle?
Thanks for any info.
-sam
Hi Sam,
Unfortunately, as far as I've been able to discover, there has never been a 14" iBook Tote and Tilt, and I'm not sure that even the 12" version is still being produced, although it's still available from some online resellers.
:-(
Charles
Re: Info Manager Advice
From: Jim Scolman
Hi Charles,
Thanks for the reply. Since I wrote last, I have been using a trial demo of StickyBrain, which I thought was going to get the job done. In searching for some resources to learn StickyBrain, I came across MacJournal, which uses the notebook metaphor and seems to fill my bill just right. It is donationware to boot! Thanks and keep up the good work.
Jim Scolman
Hi Jim,
Cool! Glad you found an app that suits.
Charles
G3 Upgrade or G4?
From Seb Payne
Hi Charles,
As well as a new iBook G4, I also have a Blue and White G3 that I bought for £250.00 two years ago. Anyway, I am wondering
Should I get a Sonnet 1 GHz G4 Upgrade, more RAM, and an Ultra ATA Controller
Buy a Sawtooth AGP Power Mac G4 and get a G4 upgrade next Christmas :-)
I'll be using it for website design, graphics, photo editing, and music.
Seb
Hi Seb,
I think either would do the job for you, but personally, for the sort of use you describe, I would lean toward the newer machine. You could sell the B&W, and apply the proceeds toward the purchase of its replacement.
Charles
Re: Running Old Microsoft Apps in OS X
From Tim Larson
Charles,
Thanks for the advice. Maybe you are right. My efforts to find a solution for my existing apps are coming up short. I suppose I have to bite the bullet - again. I will be looking for some TFO reviews to see how it stacks up to Abiword, OO.o, and the other alternatives.
Tim
More on Running Old Microsoft Apps in OS X
From Dylan McDermond
You wrote: "I'm wondering if a more satisfactory solution to your problem might be ThinkFree Office. It's cheap ($50) and includes Word, Excel, and PowerPoint substitutes. I've found M$ file compatibility pretty good (but not 100%), and your wife would probably find it user-friendly."
I'm surprised you did not mention OpenOffice. It's free and runs under X11 for OS X.
Anyways, just something else to mention.
Dylan McDermond
Hi Dylan,
Good suggestion. Tim notes that he has considered OO.o.
However, a note Friday on the OO.o site says:
October 29, 2004: OpenOffice.org 2.0 Aqua port slows. With lack of a dedicated X11 team, 2.0 doesn't even compile "out of the box" for X11, and Cocoa development has slowed as well. The only current Mac OS X non-X11 development is the NeoOffice/J [neooffice.org] fork of OpenOffice.org 1.1.2.
Charles
Re: Logitech V500 Cordless Notebook Mouse vs. AirPort
From Zack Smith
The 2.4 GHz band is a very commonly used frequency, and most modern devices are engineered for minimum interference. A wireless mouse shouldn't affect AirPort signal. Interference if someone else has the same mouse might be a problem, though.
---
Letters sent may be published at our discretion. Email addresses will not be published unless requested. If you prefer that your message not be published, mark it "not for publication." Letters may be edited for length, context, and to match house style.
Join us on Facebook, follow us on Twitter or Google+, or subscribe to our RSS news feed
Charles Moore has been a freelance journalist since 1987 and began writing for Mac websites in May 1998. His The Road Warrior column was a regular feature on MacOpinion, he is news editor at Applelinks.com and a columnist at MacPrices.net. If you find his articles helpful, please consider making a donation to his tip jar.
Links for the Day
Mac of the Day: Macintosh 512K Fat Mac, introduced 1984.09.10. The first Mac with enough memory for serious work.
Recent Content
Custom Search
Follow Low End Mac on Twitter
Join Low End Mac on Facebook
Favorite Sites
MacSurfer
Cult of Mac
Shrine of Apple
MacInTouch
MyAppleMenu
InfoMac
The Mac Observer
Accelerate Your Mac
RetroMacCast
The Vintage Mac Museum
Deal Brothers
DealMac
Mac2Sell
Mac Driver Museum
JAG's House
System 6 Heaven
System 7 Today
the pickle's Low-End Mac FAQ
Affiliates
Amazon.com
The iTunes Store
PC Connection Express
Macgo Blu-ray Player
Parallels Desktop for Mac
eBay

Advertise