WiFi Hotspot Insecurity, iBook Longevity, and WallStreet Value
Charles Moore - 2009.05.06 -Tip Jar
WiFi Hotspot Insecurity
Hello Charles,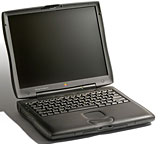 Having recently acquired a WiFi card ($3.99 at a thrift store!)for my WallStreetrunning OS 9, I have followed with interest the discussion about WiFi security. I just thought I'd pointout that for using the internet via WiFi at coffee shops, etc., theissue is moot, since such connections are insecure by nature. For thisapplication, users of OS 9 are no more at risk than users of morerecent operating systems.
Of course, anyone using a WiFi hotspot is very much at risk indeed,unless proper precautions are taken. David Pogue has a helpful articleon this subject, How Secure Is Your Wi-Fi Connection?
Keep up the good work, and long live Low End Mac!
Peter
HI Peter,
Thanks for the observations and the Pogue articlelink.
That was a super deal on that WiFi card!
Charles
Editor's note: From the Pogue article: "I wanted toget to the bottom of this Wi-Fi snooping business. I wanted to seeexactly what is, and is not, possible for the bad guys to interceptwhen you're sitting there in Starbucks or the hotel lobby." Hisfindings should get you very concerned about WiFi security, especiallyin public settings. dk
iceBook Longevity
From Alan Zisman:
Charles:
I enjoyed today's columncommemorating the 'Dual USB iBook' on its 8th birthday.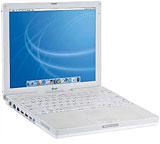 I boughtone of the G3/500 models;it's still in use - I sold it to the wife of a colleague of mine a yearor two ago. No major repairs in its 8 year lifespan.
Along the way, I replaced it with the first of the G4 iBooks (800MHz), passing the G3/500 on to my daughter . . . the G4one was more problematic for me - on its AppleCare warranty, it had tohave both the hard drive and keyboard replaced three times! Luckily,since the warranty is long expired, the last replacements proved thecharm - that one, having gone from me to my daughter, is now sitting atour out-of-town cottage, where it is happily used by family andfriends. (My daughter moved up to my 12"PowerBook when I bought an aluminum MacBook - keeping ourMacs in circulation).
Much to my amusement, my son - the family's dyed in the wool Windowsuser - announced the other day that he'd bought a Mac - a 1.3 GHz G4 iBook - secondhandfrom a friend, making it our family's third iceBook. Ironically, hisWindows laptop died a few days latter - apparently due to a poorlyremoved virus infection.
- Alan
Hi Alan,
Glad you enjoyed the column, and thanks for thecomment.
My daughter's 1.2 GHz G4 iBook also proved moreproblematic than my 700MHz G3 unit, with a keyboard failure early on (replaced underwarranty) and a lot of stability flakiness throughout its life (October2004 to April 2009).
On the other hand, it served her through her final twoyears of undergraduate university, was taken on a European tour and astint on scholarship at the U. of Freiberg in Germany in the summer of2005, two years teaching ESL in Japan, and most of her first year ofgrad school at Cambridge U. in England, finally expiring last month, soI suppose it didn't do too badly.
Charles
500 MHz Reliability
From Scott:
Hey Charles,
Have you noticed the original 500 MHz iBook with 8 MB video hasa lot fewer video card solder meltdown issues than the newer, fasteriBooks? I've had a 500 MHz iBook for several years now, and I still useit every day. The fan has never come on in all the years I've used it.I currently have my niece's 600 MHz iBook with 16 MB video here, and Inotice the fan comes on every now and then when the ambient airtemperature is warm. I briefly had a 900 MHz iBook with 32 MBvideo here, and it ran its fan constantly. I'm gonna go out on asemi-sturdy limb here and speculate, based on my very unscientificstudy, that the slower and cooler the iBook runs, the longer it willlast before the video card melts its solder. Every time an iBook turnsits fan on, it's telling you something important.
Scott Cook
Hi Scott,
I haven't done any scientific surveys, but mysubjective impression concurs with yours that the original 500 MHz dualUSB iBook was the most reliable and robust of all the proliferation ofwhite iBook models.
I'm not as sure that there is a direct correlationbetween fan cycling and failure incidence, although running hot isnever helpful to longevity. OTOH, the 700 MHz G3 was one of the worstof these models statistically (per the MacInTouchreader survey), and the fan in mine didn't come on often, althoughit would kick in on hot days in the summer under moderate to heavyprocessor activity.
I think the main problem with the post-500 MHz models- both G3 and G4, at least from what I've been able to deduce, wasmotherboard/video card issues due to case flexing and solder jointfailure, although excess heat would contribute to that.
I don't think the build quality was as good with thelater models either. My daughter's 1.2 GHz G4 iBook had a very shoddyappearance, both fit and finish and apparent materials quality than my"Opaque White" 700 MHz G3 unit, and the 500 MHz and 600 MHz models wereeven better in those departments.
Charles
WallStreet Value
From Brian:
Charles,
Greatarticle on the beloved WallStreet G3 PowerBook. Having written myown WallStreet article for LEM on its tenth anniversary (Maxed Out WallStreet Runs TigerQuite Nicely), you could say that I'm still very addicted to mymachine, even though it's no longer in daily use. I just cannot find itin my heart to sell it or give it away, although I've had many other G3PowerBooks (Lombards andPismos) that I've fixed and given to family members.
By maxing out the WallStreet hardware and software completely andadding the necessary USB and network cards, one would have a great,rugged, daily use machine, even if it's not the fastest. The great newsabout these wonderful machines is that they can be had very cheaplythese days (average $50 to $100, but most of the time much less - minewas $10!!!), and there are quite a few resources on the web (such asSimon Royal's site at http://www.simonroyal.co.uk/) tohelp one upgrade it and find the necessary compatible USB and wirelesscards.
For less than $100, one can have a decent performing everydaynotebook that is as rugged as it is useful.
Brian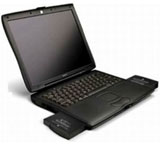 Hi Brian,
Thanks! Given its hulking size and weight, theWallStreet is sort of a contra-netbook in the context of cheap laptops,but if one is buying on capital cost rather than compactness, there's acase to be made for the old WallStreet, and they are indeed robust ifone is careful with those hinge clutches.
I'm certainly getting a lot of useful service from ourtwo old Pismos. Iunderstand G3 PowerBook addiction.
Charles
WallStreet Nostalgia
From Mark:
I enjoyed reading your article on the variations of the WallStreet.While Tech Director for a school district, I had a 292 MHz machine thatserved me through three years of hard use on the job. I did have thehinge problem after it was out of warranty, and I chose to live withit. After I quit to go into private business for a while, I returned tomy old district to do some work and found the old WallStreet sitting ona shelf. They sold it to me for $25, and I put it to work as thecompany I was working for would only furnish me with a Toshiba laptop.I used every incarnation of OS X through Tiger on it beforeselling it about three years ago.
When the hinge became very frustrating, I asked an Apple engineer Iwas working some trade shows with if he had a source for replacementhinges since they were selling for a premium. He surprised me with aPismo he had found, which replaced the WallStreet and became my maincomputer until replacing it in 2005 with an iBook G4. That WallStreet remains my favoritecomputer, and I kind of wish I hadn't sold it a couple of years ago,though I got much more than $25 for it.
Hi Mark,
I love these old Mac laptop stories. My personal faveof the PowerBook G3 Series troika is the Pismo, but WallStreet's arecertainly lovable too, especially if you have one with a 14.1" screen.Mine is a 12.1" 800 x 600, which is a bit cramped for Web work thesedays. However, my daughter tells me that Firefox works well on it underMac OS X 10.4 Tiger.
Charles
Join us on Facebook, follow us on Twitter or Google+, or subscribe to our RSS news feed
Charles Moore has been a freelance journalist since 1987 and began writing for Mac websites in May 1998. His The Road Warrior column was a regular feature on MacOpinion, he is news editor at Applelinks.com and a columnist at MacPrices.net. If you find his articles helpful, please consider making a donation to his tip jar.
Links for the Day
Mac of the Day: Performa 575, introduced 1994.02.01. The first all-in-one Mac with 68040 power supports 136 MB of RAM.
Recent Content
Custom Search
Follow Low End Mac on Twitter
Join Low End Mac on Facebook
Low End Mac Reader Specials
Favorite Sites
MacSurfer
Cult of Mac
Shrine of Apple
MacInTouch
MyAppleMenu
InfoMac
The Mac Observer
Accelerate Your Mac
RetroMacCast
PB Central
MacWindows
The Vintage Mac Museum
Deal Brothers
DealMac
Mac2Sell
Mac Driver Museum
JAG's House
System 6 Heaven
System 7 Today
the pickle's Low-End Mac FAQ
Affiliates
Amazon.com
The iTunes Store
PC Connection Express
Macgo Blu-ray Player
Parallels Desktop for Mac
eBay

Advertise