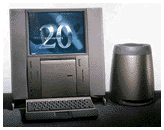 Twentieth Anniversary Macintosh
Code Names: Pomona, Spartacus
The Twentieth Anniversary Macintosh (or TAM) was a radical change from existing computers. The slim unit (under 4" deep) uses the same kind of LCD screen usually found in laptops. Stereo speakers surround it, along with a large subwoofer for really solid bass.
The keyboard is also like that on a PowerBook. It has no numeric keypad, but does include a trackpad. TAM even uses a 2.5" laptop hard drive, the first desktop Mac to do so. (The second was the original Mac mini, introduced in 2005.
According to MacSpeedZone, installing a 512 KB level 2 (L2) cache boosts performance by 15%, going to 1 MB by 27%.
In all, Apple built 12,000 TAMs.
Although Apple broke the mold after building the TAM, I expect that within a couple years computers will typically ship with a built-in LCD monitor - and the iMac will be a much thinner, lighter machine that we know today.
Several TAM users have reported support for 24-bit video using the ATI January 2002 retail drivers. Especially see the posting by Rudy V. Pancaro on the Twentieth Anniversary Macintosh forum.
Details
introduced 1997.03.20 at $7,499, discontinued 1998.03.14
Part no.:
Gestalt ID: 512
upgrade path:
Mac OS
requires Mac OS 7.6.1 through 9.1 (requires special version of Mac OS 8)
Core System
CPU: 250 MHz PPC 603e
Level 2 cache: 256 KB, expandable to 1 MB
bus: 50 MHz
ROM: 4 MB
RAM: 32 MB (expandable to 128 MB, accepts two 168-pin 5V 60ns or faster EDO or FPM DIMMs)
Performance
CPU performance: 237, MacBench 4
Graphics
GPU: ATI 3D Rage II
VRAM: 2 MB VRAM
Video: 12.1" 800 x 600 at 8- or 16-bit. 24-bit video support possible with ATI January 2002 retail drivers noted above, although the display itself only supports 18-bit output (6 bits per color channel).
Drives
floppy drive: 1.4M
hard drive: 2 GB 2.5" ATA/EIDE drive, 128 GB maximum, newer drives may requires a different drive bracket or modification of the original bracket.
CD-ROM: 4x
Expansion
ADB ports: 1
SCSI: DB-25 connector on back of computer
serial ports: 2 DIN-8 GeoPorts
PCI slots: 1 6.88" slot
other expansion slots: 1 Comm Slot II, filled with 33.6kbps GeoPort modem
Physical
dimensions (HxWxD): 17.25"x16.5"x10.0" (43.8x41.9x25.4 cm)
weight: 14.9 lbs. (6.8 kg)
Online Resources
Caution
Steve Wozniak noted on Go2Mac.com that, "A volume over 4 GB will not work in a TAM. It causes what appears to be total death in a short time, like when enough of it gets used."