What Do You Mean Calling the Cube Low-End?
Rodney O. Lain - 2002.04.08
What's new is old.
- folk saying
Without regret, I bought one of the first Power Mac G4 Cubes, proud that I now owned what is still arguably one of the most original and eye-catching computer designs out there.
Ignoring the fact that my Cube doesn't have an internal CD-RW nor a Radeon graphics card, I still expect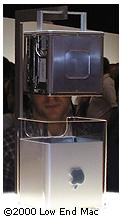 to get many years of service out of this baby. However, I never expected it to be so quickly relegated to having the word "old" used to describe its design or its power.
With products like the new iMac, this has become the the case.
Who would have thought that Low End Mac would include any G4 in its "low-end" ranks so quickly?
Regardless, this machine should not be discounted. Ever since its unveiling, it has been the subject of debate, both pro and con. I have been laughed at for shamelessly promoting a computer that "failed" in the consumer market, while simultaneously being hailed as the standard bearer of industrial design excellence.
I stand by my shameless promotion.
The Power Mac G4 Cube is still a powerful machine in its own right, serving me as home file server, Web site host, home music player, and a host of other uses. With 1,024 MB of RAM, a 30 gig 7200 rpm hard drive, and a "mere" 450 MHz G4 processor, it runs OS&
- ;X like a champ. Megahertz really is overrated, even with PowerPCs.
But how can this be a "low-end" Mac?
Low-end Mac is a term that should be reserved for Mac LCs or Power Mac 7200s or StarMax clones, not my Cube. This is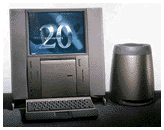 why I am protesting LEM's inclusion of the Cube in its list of low enders. The 20th Anniversary Mac maybe, but not my Cube. [Editor's note: We include profiles of every Mac, even brand new ones, because sooner or later each one becomes low-end.]
What's that? No, I don't have any sound reasoning to support my view, but I stand by my view nonetheless. The Cube is still one of the best computers out there and shouldn't be included among the list of Road Apples and Mac has-beens.
Instead of vaulting the Cube, Apple needs to bring it back as a limited edition, upgraded, and modestly priced for the discriminating user:
700 MHz G4 processor
256 MB RAM
32 MB DDRM on a 4x AGP Nvidia graphics card
40 gig hard drive
DVD-ROM/CD-RW "combo" optical drive
Bluetooth compatible
AirPort ready
includes OS X, AppleWorks, Quicken 2002, World Book X, iApps, etc.
Price: $1,199
Okay, the price is negotiable, but the main thing is to give this baby another chance. There are some Apple products that should have been killed, without a doubt (can you say eWorld?), but not this one.
Alas, I know this will never happen, since the latest iMac has taken up the role of the compact G4 Mac. However, the Cube could remain as a monitor-less alternative for those who prefer the small footprint of the iMac but want their choice of flat-panel display.
Excuse me? No, I am not doing drugs.
The Power Mac G4 Cube has my vote as the best Mac ever, and I hope that it will have a second chance on the market to prove it.
Excuse me? No, I was not dropped on the head as a baby. Nor was I dropped as an adult.
Fin.

Rodney O. Lain (1968-2002) called himself a fashion victim: He liked wearing socks with his sandals. When he wasn't dispensing fashion advice, Rodney wrote for Low End Mac, The Mac Observer, Applelinks, and many other websites. Rodney lived in Minnesota. His own website was iBrotha.com, and we have collected as much of his writing that has since disappeared from the Web as possible in The Rodney O. Lain Archive.
The most widely read Things Macintosh columns:
Recent Content on Low End Mac
World Book Encyclopedia 2012 DVD, Tommy Thomas, Reviews, 2013.03.05. "You may be asking yourself, in an age of Wikipedia and instant information, is World Book still relevant?"
Vintage Computer Festival SouthEast, April 20-21, 2013, Simon Royal, Mac Spectrum, 2013.02.25. Old Apple gear and old PCs.
Latest Deals on Low End Mac
Custom Search
Follow Low End Mac on Twitter
Join Low End Mac on Facebook
Favorite Sites
MacSurfer
Cult of Mac
Shrine of Apple
MacInTouch
MyAppleMenu
InfoMac
The Mac Observer
Accelerate Your Mac
RetroMacCast
The Vintage Mac Museum
Deal Brothers
DealMac
Mac2Sell
Mac Driver Museum
JAG's House
System 6 Heaven
System 7 Today
the pickle's Low-End Mac FAQ
Affiliates
Amazon.com
The iTunes Store
PC Connection Express
Macgo Blu-ray Player
Parallels Desktop for Mac
eBay

Advertise