In House with Low End Mac
Dan Knight, Founder of Low End Mac
- 2007.08.10
Bong! . . . :-) . . . Welcome to Macintosh!
Ever heard the old saying, "When the cat's away, the mice will play?" Well, the cat's still here, and this mouse is playing - or rather interviewing the cat himself.
In a new series here on Welcome to Macintosh, I'll be interviewing past and current writers here at Low End Mac. Who better to start off this bundle of fun than the man himself, Mr. Low End Mac - Dan Knight.
Tommy: Hey boss! How goes it? Tell everyone about yourself.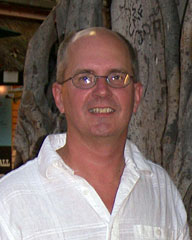 Dan: I'm a 40-something Mac user who has always been interested in technology. First came cameras, which I got hooked on in 8th or 9th grade. In college, audio equipment - and a year or so after that, computers, when my boss bought an Apple II+ and we had to figure out how to make it work and what it could do.
My personal history began with a Commodore VIC-20, as all Apple II machines were way out of my price range. Later I upgraded to a Commodore 64, and around 1987/88 I switched to the DOS side with a Zenith PC. I used that until 1991 or so, when I got my first Mac.
Tommy: What was it about Apple that made you take a second look?
Dan: Honestly, I was a DOS geek who could write batch files with the best of them and didn't see the point of windows, icons, mice, and pointers. (We laughingly called that the Mac's WIMP interface.) Of course, that didn't stop me from selling enough Macs and LaserWriters over the holidays to earn enough points for a free Mac Plus from Apple, which started the conversion process.
Over months of using the Plus, I slowly became hooked, using my Zenith PC less and less. I added RAM, a second floppy, a hard drive, more RAM, and eventually a 16 MHz 68000 upgrade made by Brainstorm. I eventually swapped my Zenith for a SyQuest drive and three 44 MB cartridges.
I started out with System 6.0.3 (or so) and tried System 7.0 before it came out (gold beta - and I had to sign a Non Disclosure Agreement). I held off on using System 7 regularly until the CPU upgrade; it's pretty demanding on an 8 MHz computer.
Best program I ever ran on the Mac Plus: ClarisWorks, which was a revelation of what an integrated "works" suite could be - and pretty much killed off Microsoft Works for Mac.
Tommy: How was Low End Mac born?
Dan: After ComputerLand of Grand Rapids closed its doors, I began working for Baker Book House as a book designer, doing computer support on the side. The company had never retired a computer and still had a Mac Plus and Mac II in use. I got to support them.
Move forward a few years, and this Internet thing was emerging from the world of geeks to the world of less geeky computer users. Back in 1996/7, there were PowerBook sites and Power Mac sites, but nobody seemed to be covering the older Macs. Since I needed to support these old Macs, I figured I could consolidate all I knew with all the info in my books and magazines to create helpful pages for people using compact Macs, LCs, and Mac II computers.
One thing that has always set Low End Mac apart from the "specs" sites is that we go beyond listing hardware specifications and include information about each model's role in the Mac genealogy as well as links to other useful resources outside of Low End Mac.
This also gave me a chance to figure out how this Web stuff worked.
Tommy: What was your original vision for LEM?
Dan: I originally envisioned LEM as a specs-plus site, never intending it to be the most exhaustive or in-depth resource on any Mac - but to be the first place you'd go to learn about a model, and then follow links to other, often better resources on that particular Mac.
Tommy: How many writers have come and gone at LEM over the past 10 years?
Dan: Evan Kleiman was the first columnist we added. Charles W. Moore has been writing for LEM since 1999. The late Rodney O. Lain wrote for LEM, as well as several other sites. Stephen Van Esch, Eric Schwarz, Jake Sargent, David Schultz, Steve Wood, and Chris Lawson have all left to run their own websites.
Many have written for a while, then become too busy with other projects to continue with us. These include Beverly Woods (who helps run several of our lists), Dirk Pilat, Kevin Webb, Andrew W. Hill, Brian Rumsey, Jonathan Ploudre, Jason Walsh, Eric DeStefano, Kel Taylor, Matt Urban, Tim Nash, Paulo Rodrigues, Manuel Mejia Jr, Charles Webb, and many others.
We've probably had 25-30 regular columnists come through Low End Mac over our first decade on line - and that's not counting the dozen or so regulars who still contribute: Charles W. Moore, Alan Zisman, Tyler Sable, Tom Hormby, Ed Eubanks Jr, Thomas Ahart, Ted Hodges, and several more.
Tommy: I've always been in awe of the writing talent aboard LEM over the years. I happen to think without the talented writers here, LEM wouldn't be where it is now. Do you have the same sentiments?
Dan: We've had many talented writers over the years, and I think the biggest factor in our success is that we're all Mac users writing from the perspective of people who know, use, and love the Mac. We're passionate about our subject, whether that's PowerBooks, Linux, 68k Macs, niches Apple should fill, Apple's expanding consumer lines, etc.
Tommy: Do you think the focus of LEM has shifted over time, and, if so, in what respect?
Dan: Yes. The original vision for LEM was a specs-plus site, but we began publishing editorial content 3-4 months after the site's birth. By the end of 1997, we'd begun our first email list, which has grown into a family of over 40 user-to-user support lists now hosted by Google Groups.
...sooner or later every Mac becomes low-end....
Also, the original focus was on the oldest usable Macs - 8 MHz 68000 models through the Mac II line. We later added Quadras, PowerBooks, and Power Macs. And the earliest Macs. And some interesting things like NeXT and the Mac clones. Eventually we recognized that sooner or later every Mac becomes low-end and started posting specs for new models as soon as possible.
We've also run an advice column (Mac Daniel) and our online tech journal, which helped people understand SCSI, networking, different CPUs, and so forth. And we added news roundups several years back, kind of a week-in-review first for PowerBooks and later joined by a general Apple/Mac roundup.
Tommy: Did you ever think LEM would be around ten years after its conception?
Dan: LEM began as a hobby. In April 1997, I had no idea there was money to be made on the Internet. I never considered that I wouldn't make those original 24 profiles available for as long as I had personal web space. I never thought it would grow into what it is today.
Our first year (4/97 to 3/98), we served about 470,000 pages. We "went commercial" in November 1997, and with a little promotion site traffic quickly doubled (from 680 pages per day in Sept.) and tripled and quadrupled. A year after we began, LEM was averaging over 4,000 pages per day.
A year later, it was 2-1/2 times that, and two years after that it had doubled again to over 22,000 pages per day. We doubled that again in 2005/06, and from March through June we averaged over 50,000 pages per day.
Tommy: What do you see in LEM's future?
Dan: We'll continue doing what's served us so well for the first decade - Mac profiles plus editorial content. I'd like to see us expand more into the digital hub along the lines of the iApps - adding columns on digital photography, podcasting, digital video, and so on.
Tommy: What was your first Apple or Mac?
Dan: First Apple I used was an Apple II+. The first Mac I used was probably a Mac Plus; it was definitely the first Mac I owned (and still have).
Tommy: What's your most favorite Mac of all-time?
Dan: Tough call, and most of my favorites require upgrades. My accelerated 16 MHz Plus was nice, but the ultimate b&w compact Mac would be an SE/30 with a grayscale mod. A Colour Classic II with a 640 x 480 screen mod is another great one, especially with a 68040 upgrade. And the Mac IIfx was in a class of its own, especially with an accelerated video card.
On the portable side, I love the PowerBook 100 and 1400, and my original 400 MHz Titanium G4 served me well for half-a-decade.
All things considered, I think I'd have to pick the Quadra 840av. It had a 40 MHz 68040, making it the fastest Mac ever with that CPU, and it also included an AT&T 3210 digital signal processor running at 66 MHz. It supported up to 128 MB of RAM (a lot for the classic Mac OS), introduced the high speed GeoPort serial port (4-8x as fast as previous serial ports), and let you manipulate video on the fly with its video input and output ports.
Tommy: What's your least favorite Mac of all-time?
Dan: That's easy: The "road apple" x200 series, which essentially grafted a PowerPC 603 CPU onto a 16-bit Quadra motherboard. It was okay as a personal computer, but the minute you used the modem or did any networking, it became a disaster.
Tommy: What Macs would one find in your collection?
Dan: Tommy, I have about 100 Macs stored in my basement: my original Mac Plus, a Mac 512K upgraded from an original 128K, every compact Mac except for the 128K and Colour Classic II, every Mac II model, every "pizza box" LC, probably every Quadra, each of the NuBus Power Macs, a few PCI Power Macs, at least one Beige G3, a blue & white G3, a 450 MHz dual G4, my workhorse dual 1 GHz G4, a couple of PowerBook 100s (neither currently working) and 1400s (both work), a few other PowerBooks, a 366 MHz indigo iBook with a bad power plug, and a couple eMacs.
Tommy: Is there anything you want the readers out there to know about yourself or LEM they might not know?
Dan: I absolutely love my job, and I'm looking forward to whatever the future holds.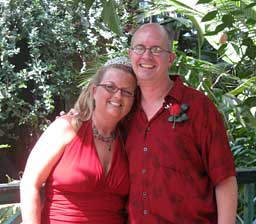 There's more to life than Macs. Life is hard, but God is good. There is life after divorce. I've been married just over a month to my best friend and the most incredible woman I've ever met.
Tommy: Thanks for letting me interview you on my lunch break! Guess it's back to work, eh?
Dan has been a wonderful boss, mentor, and friend to me since I joined the staff in August 2006. Without him, without the writers, and most of all, without all the readers out there, there would be no Low End Mac. Kudos to you, boss . . . you da man! Here's to another 10 years of LEM!
Come back next week when I interview Charles W. Moore. You won't want to miss it.

Join us on Facebook, follow us on Twitter or Google+, or subscribe to our RSS news feed
Today's Links
Mac of the Day: eMac, introduced 2002.04.29. 50 lb. 17" white G4 eMac replaced the iMac for the education market.
Recent Content
Custom Search
Follow Low End Mac on Twitter
Join Low End Mac on Facebook
Favorite Sites
MacSurfer
Cult of Mac
Shrine of Apple
MacInTouch
MyAppleMenu
InfoMac
The Mac Observer
Accelerate Your Mac
RetroMacCast
The Vintage Mac Museum
Deal Brothers
DealMac
Mac2Sell
Mac Driver Museum
JAG's House
System 6 Heaven
System 7 Today
the pickle's Low-End Mac FAQ
Affiliates
Amazon.com
The iTunes Store
PC Connection Express
Macgo Blu-ray Player
Parallels Desktop for Mac
eBay

Advertise