Apple did a wonderful thing when it introduced the all-in-one iMac in 1998. It gave the world a fresh new colorful look at what an all-in-one computer could be with no floppy drive on the front. It included a built-in 100Base-T ethernet port and a 56k modem. And it forced the industry to recon with the new USB standard that had been stalled in the PC world.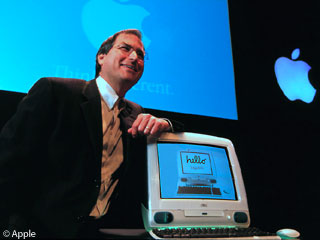 Problem was, nobody had any USB peripherals to plug into the iMac when Steve Jobs unveiled it in May 1998. Printers and scanners used parallel ports on PCs and LocalTalk or SCSI on Macs. Keyboards and mice used PS/2 ports on PCs and ADB on Macs. External hard drives where relatively unknown on PCs, and Macs used SCSI with its bulky cables. Flash drives weren't even a thing 20 years ago.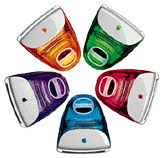 The early iMacs had two USB 1.1 ports and shipped with a keyboard and mouse that matched the iMac's Bondi blue – and later on matching the fruit flavors of the iMac Revisions C and D.
USB Pros
The best thing about USB was that it meant one type of port for connecting almost everything to your computer. In the PC world, it eventually meant the end to parallel and serial ports. On the Mac side, it meant the end of built-in SCSI, LocalTalk, and ADB ports, although the Blue & White Power Mac G3 did retain ADB.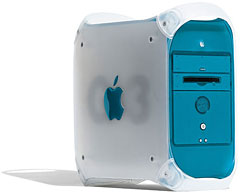 The smartest thing Steve Jobs did was introduce the iMac months before it would ship, giving the industry time to make sure peripherals were available for the iMac. Who would want to miss out of the market created by this new model that everyone was talking about? So there were some printers, scanners, and other USB devices available when the iMac shipped in August 1998 – with many more announced.
Until the candy colored iMacs arrived, the iMac was the single best selling computer on the market. It still was in the candy colored world, but because each color had a different SKU, sales figures were divided up by color. I guess those PC brands didn't want people to know how popular the iMac was when you added sales of all five color together.
Regardless, USB was the present and the future in 1998. It could support many kinds of devices. Hubs made it easy to add more ports. And many PC system boards already had USB ports, but nobody had really used them until the iMac arrived.
Best of all, the early USB protocols support up to 500 mA of power, which is enough to power an external 2.5″ hard drive. Later on, it would be enough to charge a smart phone.
USB Cons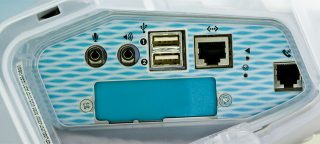 Problem is, the iMac only had two USB 1.1 ports, and one of those was used by the keyboard. The mouse could be plugged into the second port in the computer or one of two pass-through USB ports on the keyboard. But only the built-in USB ports could provide 500 mA of bus power to a device.
If you had an external USB hard drive, it could plug into the second port. (The physically larger 3.5″ drives and CD burners needed their own power supplies and, because of that, would often provide bus power on a pass-through port.) If you had a USB printer or scanner, it could plug into the second port. However, printers and scanners didn't usually have USB pass-through ports.
What that meant was that you needed to add a USB hub to use two or more devices on the iMac's second port. Printer plus scanner? You need a hub. Printer and 2.5″ USB hard drive? You needed a powered hub. Hubs soon became one of the most popular classes of USB device!
You Can Never Have Too Many USB Ports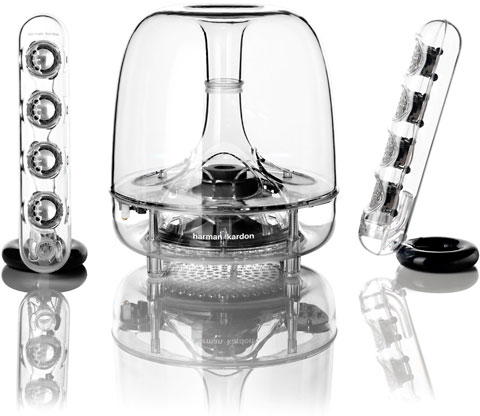 And then came additional USB peripherals. Card readers and thumb drives didn't need bus power and could usually be plugged into the keyboard's second USB port. Apple's USB speakers – well, enough said, but it made a lot more sense to use speakers that plug into the headphone jack than tying up a USB port no matter how cool those Sound Sticks and the iSub looked.
All G3 iMacs included two USB ports. The Blue & White Power Mac G3 and all Power Mac G4 models included two USB ports. The Lombard PowerBook G3 and Pismo PowerBook G3 included two USB ports. Every PowerBook G4 included two USB ports.
The original clamshell G3 iBook included just a single USB port. iBooks with two USB ports didn't arrive until May 2001. And USB hubs remained popular.
USB 2.0 – More Speed!
The USB 1.1 specification included on all G3 iMacs and all G3 and G4 Power Macs introduced after the iMac tops out at 12 Mbps. That's great for a keyboard or mouse. It was good enough for the lower capacity memory cards used in cameras back then. It was adequate for printing, tolerable for scanning, and really limited hard drive throughput. Burning to a USB CD-R drive limited you to 4x, so it would take 18 minutes to write 72 minutes of music or 700 MB of data.
Introduced in April 2000, USB 2.0 changed all that, offering a new top speed of 480 Mbps – 40 times as fast as USB 1.1! Finally something to provide good throughput for USB hard drives, CD burners, scanners, laser printers, etc.
Unfortunately for Mac users, Apple saw USB 2.0 as a threat to its FireWire protocol and delayed implementing USB 2.0 on Macs until mid 2003.
We Need More Ports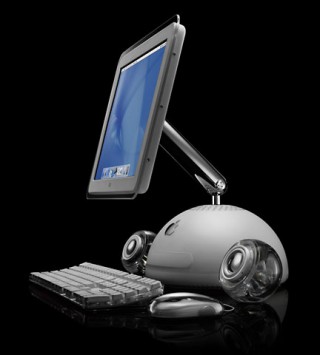 With the iMac G4, introduced in January 2002, the iMac finally had three built-in USB 1.1 ports. Unfortunately, they were on the back of the iMac (previous iMacs had their ports on the side). Depending on your setup, you might buy a USB hub or extender cable just to make it easier to plug in a flash drive, because in many cases getting to the back of the iMac was difficult. For instance, your desk might be against a wall, not an uncommon occurrence.
And that's what inspired this article. I have an Early 2008 20″ iMac with exactly as many ports as the iMac G4 – and just as inconveniently placed with my desk against a wall. Using a flash drive to move files between my Macs (before I set up an ethernet hub) was inconvenient, so I ended up using the USB port on my aluminum USB Apple Keyboard with Numeric Keypad.
But then I received a keyboard and two RollerMouse devices from Contour to review. My Contour Unimouse is wireless with its own USB receiver. The Contour Balance Keyboard is wireless with its own USB receiver. And the RollerMouse is also wireless with its own USB receiver – or I can use a USB cable with it. However you look at it, that's three USB devices, none of which has a pass-through. And my iMac has exactly three USB ports.
I also have a Brother all-in-one printer/scanner/copier that's wireless and USB, but it is always putting itself to sleep and won't do wireless printing unless I wake it up first. Kind of lame. It's next to my iMac and uses one of its three USB 2.0 ports.
So how do I use the Unimouse, Balance Keyboard, and RollerMouse with the printer connected? The only hubs I own are ancient Belkin 4-port USB 1.1 hubs, which I suppose would be adequate for keyboard and mouse input, but that's one more device to plug into the power strip. My solution? That Apple Keyboard with Numeric Keypad is plugged into one USB port and powers two of the dongles (one in each of its pass-through USB ports), supporting the Unimouse and Balance Keyboard. The RollerMouse is plugged into the third USB port on the back of the iMac.
Shifting Connections
To promote its FireWire standard, Apple included two FireWire 400 ports on the slot-loading iMacs, with the exception of the entry-level 350 MHz model, which has no FireWire ports. With the first 24″ iMac in Sept. 2006, Apple switched that to one FireWire 400 port and one FireWire 800 port (for some reason, Apple gave each speed a different connector).
The Early 2009 iMacs gained a fourth USB 2.0 port and left the FireWire 400 port behind in March 2009. Finally, a decent number of USB ports! Still inconveniently located on the back, but four!
In Late 2009, the iMac got a built-in SD card reader, and the Mid 2010 iMac added support for the higher capacity SDXC cards. One less reason to tie up a USB port, and the card slot was on the same side of the iMac as the optical drive, so no need to reach around the back of the iMac to use a memory card.
Apple migrated the iMac to USB 3.0 in October 2012, which is over 10x as fast as USB 2.0. Four USB ports plus two 10 Gbps Thunderbolt ports, but no more FireWire. (You can connect FireWire devices with a Thunderbolt adapter.)
Today the iMac still had 4 USB 3.0 ports (but not yet 10 Gbps USB 3.1) and two 20 Gbps Thunderbolt ports.
The Mac mini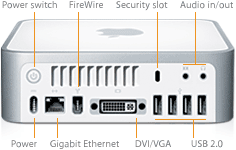 As a very compact desktop machine, the Mac mini has a surprising number of ports. Starting with the first Intel-based mini in 2006, Apple gave it four USB 2.0 ports, along with one FireWire 400 port.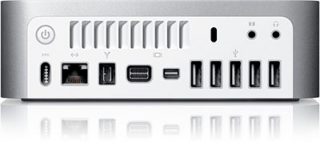 In 2009, Apple added one more USB port, bringing the total to five, and switched to FireWire 800.

When Apple made the Mac mini shorter but wider in 2010, it lost one of those USB ports, but it did gain an SD card slot, which almost makes up for it. In 2011, it gained Thunderbolt. In 2012, USB 2.0 gave way to USB 3.0 on the Mac mini – something the iMac still doesn't have.
With the 2014 model, the Mac mini lost its FireWire 800 port but gained a second Thunderbolt port.
The Most Flexibility: Power Mac G5 and Mac Pro
Power Mac G5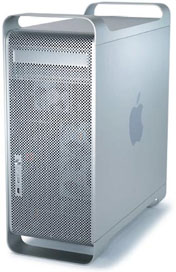 The Power Mac G5 was the first Mac to receive USB 2.0 when the new tower machine was introduced in June 2003. Apple made some unusual decisions and one brilliant one. The Power Mac G5 had one more built-in USB port than the Power Mac G4, along with two FireWire 400 ports and one FireWire 800 port. The brilliant thing was placing one USB port, one FireWire 400 port, and a headphone jack on the front.
For the first time ever, we had a Power Mac with ports on the front, making it easy to plug in a flash drive or i.Link video camera. And if you needed more USB ports out back, you could add PCI cards.
Apple made things even nicer when it introduced the last generation of Power Mac G5 in October 2005: Four USB ports and dual-core processors.
Mac Pro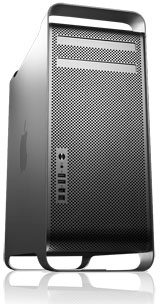 The first Mac Pro arrived in August 2006 with an impressive five USB 2.0 ports, along with two FireWire 400 and two FireWire 800 ports. And now there were two USB ports on the front along with one FireWire 400 and one FireWire 800.
In 2009, the two FireWire 400 ports were replaced with two FireWire 800 ports for a total of four. What the traditional Mac Pro never received was USB 3.0, which most Macs received in 2012.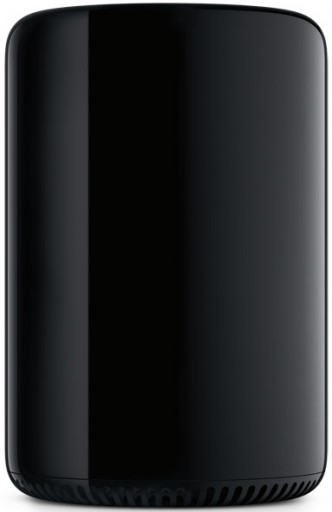 Instead, Apple introduced a completely new form factor Mac Pro in 2013 with no hard drive bays, no optical drive bays, and no PCIe slots except for the video cards. What it gained was four USB 3.0 ports (one less than the model it replaced) and six 20 Gbps Thunderbolt ports.
Macs with Way Too Few Ports
After the 1999 clamshell iBook with just one USB 1.1 port, Apple managed to provide at least two ports on most laptops until 2008, when it introduced the remarkably thin and light MacBook Air, a no compromise alternative to the netbooks on the PC side with their shrunken keyboards and tiny screens and seriously underpowered Intel Atom CPUs. The MacBook Air had a full sized keyboard, a 13.3″ screen, a slow drive bus, a horribly slow iPod-style hard drive for those who didn't choose the SSD option, and a single USB 2.0 port. There was also Micro-DVI for connecting an external display, but that was all you had for connecting peripherals.
In October 2010, the 11″ and 13″ MacBook Air got upgraded with Mini DisplayPort for a monitor and two USB ports. The 13″ model even had a built-in SD card reader. And in June 2012, Apple moved the MBA to 5 Gbps USB 3.0 and added Thunderbolt, which replaced Mini DisplayPort.
Two USB ports is just adequate for a laptop. If you want to use it as a desktop substitute, you can attach a display plus a USB keyboard and mouse at home, leaving a USB port open for a thumb drive, printer, external optical drive, etc. Or, more likely, a hub.
Big Ouch
But then came the most insulting MacBook ever. In April 2015, Apple introduced the new, thinner, lighter, less expandable 12″ MacBook with Retina Display – and only a single expansion port. It wasn't the same USB port used in every prior Mac; it was the new subcompact USB Type-C port, which has the benefit of being small (making it ideal for thinner devices) and reversible, so you can't plug it in the wrong way.
One port to replace them all. This single USB 3.1 port supports USB, video, and even power to the 12″ MacBook. However, you have to unplug the charger to connect anything else. Even the original MacBook Air let you connect a USB device or two and a display and keep its charger plugged in. And no built-in memory card reader either.
Apple essentially created a MacBook that requires you to own a hub, if only so you can charge its battery and use a USB mouse at the same time.
What About Bluetooth Devices?
I am not a big fan of Bluetooth mice and keyboards. There are more energy efficient wireless options, such as the receivers Contour uses with its mice, keyboard, and RollerMouse. Responsive and very low energy use. When a Bluetooth device goes to sleep, it takes a moment to reconnect to your computer.
Then again, if you're stuck with a 12″ MacBook and don't want to add some sort of hub to your system, a Bluetooth mouse is your only option, at least while the power is connected.
Besides which, Bluetooth won't charge your iPhone. Yes, Apple will sell you a $25 USB-C-to-Lightning cable to connect your iPhone 5 or newer to the 12″ MacBook, but now you're using the MacBook's battery to charge your iPhone.
Seriously, what was Apple thinking not including at least one more USB-C port on the 12″ MacBook? Let's hope the next version adds at least one more port.
Conclusion
Apple has a very spotty history providing enough USB ports on its Macs. Two really isn't enough for a desktop computer, and only one on a notebook is a nightmare. Apple needs to do better with the 12″ MacBook the next time it updates its design to give it at least one more port.
Keywords: #usb #macbook
Short link: https://goo.gl/2uEdd7