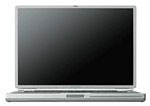 January 9 in Low End Mac History
Highlights
2007: iPhone unveiled, will not ship until Late June.
2007: Axiotron Modbook, the first tablet Mac.
2001
2002
2003
2004
The colored iPod mini, iLife '04, and prospects for GarageBand, Adam Robert Guha, Apple Archive. Do the iPod mini and iLife '04 offer enough to entice users to ante up for the new products?
PowerBook G4 trade-in details, iBreeze, AirPort antenna fix, MacTruck case, and more, Charles Moore, The 'Book Review. Also XLR8 Pismo upgrade, new 80 GB drive from OWC, and bargain 'Books from $399.99 to $1,539.
2006
Installing Mac OS X 10.4 Tiger on unsupported hardware, Joe Rivera, Mac Fallout Shelter. Although Apple doesn't support it, you can install 'Tiger' on the Lombard PowerBook and many other unsupported Macs.
About time to replace five-year-old PowerBook G4, Dan Knight, Mac Musings. This old workhorse is showing its age - missing feet, scratched titanium, worn paint, missing backspace. Time for something better, but what?
23 events that may compromise your Windows computer, Jeff Adkins, The Lite Side. "If any of the following should occur, your Windows computer may be infected with a virus or subjected to a worm or other type of malicious software (malware)."
2007
2008
The 2008 Mac Pro value equation, Dan Knight, Mac Musings. The new Mac Pro models use quad-core Intel Xeon CPUs on a faster bus, add SAS support, and include Bluetooth. Is there any reason to buy the old ones?
New Macs before the Expo? What is Apple thinking?, Dan Knight, Mac Musings. It's unprecedented. Apple has never unveiled a new Mac just before the Macworld Expo. What does Steve Jobs have up his sleeves for the Expo?
2009
2011