Low End G3s and G4s: Macs Really Do Last Longer
Daniel Knight - 2005.02.17
Because Macs last so long and Apple keeps introducing new models, the low end is a moving target. When I began Low End Mac nearly eight years ago, Quadras, PowerBooks, and the Mac II series were the low end of the Mac world.
Over time the NuBus Power Macs began to dominate our site logs, and later the PCI Power Macs and PowerPC-based PowerBooks took precedence. For the past two or three years, that's shifted a step higher.
Looking at our site logs for the past four months, 14 of the 15 most popular profiles have been G3- and G4-based models, all of which can run Mac OS X.
G3 Forever?
Topping the list with almost 25% more hits than the next-most-popular Mac profile on Low End Mac is the Power Mac G3, the old beige one that came in 233 MHz to 333 MHz speeds. Introduced in November 1997 - about a half-year after I began this website - the Beige G3 remains an affordable workhorse.
It runs very well under the classic Mac OS and nicely under OS X. You have to be careful about which motherboard and ROM version you have, which is why the Rev. A model earns a Road Apple warning, but with used prices starting as low as US$50 these days, it's a great way to get a lot of power for a little money and still have a machine that can run OS X decently if you want to.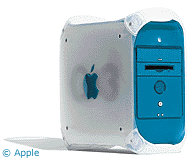 Number 3 on our list is the Blue & White Power Mac G3, Apple's first model to use the upright case with handles and the motherboard-on-a-door design that Apple retained through the entire Power Mac G4 run.
This January 1999 model is one of our favorite choices for a low-priced, decently powered, pretty upgradable Mac that can run OS X very nicely. In fact, we give is a Best Buy rating, and you can pick up a nice B&W G3 for as little as US$150 these days.
G4 Power
Between the two G3 desktops is the Sawtooth version of the Power Mac G4, which was introduced at the end of August 1999. This was the first Mac with AGP graphics and had a motherboard optimized for the G4 (the Yikes model, covered below, used a slightly modified B&W G3 motherboard).
The Sawtooth G4 isn't quite the low-cost deal the Power Mac G3s are, but prices start at US$350 on the used market. With lots of upgrade potential, we expect them to remain near the top of our hit list for a long time.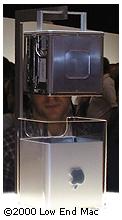 The next most popular G4 model profile is the Power Mac G4 Cube, which comes in at #7. Although poorly received because the more expandable Power Mac G4 was a better value (at least when the Cube was first launched), the Cube may have been the most attractive model Apple ever produced.
Today the Cube has something of a cult following, and almost every CPU upgrade vendor does their best to make sure fast G4 upgrades are available for the compact Cube.
Power To Go
Apple's PowerBooks have long been some of the most innovative, reliable laptops on the market, and the PowerBook G3 (Pismo) profile, introduced in 2000, is the most viewed 'Book page on our site.
The Pismo was the culmination of the PowerBook G3 design and Apple's first portable with FireWire. Thanks to its rugged design and expansion bay, as well as some nice third-party CPU upgrades and very nice performance under OS X, the Pismo remains a portable workhorse for many Mac users.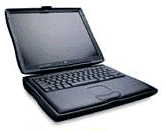 The PowerBook G3 Series (WallStreet) is the #2 'Book and #6 Mac on our list. Speeds for this 1998 model ranged from 233 MHz to 300 MHz, and it was the only G3 PowerBook with two expansion bays. It's a powerful performer using the Classic Mac OS, and many WallStreet owners are happily using Mac OS X, although there have been some problems reported.
The next 'Book on the list is the January 2001 PowerBook G4, the first titanium PowerBook, the first PowerBook with a "megawide" display, and the first 1" thin PowerBook. With a fast, high capacity hard drive and room for 1 GB of RAM, the 400 MHz and 500 MHz G4 PowerBooks make nice OS X machines. Used prices start at about US$700.
iMacs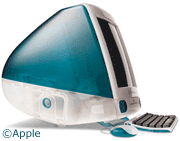 The model that brought Apple back into the public eye in 1998, the 233 MHz Bondi iMac, is the fifth most viewed profile on our site. Although its becoming a bit long in tooth, the G3-based iMac is a very nice performer under the classic Mac OS and a usable (albeit slow) performer with OS X.
The tray-loading iMacs can use faster, higher capacity hard drives, which can make a world of difference, and may support up to 512 MB of RAM. However, there's no guarantee with memory, and some tray-loaders seem unable to work with the 256 MB modules needed to reach 512 MB.
Used tray-loading iMacs are available starting at US$150 nowadays, and the 333 MHz iMac Rev. D is the 16th most popular model on our site.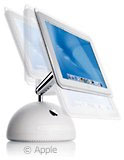 Number 14 on our list is the original iMac G4, which was introduced in January 2002 with a 15" display and a 700 MHz G4 processor. Although Steve Jobs loved this design, praise for its looks is far from universal. Some of us think this was the oddest looking Mac of all time.
Regardless, it was a stunningly recognizable design, and you'll still see these on TV shows. That said, the higher price of these flat-panel iMacs made them far less popular than the CRT iMacs that preceded them.
More 'Books
The PowerBook G3 (Lombard) holds the 9th spot on our site. It replaced the WallStreet in May 1999, and it was the first PowerBook with USB ports. The slimmer, lighter design is shared with the Pismo.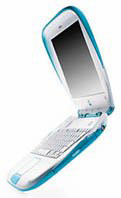 And rounding out our Top Ten is the 1999 300 MHz clamshell iBook. Designed for the education market, Apple built the clamshell iBook tough. It has rubber bumpers and rounded edges. It also has a handle, making it very easy to transport the clamshell iBooks from place to place.
Today you can buy a used iBook 300 for as little as US$280.
Clamshell iBooks are expandable. Adding AirPort or memory is done by removing the keyboard. Changing the hard drive or replacing the CD-ROM, however, is a major project.
Although the clamshell iBooks are decent performers under OS X, the 12" 800 x 600 feels very restrictive. If you want to use OS X, you'll probably be a lot happier with a 1024 x 768 or higher display.

And that brings us to the 500 MHz iBook, the "ice" model released in May 2001. It's much more compact than the earlier iBook, and lighter, too. This design has hardly changed at all, and today's 12" iBook G4 looks almost identical.
With enough RAM (64-128 MB standard, but you'll want to add 256 MB or 512 MB) the iceBook makes a very nice OS X machine, especially with the 1024 x 768 display. You can also replace the hard drive, although it's not an especially easy machine to get into.
With the more modern design, improved system architecture, and higher resolution screen, the white iBooks hold their value well. A 500 MHz iBook with CD-ROM starts US$400 these days, the DVD-ROM version at US$450, and the Combo drive model at US$490.
More G4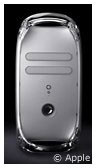 Two more Power Macs make the Top Fifteen - the Quicksilver model at #12 and the Yikes model at #13.
Quicksilver (right) was released in 2001 at speeds ranging from 733 MHz to 867 MHz, and it was followed by a faster family of Quicksilver models in 2002.
Yikes!, also known as the Power Macintosh G4 (PCI Graphics), is the model I hinted at above when discussing Sawtooth. It essentially puts a G4 processor on the motherboard from the B&W G3, which means slower performance and less upgrade options than the Sawtooth.
Because of this, Yikes is the only Power Mac G4 to get a Road Apple warning. It's not a horrid computer by any means, but the Sawtooth is a much better design and there's very little difference in selling price, so unless you find a really good deal, we recommend skipping Yikes and going for Sawtooth.
Odd Mac Out
The oldest Mac to make our Top 15 list is the PowerBook 1400, which was introduced in October 1996. The 1400's footprint was pretty much determined by the 12" 800 x 600 display, and this 'Book was almost as small as the 12" white iBooks.
Although G3 upgrades are available, this is strictly a classic Mac OS computer. Memory is limited to 64 MB, so even if you could put OS X on it, performance would be extremely hampered.
What makes the PB 1400 attractive is the combination of size, weight, screen, keyboard, ruggedness, performance (the 133-166 MHz models are fine with the classic Mac OS, but the 117 MHz one is a Road Apple), and price. You can sometimes find a used PB 1400 for US$100 (Wegener Media usually has some), less than you might pay for a Palm or iPod shuffle.
Yeah, you're "stuck" with the classic Mac OS, but it really was a pretty nice, pretty fast, pretty stable operating system. If you're on a tight budget, this 'Book merits consideration.
Summary
The low end keeps moving, and that's part of the reason we cover every Mac on Low End Mac. After all, sooner or later every Mac becomes low-end.
Here's our official Top 15 list:
Beige Power Mac G3, 233-366 MHz, 1997.11-1999.01
Sawtooth Power Mac G4, 350-500 MHz, 1999.08-2000.07
Blue & White Power Mac G3, 300-340 MHz, 1999.01-08
Pismo PowerBook G3, 400/500 MHz, 2000.02-2001.01
iMac, Revision A, 233 MHz, 1998.08-1998.10
WallStreet PowerBook G3, 233-300 MHz, 1998.05-1999.05
Power Mac G4 Cube, 450/500 MHz, 2000.07-2001.07
Titanium PowerBook G4, 400/500 MHz, 2001.01-2001.10
Lombard PowerBook G3, 333/400 MHz, 1999.05-2000.02
Clamshell iBook 300, 300 MHz, 1999.07-2000.09
White iBook 500, 500 MHz, 2001.05-2001.10
Quicksilver Power Mac G4, 2001.07-2002.01
Yikes Power Mac G4, 350/400 MHz, 1999.08-1999.10
Flat Panel iMac G4, 700/800 MHz, 2002.01-2003.02
PowerBook 1400, 117-166 MHz, 1996.10-1998
Each of these models was produced between 1996 and 2003, and the most popular models were available in the 1998-2000 era.
When we started Low End Mac, the "low end" was four to seven years ago, and we're still pretty close to that mark today. The newest Top 10 model was released four years ago, and the oldest just over seven years ago.
I guess if you're looking for a good indicator of Mac longevity, that's it. Based on our numbers, it looks like the typical Mac remains in active use until it's 5-7 years old - at least twice as long as the average Windows PC.
And that's just the most popular stuff. We still get lots of people looking at profiles for "ancient" Macs such as the Mac 128K, the Classic, the SE, the Plus, and the Color Classic. (All of which receive more traffic than our Power Mac G5 profiles!)