.
Sonnet Ships Presto Plus for LC Series Macintosh Computers
For Release: April 5, 2000
For More Information, please contact:
Joy Hsu
949-261-2800
joy.hsu@sonnettech.com
IRVINE, CALIFORNIA - April 5, 2000. Sonnet Technologies, the worldwide market share leader in processor upgrade cards for Apple Macintosh™ computers, ships an innovative multi-function upgrade card, the Presto™ Plus, that provides all the necessary capability to enable 68020- and 68030-based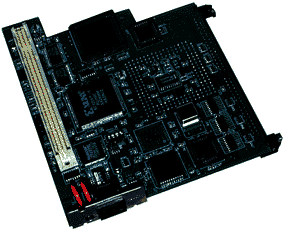 Macintosh models to access the Internet, and run memory-hungry and performance-intensive applications under Mac OS 8. The card features OS 8 enabler technology, built-in 10-base-T Ethernet, a 66/33 MHz 68LC040 processor, and 128K level 2 cache, delivering up to 650% overall speed improvement. It also includes an on-card 32 MB RAM SIMM, which is recognized in addition to motherboard memory. A second version of the card is available with a 68040 including FPU (Floating Point Unit) for faster mathematical calculations.
Simply Fast
Sonnet cards have unequaled ease-of-installation and reliability. The Sonnet Presto, Crescendo and Encore cards work in every compatible Macintosh without the need for the antiquated methods of hardware configuration. Free from switches, jumpers, and control panels, the Sonnet upgrade cards are Simply Fast™. Sonnet products are guaranteed to operate reliably over variations of machine, time and temperature. The ability to move an upgrade card from one machine to another without the need to tweak any jumpers, switches or control panels is a significant advantage to resellers and organizations that want to maximize their flexibility, while minimizing the long term technical support requirements.
Designed for K-12 Schools
The Presto Plus multi-function card was designed specifically to meet the internet connectivity needs of schools who still use hundreds of thousands of the '020- and '030- based Macs. "K-12 Schools represent a large portion of our customer base, having purchased thousands of our popular Presto processor upgrade cards," said Robert Farnsworth, President and CEO of Sonnet Technologies. "School administrators told us they need to connect their existing computers to the internet, but most of their early Macintosh computers lack built-in Ethernet support, sufficient memory to run Web browsers, enough performance to run modern applications, and the ability to run Mac OS 8. The Presto Plus is the answer. One affordable card achieves all of their goals while preserving their investments."
Compatibility
The Presto Plus supports applications that require a 68040 or greater, System 7.1 through OS 8.1, and virtual memory. The Presto Plus is compatible with the following Macintosh Models:
Price and Availability
Presto Plus with 68LC040, $299.95
Presto Plus with 68040 FPU, $349.95
Sonnet Metronome
Every Sonnet processor upgrade includes the Metronome Profiler Utility software, giving users useful system performance information such as processor type, speed, and bus speed.
About Sonnet Technologies, Inc.
Sonnet Technologies, Inc., headquartered in Irvine, California, is the worldwide market share leader in processor upgrade cards for Apple Macintosh™ computers. Founded in 1986, Sonnet upgrades more Macintosh models with processor upgrade cards than any other company. Sonnet processor upgrade products are easy to install, are backed by a three-year warranty, include free technical support, and require no switches, jumpers, or control panels. To locate an authorized reseller or purchase product, visit the Sonnet Technologies web site at <http://www.sonnettech.com>, or call the company at 1-800-786-6260 (USA and Canada) or 1-949-261-2800.
---
Low End Mac is an independent publication and has not been authorized, sponsored, or otherwise approved by Apple Inc. Opinions expressed are those of their authors and may not reflect the opinion of Cobweb Publishing. Advice is presented in good faith, but what works for one may not work for all.
Entire Low End Mac website copyright ©1997-2016 by Cobweb Publishing, Inc. unless otherwise noted. All rights reserved. Low End Mac, LowEndMac, and lowendmac.com are trademarks of Cobweb Publishing Inc. Apple, the Apple logo, Macintosh, iPad, iPhone, iMac, iPod, MacBook, Mac Pro, and AirPort are registered trademarks of Apple Inc. Additional company and product names may be trademarks or registered trademarks and are hereby acknowledged.
Please report errors to .
LINKS: We allow and encourage links to any public page as long as the linked page does not appear within a frame that prevents bookmarking it.
Email may be published at our discretion unless marked "not for publication"; email addresses will not be published without permission, and we will encrypt them in hopes of avoiding spammers. Letters may be edited for length, context, and to match house style.
PRIVACY: We don't collect personal information unless you explicitly provide it, and we don't share the information we have with others. For more details, see our Terms of Use.
.

System Profiles
Lisa/Macintosh XL
Compact Macs
Mac II
Mac LC
PowerBook (68k)
Performa
500 Series
Centris/Quadra
Power Mac
PowerBook (PPC)
iMac
Maclone Profiles
Earliest Maclones
DayStar Genesis
Motorola StarMax
Power Computing
Umax SuperMac
Mac Resources
LEM Help Desk
Memory Upgrade Guide
Troubleshooting
Mac Software
Mac Classified
Mac Dealers
LEM Museum
Best Mac Links
56k Modem Page
Email Lists
Compact Macs
Vintage Macs
Quadlist (68040)
PowerBooks
1st PowerMacs
PCI PowerMacs
iMac List
SuperMacs
more lists
Other Pages
Filtering Spam
The Macquarium
Apple Timeline
Macspeak
Top Pages
Support LEM
Amazon.com
Support LEM
More resources on the links page.
.