2008: The prayers of many for an ultralight MacBook have been answered, but in an unexpected way. And that's pure Apple.
The Mac Matrix
When Steve Jobs returned to Apple in 1997, he had a plan to cut out unprofitable product lines, such as the Newton, and streamline the Macintosh line, which included three lines of desktops (Power Macintosh, Performa, and LC) and the PowerBook notebook computers. He immediately set Jonathan Ive to work on what would become the iMac, the cornerstone of the new 4-quadrant Mac matrix: consumer and pro desktop and notebook models.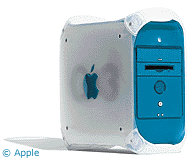 The iMac was announced in May 1998 and shipped in mid-August. It was joined by a new Power Mac design, the Blue & White G3, in January 1999, the first Mac with FireWire. This was followed by a slimmer, faster PowerBook G3, a.k.a. Lombard, in May, which introduced USB to that line. The final quadrant was filled by the 300 MHz clamshell iBook, the first Mac to support AirPort wireless networking.
Over the years Apple would expand our options, offering several speeds (and colors) of iMacs, iBooks in 12″ and 14″ sizes, PowerBooks in two speeds, and Power Macs in several speeds. Ever since September 1999, Apple has filled those quadrants – and made attempts to expand beyond four lines.
Changing the Matrix
The first failure was one of the most beautiful desktop computers ever, the Power Mac G4 Cube (July 2000). It was powerful, innovative, and widely seen as overpriced in comparison to the more traditional, far more expandable Power Mac minitower design. Other drawbacks were a large external power supply, external spherical speakers and wires to clutter the desktop, and a heat-sensitive power button that could shut down the Cube if your finger was too near it.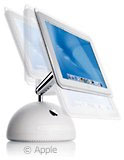 When the iMac moved to a G4 in 2002, Apple went from offering a $799 500 MHz CD-ROM entry-level iMac to a $1,299 700 MHz CD-RW entry-level flat panel iMac G4. That could have killed Apple's presence in the price sensitive education market, and Apple attempted to fill the void with the first eMac, which had a built-in 17″ CRT display, ran a 700 MHz G4, included a CD-ROM drive, and sold for $999.
The 50 lb. eMac successfully changed the Mac matrix from four quadrants, as Apple now had three desktop lines – education, consumer, and pro. Apple further expanded things when it introduced 12″ and 17″ PowerBooks in addition to the 15″ model. The 12″ PowerBook G4 was a bit less "pro" than the other two models, with no PC Card slot and only one memory expansion slot.
Three years ago, Apple added a completely new model to the Mac matrix, the Mac mini. This was the first successful consumer desktop Mac without a built-in monitor since 1997. It took many lessons from the Cube: it was very attractive, had a square footprint and an external power supply, and was even less expandable, but it was marketed as an entry-level computer, while the Cube had never had a clearly defined niche.
Switching to Intel
Over the course of 2006, Apple phased out the eMac, Power Mac, iBook, and PowerBook lines. The iMac and Mac mini brands survived the transition, where they were joined by the MacBook Pro, MacBook, and Mac Pro. But there were two holes: the eMac niche was eventually filled with an economy iMac with integrated graphics, and the 12″ PowerBook was simply gone.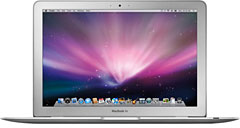 Two years after beginning the Intel transition, Apple has tried to fill the 12″ PowerBook hole with the MacBook Air, the world's slimmest notebook computer.
The question is: Does it fill the 12″ PowerBook niche?
MacBook Air vs. 12″ PowerBook
In terms of weight, the 3 lb. MacBook Air (MBA) is 35% lighter than the 12″ PowerBook G4. And the 5-hour battery life with AirPort active puts it on equal footing with any notebook Mac ever made.
The full-sized, no compromise keyboard should make PowerBook users happy, and despite being incredibly thin, there's even a built-in iSight webcam. The base MBA includes an 80 GB hard drive and 2 GB of RAM, giving it the same drive capacity and more memory than the 12″ PowerBook.
People are already pointing to the MacBook Air's shortcomings: there is no memory expansion, the 1.8″ hard drive is slow compared with traditional 2.5″ hard drives, it uses integrated graphics, there's no built-in optical drive, and the battery is not user replaceable.
2 GB of RAM
Keep in mind that the MacBook Air isn't a consumer notebook or a pro notebook. It's more of an executive notebook (executive being the best label for the Power Mac Cube as well), and it's not designed to do the same heavy lifting as a MacBook Pro. It's meant to supplement your desktop computer, not replace it. Thus it doesn't need more than 2 GB of RAM; that's plenty for its intended market. I'd call that an acceptable compromise, and eliminating an access door and memory sockets probably helps the MBA be so thin and light.
Hard Drive Options
Yeah, the 1.8″ 4200 rpm hard drive (the same one used in the iPod classic) is relatively slow. It's also small by today's standards. It's too bad Apple isn't offering a 160 GB option. If that had made the MacBook Air 1-2mm thicker, a lot of users would have considered it worth doing.
The only alternative Apple offers is a 64 GB solid state drive that adds $999 to the MBA's price. It should be fast. It should improve battery life. It should be interesting to read the first reviews comparing the hard drive and flash drive versions of the MacBook Pro.
Compared with the 12″ PowerBook G4, though, the MBA has a lot less hard drive options. You can put a 500 GB drive in a traditional notebook computer. The MacBook Air may be able to support a 160 GB hard drive (or it may be too thick to fit) and will probably support 128 GB 1.8″ flash drives when they become available – at who knows what cost. This is one area where the older PowerBook has an advantage.
Integrated Graphics
Dedicated graphics are better than integrated graphics, but that takes more hardware and more space. In a notebook as small as the MacBook Air, that's a factor. (Apple even had Intel shrink the CPU by 60% so they could make the MBA this small.) While the dedicated graphics found in the MacBook Pro will outperform the GMA X3100 graphics in the MacBook and MBA, the integrated graphics will run circles around the GeForce FX Go5200 graphics found in the 2005 12″ PowerBook.
The other drawback of integrated graphics is that it ties up 144 MB of system memory. That shouldn't be a big deal on a computer with 2 GB of RAM.
No Optical Drive
The biggest disappointment for travelers is going to be the lack of a built-in optical drive. To watch DVDs on the road, you're going to have to rip them to the hard drive or buy Apple's $99 MacBook Air SuperDrive. Apple describes this 8x SuperDrive as "only slightly bigger than a CD case", and it uses a single cable (USB) to connect to the MBA. No separate power adapter, no mention of batteries, so it probably draws power from the MBA, which should significantly reduce battery life while watching DVDs.
The other drawback to an external drive is that it's one more thing to set on your airline tray, and it's going to make it difficult (if not impossible) to watch DVDs with the MacBook Air on your lap. Advantage: 12″ PowerBook.
Of course, if the MBA isn't your only Mac, you can rip your DVDs on your desktop Mac or buy (or rent) your videos from the iTunes Store. Except for reinstalling the operating system, as long as you have another computer, you shouldn't need the SuperDrive.
The Built-in Battery
The biggest stink is probably going to be over the built-in battery, like the iPod and iPhone use. Road warriors can't pack a spare charged battery, as they can do with other Mac notebooks.
Worse yet, when the built-in battery starts losing capacity, it's probably not going to be easy to replace. I'm sure an industry will spring up offering replacement batteries, just as it did with the iPod, but the average user isn't going to know about it. They're going to assume they have to replace the whole computer or pay Apple a premium price to replace the battery.
We'll probably see add-on external batteries for the MBA, but there's a catch there too. Apple has designed a whole new, smaller MagSafe connector for the slim MacBook Air, and they've resisted licensing MagSafe to third parties, so those batteries will require a MagSafe adapter taken from an Apple power adapter, which will make them expensive.
Kudos to Apple for coming up with MagSafe, but jeers to them for keeping it to themselves.
The Big Point of Comparison
The MacBook Air and MacBook have the same footprint, although the MacBook is 70% heavier and over 1″ thick. The biggest complaint about the MacBook from 12″ PowerBook fans hasn't been its weight or its thickness; it's been the footprint.
The MacBook and MBA have an 8.94 x 12.8 inch footprint, while the 12″ PowerBook has an 8.6 x 10.9 inch footprint. That may not sound like much – 1/3″ deeper and 1.9″ wider – but I think it's going to be a stumbling block for many 12″ PowerBook users.
That said, a lot of them are going to look at the MacBook Air with its 13.3″ widescreen display, light weight, modern CPU, and all the rest – and they're going to decide it's an almost perfect replacement for their aging PowerBooks.
For those who long for a smaller footprint, we can hope that the MBA will be a huge success and Apple will decide to offer an 11-12″ version – so long as they keep the full-sized keyboard. With the success of the 7″ Asus Eee PC (which runs Linux and uses a solid state drive) and expectations of a 10″ version, the time is ripe for a MacBook Air with a smaller footprint than the current one.
It's Green
The MacBook Air (I keep wanting to call it the AirBook) is the greenest notebook Apple has ever made. The LED backlit display is made without any use of mercury or arsenic. The circuit boards are PVC and bromine free. Packaging is half as much as for the MacBook.
And then there's the silly point people keep making: Because the MacBook Air is clad in aluminum, it's easier to recycle. Sure, but people hold on to their Macs nearly forever. Perhaps the point they should make is that aluminum is the most easily recycled material on the planet. In fact, it's far cheaper to recycle aluminum than mine it.
Another part of the MBA's greenness, which I haven't seen mentioned elsewhere, is that the battery isn't user replaceable (so far), which means that Apple can make sure the old battery is recycled when it's replaced.
Closing Thoughts
I've owned and heavily used a 15″ PowerBook G4 with an 1152 x 768 display. I had a 15″ Acer notebook with a 1280 x 800 screen. And my wife and I currently use a 15″ MacBook Pro, which has a 1440 x 900 display. I think I could comfortably live with the 13.3″ 1280 x 800 display in the MacBook and MacBook Air. [Update: I have had a Late 2008 Aluminum MacBook with a 13.3″ 1280 x 800 display for years, and it's adequate. A 15″ display with more pixels is much nicer, however.]
The MacBook Pro has 2 GB of RAM, as does my Power Mac G4, so I know I could live with 2 GB of RAM in the MBA, and I've been impressed with the keyboard in the MacBooks at the local Apple Store, so I know I'd be happy with that.
I think I could get by without an internal SuperDrive, although I would find the single USB 2.0 port a drawback. I'd probably have to carry a small USB hub for times when you want to use a flash drive and a printer.
For me, the big drawback would be the 80 GB hard drive. When I moved my wife's user profile from the eMac to the MacBook Pro, I had to delete my iPhoto and iTunes libraries to make room. That left us with about 10 GB on its 80 GB drive. Rip or download a few movies, and that space fills up fast. I hope there will be a higher capacity option.
Looking Ahead
Expect the multitouch trackpad to make its way into the next version of the MacBook Pro, and look for Apple to make the MBP even thinner than it already is. Also expect the LED backlit display in the MBA to make its way into the consumer MacBook.
What would be really awesome would be a second drive bay in the MBA so users could have an internal backup drive for Time Machine or a cheap way to add another 80 GB of storage space. I don't know just how tightly packed the MacBook Air is, but it would be great.
Another good backup option, and one that you can move between computers, would be Samsung's Portable 80 GB USB 2.0 Microdrive, which sells for about $125. That's a lot cheaper than flash memory (where $500 buys you 32 GB). I'd almost consider that an essential accessory for backups in the field, as microdrives are very miserly in their use of power.
Of course, there's always Time Capsule for wireless backup. It's a perfect complement to the MacBook Air and a great addition to the Macintosh line.
All things said, the MacBook Air looks like its going to be a real winner for Apple – and maybe someday it will have a smaller sibling for those who want or need a still smaller footprint.
keywords: #macbookair