If your device could run iOS 8, then it could also run iOS 9. But was it any different to its predecessor?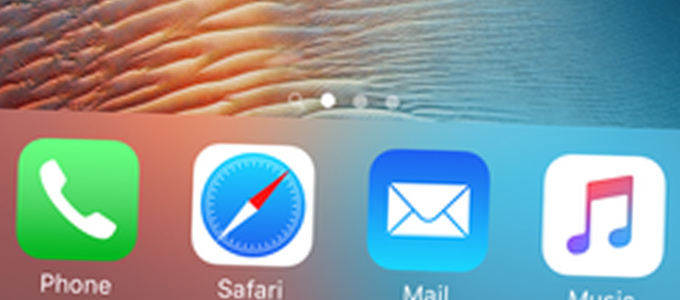 The release of iOS saw the first time a device was given six major releases, with the iPad 2 shipping with iOS 4 and receiving iOS 9, and the iPhone 4s was the first iPhone to receive five major releases shipping with iOS 5 and receiving iOS 9.
Rumours that the iPhone 4s would receive iOS 9 were all over the internet, but it still came as a shock when Apple officially announced it.
Announced at the WWDC in June 2015, it was the first version of iOS to offer a full public beta, which launched in July with the final release in September.
Released: September 16th 2015
Final Version: 9.3.5
Devices: iPhone 4s, 5, 5c, 5s, 6 and 6 Plus, 6s and 6s Plus, and SE; iPad 2, 3, 4; iPad mini, 2, 3, 4; iPad Air, 2; iPad Pro; iPod touch 5th and 6th generation
Devices Dropped: None
Requirements: Over-the-Air, or iTunes 12.1 and Mac OS X 10.9 Mavericks or Windows XP SP3
Part of the reason Apple decided not to drop any devices is because iOS 9 was a minor release – Apple even stated it was more focused on optimisation than new features. It also supported the most number of iDevice by any release of iOS to date, running on 22 different iPhones, iPads, iPods, and Apple TV. But one thing it did drop support for was Snow Leopard, Lion, and Mountain Lion. iOS 9 no longer syncs with Macs running these operating systems.
Lets look at what new features it did bring.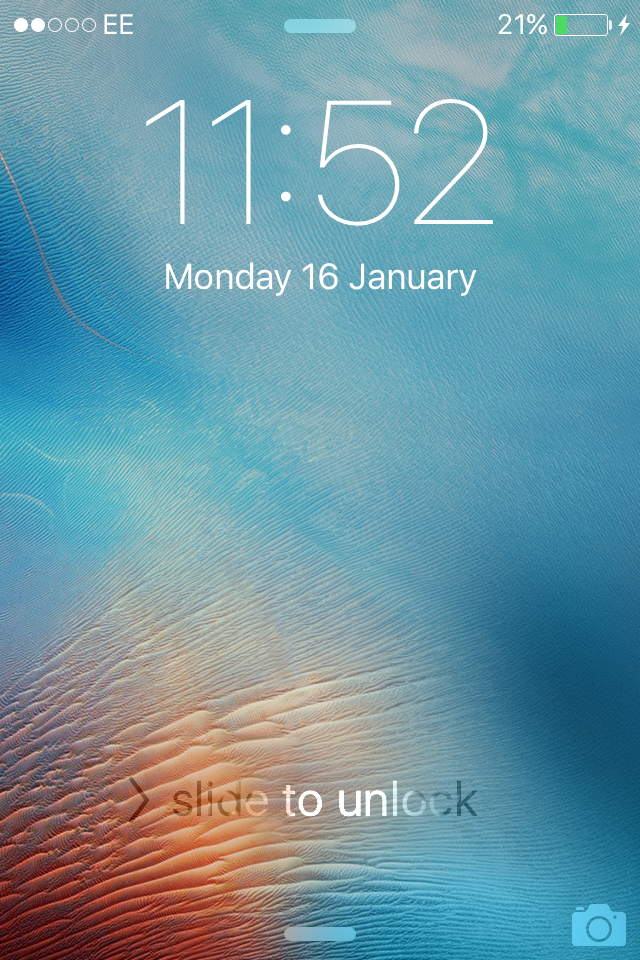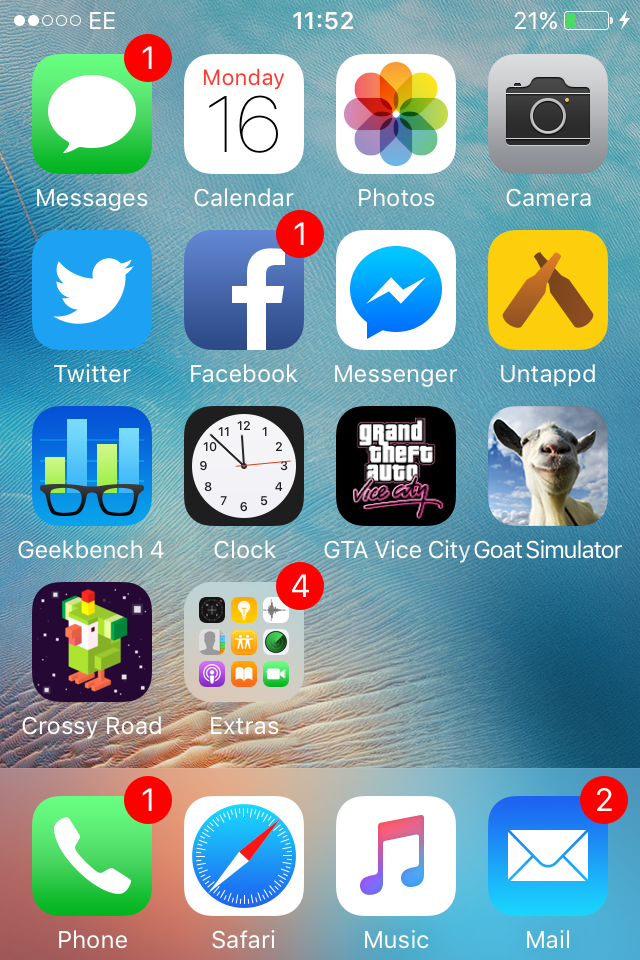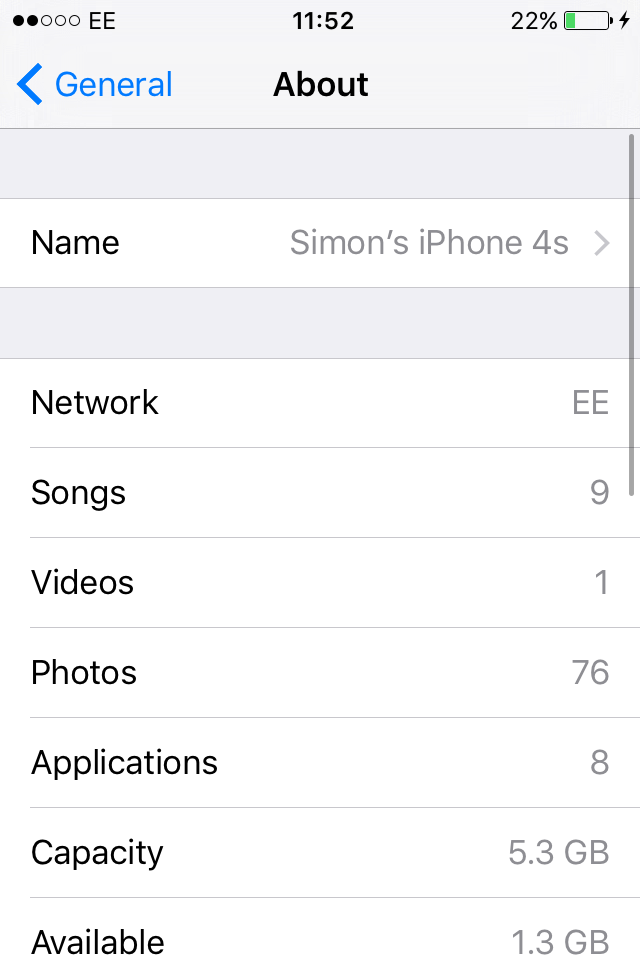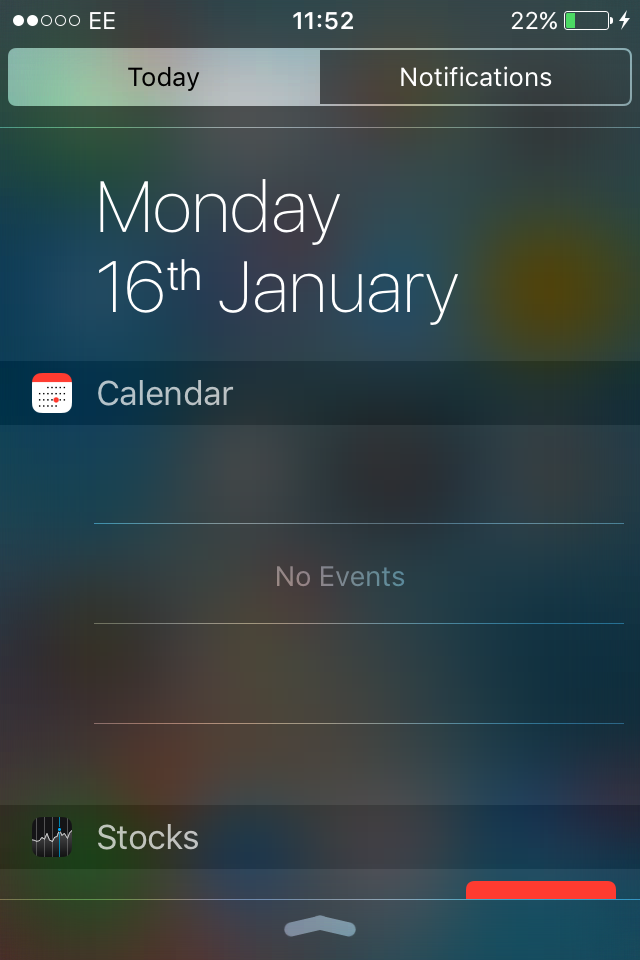 A new systemwide slimmer font called San Francisco was introduced, replacing Helvetica Neue. Proactivity offered smarter faster searching preempting what the user might need and loading it ready, this was offered system wide. Settings could now be searched. Passcodes could now be 6 digits long, and the Metal API is improved.
Battery now came with a low power mode, aimed at extending your phone life when it is below 20% by shutting off unnecessary functions. Also placing your phone face dow let the phone know you didn't want to be disturbed, thus saving battery too – but this requires an iPhone 5s upwards.
I found battery life in iOS 9 far better than in iOS 8, and I was running it on an iPhone 4s and then an iPhone 5.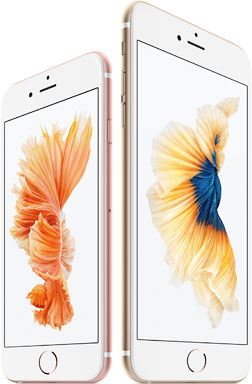 3D Touch was introduced for the iPhone 6s and iPhone 6s Plus, offering contextual menus, previews, and other actions by pressing harder on the screen.
Installation was a lot smaller, this time requiring only 1.3 GB rather than 5+ GB as iOS 8 did.
Something glazed over by Apple is the multitasking screen no longer offers access to recent contacts. An odd place to put it in the first place but a handy feature – now was accessible by swiping on the home screen.
There were quite a few changes for those devices with larger screens – this included the iPhone 6 Plus and iPads:
The iPhone 6s Plus allowed for home screen rotation, but not the slightly smaller iPhone 6s nor the iPhone 6 Plus.
Slide Over and Picture-in-Picture, a way of having two apps on screen at once and viewing a video whilst working on something else, was available iPad Air, Mini 2 or newer, and iPad Pro. Split screen multitasking was for the iPad Air 2, Mini 4, and iPad Pro only.
Version 9.1 was released to support the iPad Pro and Apple Pencil and 4th generation Apple TV as well as number of bug fixes.
Version 9.2 added additional language support, lightning to SD card support and more bug fixes.
Version 9.3 brought with it Night Shift mode, aimed at changing the screen colour to suit use before bedtime. This requires a 64-bit A7 processor meaning it needed an iPhone 5s upwards – so it wasn't included on the iPhone 4s, 5, 5c, iPad 2, 3, 4, or iPod touch fifth generation.
The iPhone SE – released in March 2016 – shipped with iOS 9.3.
Version 9.3.2 finally made it possible to use Night Shift mode and Low Power mode at the same time.
Versions 9.3.3, 9.3.4, and 9.3.5 were minor updates, offering bug fixes, jailbreak patches and critical security fixes.
iOS 9 might have been a relatively small update, but it came with a lot of problems. A number of high profile issues came to light:
'Error 53' caused some devices with third party fixes to their TouchID to brick when updating to iOS 9; Apple fixed this with 9.2.1.
'Date reboot' caused some devices to go into a reboot loop if the date was set back to 1970. Apple fixed this with 9.3.
'iPad Pro bricking' caused some 9.7" models to brick when updating to 9.3.2. Apple stopped the 9.3.2 update and later fixed it with a reissue.
'Pegasus' was a malicious piece of software allowing tracking and interception of your phone found to have been around for a while. This was patched with 9.3.5.
With any device, the last available version of iOS never runs as fast as newer devices. This is expected. Apple have a good history of offering four years support for iPhones, and in general the devices run well enough to do everyday tasks.
The iPhone 4s was the first iPhone to receive five major updates – however, people's experiences and impressions seem to vary. I personally thought for a five-year-old phone, iOS 9 handled very well, but it seems others weren't so impressed, and the issue even raised a lawsuit.
Owners of older iPads also have issues with iOS 9. The iPad mini first generation features similar hardware to the iPhone 4s, yet it seems to run better. Once again, it wasn't blazingly quick, but it handled perfectly well.
Overall I was impressed with iOS 9 from a day-to-day point of view. iOS 7 set the bar for a new OS, iOS 8 was simply a repolished version, and iOS 9 went further to do this – with neither of them not offering too much for the average user.
---
Check out the next release iOS 10: Get the Balloons Out or read the previous iOS 8: Health, Home and Handoff.
---
Follow Simon Royal on Twitter or send him an Email.
Like what you have read? Send Simon a donation via Tip Jar.
---
keywords: #iphone4s #iphone5 #iphone5c #iphone5s #iphone6 #iphone6plus #iphonese #ipad #ios9 #ipodtouch #techspectrum #simonroyal
short link: https://goo.gl/EEcVpI
searchwords: ios9