Rumors of a 17″ iMac had been circulating since 1998. Apple finally did it by introducing the eMac to the education market at the end of April 2002 – and to the consumer market that June. The base 700 MHz CD-ROM model does not include a modem; all other models have one. The top-end 800 MHz model released in August 2002 includes a SuperDrive.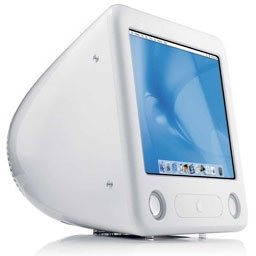 The eMac came with a new white no-button mouse and white keyboard. It also has video out for external displays, which will mirror whatever is displayed on the internal monitor.
Although it has the same dimensions as the original iMac, the eMac is one heavy beast – 50 pounds vs. 35-38 for the 15″ iMacs.
The 2002 and 2003 eMacs are USB 1.1 machines. If you want or need USB 2.0, look at the 2004 and 2004 eMacs.
While you can install and run Leopard on this eMac (see our article on Unsupported Leopard installation), we have reports that this model may lock up when going to sleep -and possibly when the screen saver activates as well. If you do run Leopard on a first generation eMac, we recommend turning off the screen saver and not allowing it to go to sleep.
Got an eMac? Join our iMac & eMac Group or iMacs & eMacs Forum.
Our Mac OS 9 Group is for those using Mac OS 9, either natively or in Classic Mode.
Our Jaguar Group is for those using Mac OS X 10.2.
Our Panther Group is for those using Mac OS X 10.3.
Our Tiger Group is for those using Mac OS X 10.4.
Our Leopard Forum is for those using Mac OS X 10.5 Leopard.
Details
Introduced 2002.04.29 at US$999 (CD-ROM) and $1,199 (Cd-RW/DVD-ROM Combo); CD-RW model introduced 2002.06.04 at US$1,099 and later reduced to US$999; 800 MHz SuperDrive model introduced 2002.08.13 at US$1,499 and reduced to US$1,299 2003.02.04; released to consumer market 2002.06.04; replaced by eMac (2003) 2003.05.06
Code name: P69
Model identifier: PowerMac4,4
Model no.: A1002
Order no.: M8655 (CD, education only), M8578 (Combo, education only), M8577 (CD-RW, consumer), M8891 (Combo, consumer), M8892 (800 MHz SuperDrive)
Mac OS
Core System
CPU: 700/800 MHz PowerPC 7450
Bus: 100 MHz
RAM: 128/256 MB, expandable to 1,024 MB using two PC100 SDRAM (3.3 V, 64-bit, 168-pin, 100 MHz)
L2 cache: 256 KB on-chip cache running at full CPU speed
Performance
Geekbench 2 (Leopard): 404 (800 MHz)
Geekbench 2 (Tiger): 372 (800 MHz), 359 (700 MHz)
Graphics
GPU: Nvidia GeForce2 MX 3D AGP 2x chip set, supports video mirroring with mini-VGA adapter (the VGA adapter may unlock video resolutions on the internal display that are otherwise inaccessible)
VRAM: 32 MB SGRAM
Resolutions: 1280 x 960, 1152 x 870, 1024 x 768, 800 x 600, and 640 x 480 using
Display: 17″ (16″ viewable) multiscan to 1280 x 960
Drives
Hard drive: 40 GB Ultra ATA drive
Optical drive: 32x CD-ROM, 8x12x32x Combo drive, or 2x SuperDrive
Expansion
USB: 3 USB 1.1 ports
FireWire 400: 2 ports
Ethernet: 10/100Base-T
AirPort: ready to accept AirPort card
Modem: built-in v.90 56k modem
Microphone: built in (above monitor), standard 3.5mm minijack, compatible with line-level input, not compatible with Apple's PlainTalk microphone
Physical
Height: 15.8 in/40.6 cm
Width: 15.8 in/40.6 cm
Depth: 17.1 in/43.3 cm
Weight: 50 lb/22.7 kg
PRAM battery: 3.6V half-AA
Power supply: 150W
Online Resources
Cautions
You cannot plug the iPod shuffle directly into the eMac's USB port – it will not fit. It will not charge if plugged into a keyboard USB port or an unpowered USB hub. To charge it while using it with your eMac, you must us a USB extension cable, powered USB hub, iPod shuffle dock, or a USB power adapter.