After seven months at 1 GHz, Apple speed bumped the little AlBook by 33% to 1.33 GHz and upgraded video memory from 32 MB to 64 MB. The new model supports ATA/100 hard drives, so drives over 120 GB are now supported, and uses a 167 MHz system bus.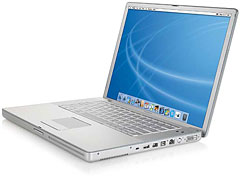 The 12″ PowerBook G4 had the third-smallest footprint of any Apple notebook to date at 93.74 square inches, beat out by the PowerBook 2400c (89.25 square inches) and barely edged out by the PowerBook 100 (93.50 square inches). It had the lowest total volume of any Mac 'Book until the MacBook Air was introduced in 2008.
The battery is rated at 5 hours.
Details
Online Resources
Cautions
Keywords: #12inchpowerbook #12inchpowerbookg4
Short link: http://goo.gl/45ZFfA
searchword: 12inchpbg41.33ghz