The Macintosh officially turned 25 on January 24, 2009, the anniversary of the day Apple announced the original Macintosh to its Board of Directors and to the world – and the world of personal computing has never been the same.
This page covers the Macintosh Era. For coverage of Apple from 1977 through 1983, see our Before the Macintosh section.
1984
1985
1986
1986: Mac Plus, 512Ke, HFS Disks, and the LaserWriter Plus, Dan Knight. In January 1986, Apple introduced the first expandable Macintosh, the Mac Plus, bringing SCSI into play.
The Mini vMac Mac Plus Emulator, Andrew Conachey, Classic Mac Nostalgia, 2005.11.16. Our newest columnist will be looking at Systems 1-6, ancient software, and emulating older Macs on modern hardware.
How Jean Louis Gassée Changed the Mac's Direction, Tom Hormby, Orchard, 2005.06.20. Steve Jobs created the Macintosh as a proprietary, unexpandable information appliance. Gassée saw openness and expandability as essential to the Mac's survival.
The Overpriced Mac in 1986-87, Dan Knight, Mac Musings, 2005.01.11. Comparing the Mac Plus, SE, and II to the 80286 and 80386 PCs of the era.
My First Mac, a Plus, Shocked Me, Leo Titus LeBron V, Collection Spotlight, 2007.07.18. Going from the world of Windows PCs to a floppy-based Mac Plus provided several pleasant surprises, like booting in just 30 seconds.
The Mac Plus after 20 Years, Dan Knight, Mac Musings, 2006.01.16. The Mac Plus broke Apple's original mold, offering expandable RAM, SCSI hard drive support, double-sided floppies, and LocalTalk networking.
The first expandable Macs and portable Macs, Tom Hormby, Orchard, 2005.05.31. 1986-89: Macs gain slots, color, speed, and portability while the last Lisas end up in a landfill.
The Apple IIGS, Apple's Home Computer for 1986, Jason Walsh. Believing Apple II users demanded color and would avoid the Macintosh, Apple created a 16-bit version of the popular Apple II computer.
1987
1987: The Mac Gains Expansion Slots and Internal Hard Drives, Dan Knight. Apple produced the one-millionth Mac in 1987 and introduced AppleShare, along with the Mac II, which was the first Mac with color.
The Legendary Apple Extended Keyboard, Tommy Thomas, Welcome to Macintosh, 2006.10.13. Introduced in 1987, this extended keyboard was well designed and very solidly built. It remains a favorite of long-time Mac users.
Remembering HyperCard, Manuel Mejia Jr, Triassic Mac, 2003.08.11. Apple's easy to use, powerful environment for creating media-rich interactive programs is fading away.
The First Expandable Macs: Mac II and SE, Dan Knight, Mac Musings, 2007.03.02. Until March 2, 1987, Macs were closed boxes with no internal expansion slots, no support for color, and no internal hard drives. The Mac II and SE changed all that.
1988
1989
1989: Mac SE/30, IIcx, IIci, and Portable, Dan Knight. A watershed year saw the introduction of the SE/30, IIcx, IIci, and Macintosh Portable, as well as portrait and 2-page displays.
Was the Macintosh IIci the best Mac ever?, Dan Knight, Mac Musings, 01.19. Introduced in 1989, the Mac IIci was fast, had integrated video, included 3 expansion slots, and could be upgraded in myriad ways.
The misunderstood Macintosh Portable, Dan Knight, Mac Musings, 2009.01.19. Often ridiculed for its nearly 16 lb. weight, people forget that the Mac Portable wasn't designed to be a laptop computer.
Aggressively Stupid: The Story Behind After Dark, Tommy Thomas, Welcome to Macintosh, 2007.02.09. Interview with Jack Eastman, the man who dreamed up After Dark and its ubiquitous flying toasters.
Macintosh Portable, Dan Knight, Second Class Macs, 1998.01.10. At nearly 16 pounds, it was barely portable, but the 10 hour battery was a real plus.
Macintosh IIci, Best Buys. The first Mac past the 16 MHz mark, the IIci has onboard color video, three NuBus slots, and could be accelerated with cache cards and CPU upgrades.
The Overpriced Mac in 1989, Dan Knight, Mac Musings, 2005.01.12. Were the Macintosh SE/30, IIcx, IIci, and Portable overpriced in comparison to the PCs of 1989?
1990
1990: The 'Wicked Fast' IIfx and the First Consumer Macs, Dan Knight. The year Apple introduced the "wicked fast" Mac IIfx and its first accelerated video card – and then came the first consumer Macs.
1990-92: The Windows threat, the next generation Mac OS, and 'wicked fast' Macs, Tom Hormby, Orchard, 2005.06.06. Windows outsells the Mac OS, Apple preps System 7 and Pink, 88000-based Jaguar plans killed, the 'wicked fast' IIfx, and the even faster Quadras.
Apple's Extended Keyboard II: Sequel to a Legend, Tommy Thomas, Welcome to Macintosh, 2006.10.19. A look at Apple's slightly smaller Extended II keyboard with slightly softer key action – but still built like a tank.
1991
1991: Classic II, First Quadras, and First PowerBooks, Dan Knight. System 7, the Classic II, the first Quadras, and the first generation of PowerBooks.
Birth of the PowerBook: How Apple took over the portable market in 1991, Tom Hormby, Orchard, 2005.11.23. After the Mac Portable disaster, Apple came up with a new laptop design that redefined the industry and beat Toshiba and Compaq at their own game.
System 7: Bigger, Better, More Expandable, and a Bit Slower than System 6, Tyler Sable, Classic Restorations, 2006.01.04. The early versions of System 7 provide broader capability for modern tasks than System 6 while still being practical for even the lowliest Macs.
Photoshop History, Matt Pearce, Mac Software Guide, 2008.04.16. An overview of Photoshop for the Mac since 1990.
Setting Up a Mac Classic II, Ted Hodges, Vintage Mac Living, 2006.09.07. Fond memories of using a Classic II in elementary school lead to it being the first Mac set up for a month of vintage, very low-end computing.
PowerBook 100: How Sony Perfectly Miniaturized the 16 Pound Macintosh Portable, Leo Titus LeBron V, Collection Spotlight, 2007.08.08. The PowerBook has the same speed, power, memory capacity, hard drive, and screen resolution at the Mac Portable, but it weighed less than one-third as much.
The Wonderful PowerBook 100, Heather Anne Hurd, My Turn, 2000.12.11. The PowerBook 100 is a wonderful, useful, portable Mac.
The Great Old PowerBook 100 and the Death of the PowerBook Name, Joe Rivera, Mac Fallout Shelter, 2006.03.07. Apple introduced the first PowerBooks nearly 15 years ago, including the tiny PB 100. Now they're killing off the PowerBook name in favor of MacBook.
Radius Rocket: Far More than a Mac Accelerator, Tyler Sable, Classic Restorations, 2005.12.13. The unique Radius Rocket has amazing capabilities but challenges the user to take full advantage of them. Here are three modern options.
Rocket Science 101, b.b., My Turn, 2000.10.30. Six bucks bought a Mac IIci from the thrift store, but what was inside was a revelation.
1992
1993
1993: LC III, Color Classic, Centris, Mac TV, and the First Color PowerBook, Dan Knight. Color Classic, LC III, the short-lived Centris line, and Macintosh TV.
Quadra 660av to the Rescue, Scott Atkinson, Mac Musings, 1999.11.12. How a Quadra 660av saved the day at a New York TV station.
Treasure Your Quadra 840av, Adam Robert Guha, Apple Archive, 2001.08.16. Amazing video effects, stunning sound input, amazing SCSI throughput, and other outstanding features of the Quadra 840av.
Quadra AVs and Some Cool Things You Can Do with Them, Adam Robert Guha, Apple Archive, 2001.08.10. Thanks to digital signal processors, the Quadra AVs remain useful video machines.
The Friendly LC 500 Series, Adam Robert Guha, Apple Archive, 2001.05.18. A look at the compact, friendly, inexpensive LC and Performa 500 series of Macs.
The LC 520: Still Useful after All These Years, Charles W. Moore, Miscellaneous Ramblings, 2002.12.16. Although it shows its age in some ways, it's still a wonderful word processing and email computer.
Mac LC III Still a Most Useful Machine, Jeff Gaskill, My First Mac, 2008.07.30. A love affair that will last as long as they make Macs began with a used LC III in 1997, and it's still being used today.
14 Years of Useful Service from a Macintosh LC III, Mark Shipp, My Turn, 2008.02.26. Purchased in 1993, this LC III has been used as a multimedia center, word processing machine, mail server, Internet router, and print server.
A history of the Color Classic, Tom Hormby, Orchard, 2005.10.31. The first all-in-one Mac with a color display had a bold new look but was crippled on the inside.
Apple Rolled Out 6 New Macs at Once in February 1993, Dan Knight, Mac Musings, 2003.02.17. What was Apple thinking introducing six new Macs in February 1993? Looking back at Apple's broadest product rollout ever.
Macintosh TV, Dan Knight, Road Apples, 1998.04.11. It sounded good in theory – an all-in-one Mac with a TV tuner. Drawbacks included an 8 MB RAM ceiling and no expansion slot.
Mac TV: 12 years before the iMac G5 with Front Row, Tom Hormby, Orchard, 2005.10.18. Apple's first 'living room' computer was Macintosh TV, the first Mac with a built-in television tuner.
The story behind the Newton, Tom Hormby, Orchard, 2006.02.07. The people, problems, and events that shaped Apple's Newton MessagePad.
Michael Spindler: The Peters Principle at Apple, Tom Hormby, Orchard, 2006.04.06. If any Apple CEO demonstrates the danger of moving a qualified employee beyond his abilities, it's Spindler.
1994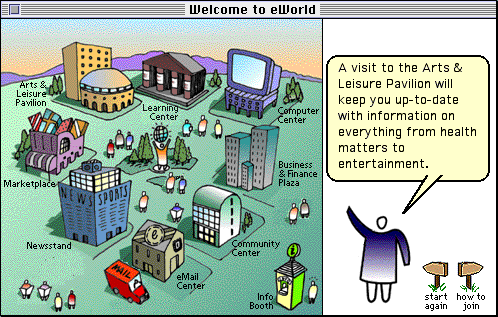 eWorld: Apple's overpriced, poorly marketed online service, Cortland, 2006.09.15. Apple's eWorld was innovative, built communities, and allowed Internet access in 1994, but hardly anyone even knew it existed. And those who did thought it overpriced.
IBM, Apple, RISC, and the roots of the Power Mac, Tom Hormby, Orchard, 2005.08.01. How IBM's RISC project became the heart of the Power Mac.
1995
1996
1997
1998
1999
1999: Faster iMacs, Smurf and G4 Power Macs, Lombard, and the iBook, Dan Knight. Faster iMacs, a blueberry Power Mac, FireWire, Lombard, the first iBook, the first G4 Power Macs, and Y2K panic.
Apple's climb back to success, 1999 to 2001, Cortland, 2006.10.13. From a company with a questionable future in 1997, Apple has become a model of success with new computers, a new operating system, and the iPod.
Is Running Leopard on a Sawtooth Power Mac G4 Worth Doing?, Simon Royal, Tech Spectrum, 2008.10.27. There are several ways to get Leopard running on an AGP Power Mac G4, but a slow CPU, limited RAM, a slow hard drive, and an old video card can bog it down.
Looking for a Power Mac G4? Why You Want an AGP Model, Dan Knight, Mac Daniel, 2003.03.06. Why a used Power Mac G4 with AGP video is a much better value than a Power Mac G4 with PCI video.
Why the Blue and White G3 Is the Workhorse of the Mac World, Leo Titus LeBron V, Collection Spotlight, 2007.10.26. Introduced in January 1999, the blue and white Power Mac G3 was powerful, expandable, and supported all the way through Mac OS X 10.4 'Tiger'.
Boomerang: The Blue and White Power Mac G3 That Kept Coming Back, Charles Webb, The Webb Chronicles, 2008.05.08. Over its nine-year lifespan, this Power Mac had at least five owners before it finally gave up the ghost.
Slot Loading iMacs: The SE/30 for a New Generation, Tamara Keel, Digital Fossils, 2008.05.20. They're relatively small, pretty quiet, reliable, can run Tiger, and are very affordable nowadays.
In Praise of the Refreshingly Different Clamshell iBook, Tamara Keel, Digital Fossils, 2008.04.29. After seven years of faithful duty, the rugged notebook with a handle remains a favorite field computer.
Clamshell iBook Still a Fun and Practical Notebook, Charles Webb, PowerBook Beat, 2006.08.11. 'Granted, this iBook isn't a speed demon in any way, but it's amazing what a 7-year-old Apple notebook can do.'
The Strong Value of the Lombard PowerBook G3, Dan Knight, Mac Daniel, 2003.03.19. Why the 333 MHz Lombard is a particularly good value in portable computing.
Low End Mac's Compleat Guide to Clamshell iBooks, Charles W Moore, 'Book Value, 2008.04.17. Back in 2000, it was about time to replace the WallStreet PowerBook. Would a clamshell iBook be a better value than a newer PowerBook G3?
Low End Mac's Compleat Guide to the Lombard PowerBook G3, Charles W Moore, 'Book Value, 2008.05.13. With the Lombard PowerBook, Apple abandoned the legacy ADB and serial ports for USB, trimmed 20 percent from WallStreet's weight, and hit 400 MHz.
2000
2001
2002
2003
2004
2004: iPod mini and photo, faster 'Books and Power Macs, and the iMac G5. The first aluminum iPod, faster Macs all around, the iMac moved to G5, and Microsoft Office 2004 wowed us.
iMac G5: Nice System, but at a Nice Price?, Alan Zisman, Low End Mac Reviews, 2004.11.01. The iMac G5 sports some impressive improvements, but the question remains the market. Is it too expensive for the low end yet too compromised for the high end?
The iMac G5: iPod Success or Cube Fiasco?, Dan Knight, Mac Musings, 2004.09.01. The iMac G5 is undeniably cool and seems to be a good value, but will consumers flock to it or ignore it?
Microsoft Office 2004 for Macs Does More than Just Match the Windows Version, Alan Zisman, Mac2Windows, 2004.07.28. Microsoft's Mac Business Unit has given Office 2004 users useful features unavailable on any Windows version of Microsoft office.
With Word 2004, Microsoft Finally Gets Everything Right, Adam Robert Guha, Apple Archive, 2004.09.24. Previous versions of Word were frustrating for taking notes, but Word 2004's Notebook feature addresses that – and then some.
iPod mini a Success Despite Pundits, Stephen Van Esch, Mac Scope, 2004.02.18. Experts declared the iPod mini overpriced, but consumers seem to understand the 'small is beautiful' value.
2005
2006
2007
2007: Santa Rosa 'Books, iPhone, Aluminum iMac, and Leopard, Dan Knight, Macintosh History, Dan Knight, Macintosh History. Also the first 8-core Mac Pro, a redesigned iPod nano, and Mac OS X 10.5 on unsupported hardware.
Using the Aluminum iMac: Color Me Impressed, Frank Fox, Stop the Noiz, 2008.04.22. A MacBook is a wonderful thing, but an iMac with a 20-inch display can really spoil you.
The iPhone: Is It a Macintosh?, Dan Knight, Mac Musings, 2007.03.20. Is the iPhone nothing more than the union of iPod and cell phone technology, or does OS X make it a real Macintosh?
Unsupported Leopard Installation, Dan Knight, 2007.10.31. How to install Mac OS X 10.5 on unsupported hardware – plus field reports.
2008
2008: Mac Pro with 4-core Xeon, MacBook Air, Unibody MacBook and MacBook Pro, Dan Knight, Macintosh History. Also Time Capsule introduced, Apple TV updated, the iPhone 3G, and the beginning of the end for FireWire.
MacBook Air Makes a Convert, Alan Zisman, Zis Mac, 2008.09.24. Apple's thin, light MacBook Air makes a great field computer for someone who already has a desktop system up and running.
The October 2008 MacBook Value Equation, Dan Knight, Mac Musings, 2008.10.15. Apple changed the entire MacBook lineup on Tuesday. How do close-out prices compare to the new ones?
The 2008 Penryn iMac Value Equation, Dan Knight, Mac Musings, 2008.04.29. Comparing prices, features, and performance, three of four new models are value champions, and there are some surprising refurb values as well.
The 2008 iPod Value Equation, Dan Knight, Mac Musings, 2008.09.10. Apple has redesigned the iPod nano, slimmed down the iPod touch, simplified the iPod classic line, and introduced new colors for the iPod shuffle.
Other Resources
Keywords: #machistory #applehistory
Short link: http://goo.gl/kmgXZf
searchword: 25yearsofmac