With the introduction of the G4 iBooks in October 2003, Apple phased out the last Macs with G3 processors, which had been in use since November 1997. Although these G4 iBooks use a G4 CPU, it's not the same version used in the PowerBook G4 – this version only has a 256 KB level 2 cache, which means it won't provide the same performance as a PowerBook at the same clock speed.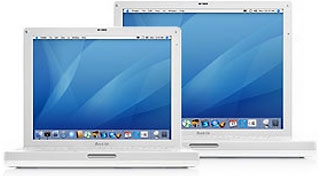 The October 2003 iBooks came in three models: 12″ 800 MHz, 14″ 933 MHz, and 14″ 1 GHz (the CPU reports itself as 1.07 GHz, and benchmarks bear out that number).
All G4 iBooks support AirPort Extreme, which has 5x the bandwidth of the original AirPort. Also included are USB 2.0, room for an internal Bluetooth module, and the use of DDR (double data rate) RAM. This first generation iBook G4 uses Mobility Radeon 9200 graphics with 32 MB of memory.
Base memory on the 12″ model is 256 MB (128 MB onboard, 128 MB in a slot), and all iBooks now ship with a Combo (CD-RW/DVD) drive.
Apple has admitted to a manufacturing defect in first generation G4 iBooks that may cause the power system to fail due to failed solder joints.
Details
Online Resources
Cautions
Keyword: #ibookg4late2003
Short link: http://goo.gl/hv2Ids
searchword: ibookg4late2003