The second-generation iBook Special Edition (SE) adds key lime as an alternative to graphite. It replaces the 366 MHz G3 processor of the earlier iBook SE with the new G3e running at 466 MHz. The G3e includes an on-chip L2 cache that runs at full CPU speed for improved processor efficiency (the larger backside cache in first generation iBooks ran at half of CPU speed).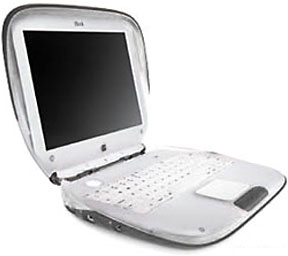 Other big changes include a DVD-ROM drive, FireWire, and video output. Like the original iBook, it has full AirPort support and a battery rated at six hours.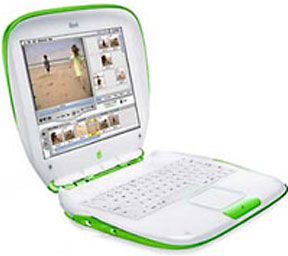 The iBook Special Edition is the least expensive DVD-equipped laptop in Apple's line, and it offers nearly the same speed as the 500 MHz Pismo PowerBook G3. And because OS X 10.4 Tiger almost always came on DVD, it's the only clamshell iBook that can install Tiger directly.
Other than the new colors, the most visible difference between the second-generation iBooks and the first is the colored button in front of the trackpad on the newer models.
Details
Online Resources
Cautions
Keywords: #firewireibookse #ibooksefirewire
Short link: http://goo.gl/5SGERu
searchword: firewireibookse