Apple refers to this as the iMac (Early 2006), but we also call it the iMac Core Duo, one of the first iMacs based on Intel's Core Duo processor.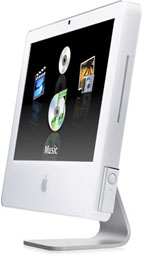 Three months earlier, Apple had introduced an updated iMac G5 – slimmer, lighter, a bit faster, with built-in iSight and sporting a remote control. In January 2006, Apple replaced it with what looks like essentially the same computer from the front, but with an Intel Core Duo CPU instead of a single-core PowerPC G5.
There was a lot of debate about which model would be the first with Intel inside, and the iMac is a good choice. The Core Duo processor offers 2-3x the power of the G5, and it would be unseemly for the new Intel-based Mac mini to outperform the iMac. Which raises the question: Will the new Intel iMac outperform the Power Mac G5 Dual?
The only things that seem to be missing are FireWire 800, which Apple still reserves for its "pro" models and has not yet put on an iMac, and AppleWorks, a product Apple has bundled with every previous iMac. This is the first iMac ever to officially support monitor spanning.
The Core Duo iMac shipped with Mac OS X 10.4.4 Tiger, the first Intel version of the Mac OS, and iLife '06, which is a universal binary and is intended to replace the aging AppleWorks 6.
The biggest drawback to Core Duo iMacs is that they ship with only 512 MB of memory. While that's enough to run Tiger comfortably, it doesn't provide a lot of room for browsers and other high-demand apps. Users will be much happier with 1 GB, and, for the price, you may as well go all the way to its maximum of 2 GB.
What You Need to Know
Using the 32-bit only Core Duo CPUs allowed Apple to introduced Intel-based Macs before the Core 2 Duo, which supports both 32-bit and 64-bit operation, came to market. Because OS X 10.7 Lion is a 64-bit only operating system, Core Duo Macs do not support it, making OS X 10.6 Snow Leopard the end of the Mac OS road for the earliest Intel Macs.
With a 2 GB memory ceiling, this iMac wouldn't run Lion decently anyhow, but the first generation Intel Macs run Snow Leopard very nicely with 2 GB of RAM. If your Early 2006 iMac has 512 MB, upgrade immediately. You really need 1 GB to get okay performance from OS X 10.4 Tiger or 10.5 Leopard. As of June 2016, you can get 2 GB for $15 from Other World Computing, and with Snow Leopard just $20 from Apple, take this iMac as far as it will go with RAM and operating system.
Intel iMacs shipped with 7200 rpm hard drives, and 250 GB may be enough for you. Newer drives will often provide much snappier performance due to larger data buffers. 1 TB 7200 rpm drives start below $40 these days, and for a serious speed boost – like starting up twice as fast – Other World Computing offers a 60 GB solid state drive (SSD) for just $43 ($55 with a mounting kit), although you'll probably want more more capacity than that.
Finally, you can upgrade to a faster, more efficient Core 2 Duo Socket M CPU, although that won't give you 64-bit operation unless you update to EFI firmware 5,1. The 2.33 GHz Core 2 Duo T7600 is a popular upgrade option, currently $26 and up on eBay. (See CPU Upgrade Options for 2006 iMacs.)
Intel-based Macs use a partitioning scheme known as GPT. Only Macintel models can boot from GPT hard drives. Both PowerPC and Intel Macs can boot from APM (Apple's old partitioning scheme) hard drives, which is the format you must use to create a universal boot drive in Leopard. PowerPC Macs running any version of the Mac OS prior to 10.4.2 cannot mount GPT volumes. PowerPC Macs won't let you install OS X to a USB drive or choose it as your startup volume, although there is a work around for that.
Details
introduced 2006.01.10 at US$1,299; replaced 2006.09.06 by iMac Core 2 Duo. Education-only model with Combo drive introduced 2006.07.05.
Model identifier: iMac4,1
Model no.: A1173
Part no.: MA199
Latest EFI version: EFI 1.1
Mac OS
Requires Mac OS X 10.4.4 Tiger to 10.6 Snow Leopard; not compatible with OS X 10.7 Lion or later.
Mac OS X 10.6 Snow Leopard compatibility

Grand Central Dispatch is supported.
64-bit operation is not supported with Core Duo CPUs. Upgrading with a Core 2 Duo CPU will not change that.
OpenCL is not supported with Radeon X1600 GPU.
Core System
CPU: 1.83 GHz Intel Core Duo T2400 Yonah, Socket M makes upgrades possible (see CPU Upgrade Options for 2006 iMacs)
L2 cache: 2 MB shared cache on CPU
Bus: 667 MHz
RAM: 512 MB, expandable to 2 GB using two PC2-5300 DDR2 SODIMMs
Performance:
Video
Graphics: ATI Radeon X1600 with PCI-Express support, supports up to 23″ external display and monitor spanning
VRAM: 128 MB GDDR3 SDRAM
Display: 17″ 1440 x 900 flat panel display
Video out: mini-DVI, VGA, S-video, composite (requires adapter)
Drives
Hard drive bus: 1.5 Gbps SATA Rev. 1
Hard drive: 160 GB 7200 rpm SATA drive
Optical drive bus: Ultra ATA/100 (operates at ATA/33)
SuperDrive: writes DVD±R discs at up to 8x speed, dual layer at up to 2.4x; DVD±RW at up to 4x; reads DVDs at up to 8x, writes CD-R discs at up to 24x, writes CD-RW discs at up to 8x, reads CDs at up to 24x
Expansion
USB: 3 USB 2.0 ports
FireWire 400: 2 ports
Modem: optional 56 kbps USB modem supports v.92
Ethernet: 10/100/gigabit
WiFi: 802.11g AirPort Extreme included
Bluetooth 2.0: included
IR receiver: supports Apple Remote (included)
Microphone: internal
Physical
H x W x D: 16.9 x 16.8 x 6.8 in/43 x 42.6 x 17.3 cm
Weight: 15.5 lb/7 kg
Power supply: 180W
CPU Upgrades
CPU can be replaced with Core 2 Duo or faster Core Duo.
Online Resources
Keywords: #imaccoreduo #imacearly2006
Short link: http://goo.gl/On9TFA
searchword: imaccoreduo