The 600 MHz iMac 2001 SE (for special edition) sat at the top of the Early 2001 iMac family. It was the fastest iMac when released and came in graphite, flower power, and blue Dalmatian (really – see the picture!).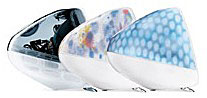 This model replaced the 2000 iMac DV SE at the same price while adding CD-RW, improved video, and a 100 MHz faster CPU.
Mac OS 9
Mac OS X
Non-Apple upgrades and peripherals (such as unsupported USB devices, replacement drives, and third-party memory) may cause problems when installing or booting into Mac OS X.
Be sure to read and follow Apple's "Read Before You Install" install instructions to increase the likelihood of getting OS X installed and running on the first try.
Details
Online Resources
Cautions