code name: WallStreet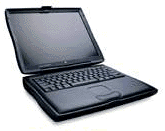 There were two different sets of WallStreet PowerBooks. Series I was introduced in May 1998; Series II (also known as "PDQ") replaced it that September.
These were Apple's first notebook computers that didn't automatically ship with a floppy drive, although it was a popular option. These were the first PowerBooks to offer displays larger than 12″.
In the field, a single battery typically yields 2.5-3 hours of use with Apple's original 49 Watt-Hour battery. Using two fresh Apple batteries could increase that, possibly boosting it into the 5-6 hour range, and NewerTech's 64 Watt-Hour NuPower battery should extend those times by 25% – close to 4 hours with one fully charged battery and 7.5 hours with two. (Running DVD movies will run your batteries down much faster.)
The PowerBook G3 Series computers support up to 512 MB of RAM (note that most low profile 256 MB modules are not compatible – be sure the vendor specifies WallStreet compatibility) making it feasible to run OS X on them. However, there is one big caveat: Drives over 8 GB in size must be partitioned, the first partition must be under 8 GB in size, and OS X can only be booted from that first partition.
Got a G3 PowerBook or iBook? Join our G-Books Group or PowerBooks and iBooks Forum.
Our Mac OS 9 Group is for those using Mac OS 9, either natively or in Classic Mode.
Our Early OS X Forum is for those using OS X 10.0 through 10.3.
Our Puma Group is for those using Mac OS X 10.1.
Our Jaguar Group is for those using Mac OS X 10.2.
WallStreet PowerBooks require System 8.0 or later (8.1 or later recommended) and offically support Mac OS X 10.2.x and earlier. Versions 10.3 and 10.4 can be installed using XpostFacto 4, but the demands of OS X 10.4 lead us to recommend against it. OS X 10.2 or 10.3 should work nicely on all G3 Series models except for "Mainstreet".
Series I
The first series ran at 233, 250, and 292 MHz and was available with 12″, 13″, and 14″ displays. The entry-level 233 MHz Series I model had no level 2 cache, which kept it quite a bit slower than its siblings. It also goes by the nickname MainStreet.
The 12″ display was 800 x 600 resolution; the 13″ and 14″ screens both displayed 1024 x 768. The routing of the cable between the base and screen was problematic with the 13″ display, and it's best avoided.
Series II
Four months later, Apple updated the line, eliminated the 13″ display, and made some other minor changes. The Series II models, also known as PDQ, all have level 2 caches and were available in 233, 266, and 300 MHz speeds. Except for an entry-level 12″ 800 x 600 model, all Series II WallStreets include a 14″ 1024 x 768 display.
Warnings
According to Accelerate Your Mac, many WallStreet owners have reported problems with IBM/Hitachi Travelstar drives where the computer will not wake up from sleep. This is due to a magnetic sensor that responds to a magnet in the Travelstar drive. This problem does not impact other PowerBook G3 models, only WallStreet.
According to the Road Warrior, the drive controller in G3 PowerBooks is incompatible with some ATA-6/Ultra ATA-100 hard drives. When replacing the internal hard drive, you should be sure to obtain an ATA-5/Ultra ATA-66 compliant drive or an ATA-6 or ATA-7/Ultra ATA-133 drive known to work with WallStreet.
Online Resources
Low End Mac's Compleat Guide to the WallStreet PowerBook G3, Charles W Moore, 'Book Value, 2008.05.05. Introduced 10 years ago, the PowerBook G3 had a whole new design, a faster system bus, 2 expansion bays, 2 PC Card slots, and plenty of options.
Best Classic Mac OS Deals. Best online prices for System 6, 7.1, 7.5.x, Mac OS 7.6, 8.0, 8.1, 8.5, 9.0, 9.2.2, and other versions.
Best Mac OS X 10.0-10.3 Deals. Best online prices for Mac OS X 10.0, 10.1, 10.2, and 10.3.
Best Mac OS X 10.4 Tiger Deals. Best online prices for Mac OS X 10.4.
What's the best Mac OS for your iBook, PowerBook, or MacBook?, Charles W Moore, 'Book Value, 2008.08.19. Tips on choosing the best OS for your PowerBook 500 Series or newer Mac notebook.
What's the Best Version of OS X for My Mac?, Ian R Campbell, The Sensible Mac, 2008.02.28. Which version of Mac OS X is best for your hardware depends on several factors.
Low End Mac's Compleat Guide to Mac OS 9, Charles W Moore, Miscellaneous Ramblings, 2008.05.12. Mac OS 9 remains fast and stable, but Classic software hasn't kept up with the changing internet. Which Macs support OS 9, where to buy it, and how to update to 9.2.2.
WiFi cards for PowerBooks with PC Card slots, Simon Royal, Tech Spectrum, 2008.08.12. PC Card and CardBus 802.11b and 802.11g cards known to be compatible with Apple's PowerBooks.
Backing up your G3 PowerBook quickly and easily, John Hatchett, Recycled Computing, 2008.10.27. Who needs Leopard and Time Machine? With an expansion bay hard drive and the right software, you can have a bootable clone ready for use.
$40 802.11g CardBus WiFi card for OS X 10.3 and later, Charles W Moore, 'Book Value, 2009.03.10. Whether it's the Buffalo or Belkin card, it has the same Broadcom chipset as Apple's AirPort Extreme and needs no special drivers.
WiFi CardBus adapters compatible with PowerBooks, MetaPhyzx, Mac Daniel, 2009.03.11. CardBus hardware and drivers compatible with PowerBooks running Mac OS X.
WiFi PC Cards compatible with PowerBooks running OS X, MetaPhyzx, Mac Daniel, 2009.03.11. PCMCIA/PC Card hardware and drivers compatible with PowerBooks running Mac OS X.
WiFi PC Cards for PowerBooks running Mac OS 9, MetaPhyzx, Mac Daniel, 2009.03.10. PCMCIA cards and drivers reported to be compatible with the Classic Mac OS.
WallStreet CPU upgrades, Buffalo WiFi problems, long power outages, and more, Charles W Moore, Miscellaneous Ramblings, 2009.10.14. Also wireless broadband, culprit behind MacBook insomnia, EU iPod volume limits, and QuickPAD connectivity.
Refurb MacBook Pro deal, fastest Mac browser, 256 MB modules for WallStreet, and more, Charles W Moore, Miscellaneous Ramblings, 2009.07.01. Also more Safari 4 feedback, praise for Camino, MacBook cracks, looking for Craigslist software for Macs, and more.
Optimized Software Builds Bring Out the Best in Your Mac, Dan Knight, Low End Mac's Online Tech Journal, 2009.06.30. Applications compiled for your Mac's CPU can load more quickly and run faster than ones compiled for universal use.
Importance of FireWire, replacement battery advice, RAM for WallStreet PowerBooks, and more, Charles W Moore, Miscellaneous Ramblings, 2009.06.24. Also what is IrDA good for? And reflections on Kodachrome, digital photography, and medium format cameras.
Mac 'Book Power Management Adventures, Charles W Moore, 'Book Value, 2009.05.19. If your 'Book won't power up, shuts down while your working, or has other power issues, resetting its internal power manager may clear things up.
500 MHz iBook keeps going, iBook video repair, a WiFi card that costs less than AirPort, and more, Charles W Moore, Miscellaneous Ramblings, 2009.05.13. Also Dell's alternative to the 12″ PowerBook, WiFi hotspot insecurity, and feedback from a Eudora fan.
WiFi hotspot insecurity, iBook longevity, and WallStreet value, Charles W Moore, Miscellaneous Ramblings, 2009.05.06. The dangers of WiFi hotspots, reliability of the 500 MHz iceBook, and the value of a used WallStreet PowerBook.
11 years later, WallStreet PowerBook still productive, Charles W Moore, 'Book Value, 2009.05.04. Introduced on May 4, 1998, the PowerBook G3 Series had lots of power and a curvaceous new design that lasted until the Titanium PowerBook arrived in 2001.
Is It Worth Maxing the RAM in Old G3 and G4 Macs?, Simon Royal, Tech Spectrum, 2009.04.15. Increasing memory can make your old Mac faster and make you more productive, but it probably won't improve resale value by the amount you spend.
My Apple laptops: Past, present, and future, Charles W Moore, 'Book Value, 2009.03.31. Looking back at the WallStreet, Pismo, and PowerBook G4 while moving ahead with a Unibody MacBook.
The 25 most important Macs, Dan Knight, Mac Musings, 2009.02.17. The 25 most significant Macs in the first 25 years of the platform, continued.
Notebooks and blackouts, Charles W Moore, 'Book Value, 2008.12.23. When the power goes out, a notebook computer with long-lasting batteries lets you keep working for hours and hours.
The 'Better Safe Than Sorry' Guide to Installing Mac OS X Updates, Charles W Moore, Miscellaneous Ramblings, 2008.12.16. Most users encounter no problems using Software Update, but some preflight work and using the Combo updater means far less chance of trouble.
Why You Should Partition Your Mac's Hard Drive, Dan Knight, Mac Musings, 2008.12.11. "At the very least, it makes sense to have a second partition with a bootable version of the Mac OS, so if you have problems with your work partition, you can boot from the 'emergency' partition to run Disk Utility and other diagnostics."
Every working computer is useful to someone, Allison Payne, The Budget Mac, 2008.11.19. Whether it's a PowerBook 1400, G3 iMac, or Power Mac G4, it could be all the computer someone needs.
TruePower battery can run WallStreet PowerBook past the 5 hour mark, Tommy Thomas, Welcome to Macintosh, 2008.10.10. If you have a rugged old PowerBook but its battery is losing capacity, TruePower can give you plenty of time in the field.
Getting the most from your G3 Mac, Simon Royal, Tech Spectrum, 2008.10.03. Most G3 Macs can be upgraded so they can run Mac OS X 10.4 'Tiger' quite nicely. Here's how.
Tiger great on old G3 'Books, maximum RAM for 867 MHz PowerBook G4, and more, Charles W Moore, Miscellaneous Ramblings, 2008.10.01. Also why 4 GB of RAM in a 32-bit Vista PC wastes most of the last gigabyte and system profile software for Windows PCs.
Environmentally Responsible Retirement for Old Macs, Rick Lawson, Pioneers in Mac Development, 2008.06.13. After you've scavenged what useful parts you can from your old Mac, what's the most environmentally friendly way to dispose of the rest?
Mac notebook share up 60% in US, Apple refurbs a great deal, RIP PowerBook G4, and more, The 'Book Review, 2008.09.19. Also speculation on next generation MacBooks, refreshing a WallStreet, running a PowerBook 5300 from flash memory, 3G modem sale booming, bargain 'Books from $150 to $2,699, and more.
Portable Mac as primary vs. secondary computer, looking at ThinkPad design, and more, Charles W Moore, Miscellaneous Ramblings, 2008.09.17. Also learning from the Mac Portable, upgrading a PowerBook 5300, another free app to assure maintenance routines are run, and more.
In praise of rugged Mac notebooks of the past, POP3 vs. IMAP email, and buying glasses online, Charles W Moore, Miscellaneous Ramblings, 2008.09.11. G3 PowerBooks were the high water mark for ruggedness, expandability, and reliability. Also the benefits of POP3 email for dialup users, and another article praising online eyewear.
Bring back the Macintosh Portable, Charles W Moore, 'Book Value, 2008.09.09. Not to fault today's MacBooks, but there's something to be said for a no compromise, very expandable, portable Macintosh as well.
Are G3 Macs still viable work machines?, Simon Royal, Tech Spectrum, 2008.09.08. For basic tasks – writing, email, and using the Web – a G3 Mac with Mac OS X 10.4 and sufficient memory provides plenty of power.
TruePower AC adapter for iBooks and PowerBooks is rugged, reliable, and affordable, Charles W Moore, 'Book Value, 2008.08.14. Apple's track record with AC adapters is spotty, but the TruePower adapter is tough enough to survive being run over by a truck.
8 hour runtime realisitic with TruePower batteries for Lombard and Pismo, Charles W Moore, 'Book Value, 2008.08.05. Apple's original batteries could keep you going for up to 5 hours when they were new; these high capacity replacement batteries improve that by 60%.
Tricking out your notebook for superior desktop duty, Charles W Moore, 'Book Value, 2008.07.29. For desktop use, you don't need to be limited by the built-in trackpad, keyboard, and display or a notebook's compromised ergonomics.
Macs: Better by design, Tamara Keel, Digital Fossils, 2008.07.11. From the beginning, Macs have stood apart from other computers with their attractive and intelligent design.
Turn your old Mac into a web server with Linux, Apache, MySQL, and PHP, Jason Packer, Macs in the Enterprise, 2008.07.09. Step-by-step instructions for installing and configuring Linux, Apache, MySQL, and PHP on an older Mac.
Praise for Opera, low cost iBook mobo replacement, IrDA and IRtalk, WaMCom recommended, and more, Charles W Moore, Miscellaneous Ramblings, 2008.06.18. Also the use of 'compleat', booting from CD, new Toshiba 1.8″ drives too thick for MBA, and PowerPC support and Snow Leopard.
Mac OS 9 still nice, anticipating Odysseus, PowerBook 1400 upgrades, and more, Charles W Moore, Miscellaneous Ramblings, 2008.05.14. Also rebuilding PowerBook batteries, FastMac vs. NuPower replacement batteries, and only one G4 upgrade left for WallStreet PowerBooks.
Pros and cons of using Linux on a WallStreet PowerBook, Larry Stotler, Linux on the Low End, 2008.05.06. The old PowerBook G3 Series notebooks aren't without a few quirks when running openSUSE Linux, but for the most part they are good performers.
Fossil WallStreet PowerBook G3 still useful after 10 years, Tamara Keel, Digital Fossils, 2008.05.05. The PowerBook G3 Series had a magnificent keyboard, supports two long-life batteries, and runs the Classic Mac OS with aplomb. It's great for writing writing, email, and even surfing the Web.
Maxed out WallStreet runs Tiger quite nicely, Brian Deuel, My Turn, 2008.05.05. It's no speed demon, but with a 300 MHz CPU, 512 MB of RAM, and a newer hard drive, it's a cheap way to have a notebook Mac.
Mac value, the Hackintosh market, unsupported Leopard, and USB 2.0 for older PowerBooks, Dan Knight, Low End Mac Mailbag, 2008.04.30. High-end Macs cost less than comparable HPs and Dells, the need for a Mac minitower, a Leopard installation tip, Leopard on an 800 MHz iBook, and which PC Cards work with Mac OS X drivers.
Overpriced Macs, 4-core Mac Pro value, USB for G3 PowerBooks, and more, Dan Knight, Low End Mac Mailbag, 2008.04.24. Also reader feedback on running a keyboard through the dishwasher, tips for using external DVD drives, and 8 GB partition issues with the Classic Mac OS on the beige G3.
EmpowerBook, Tamara Keel, Digital Fossils, 2008.04.22. The goal: distraction-free writing on the go. But which PowerBook or iBook is best for the job?
Fading magic at Apple, Major League Baseball's rebound, and an iMac that won't boot from a CD, Charles W Moore, Miscellaneous Ramblings, 2008.04.02. Reflections on Apple's success as a business, CD-ROM problems in a G3 iMac, and Pismo processor problem solved with thermal paste.
Wireless FAQ for Older Apple PowerBook Computers. Resources to help you to install and maintain 802.11b/g wireless PC Cards on older PowerBook computers.
The Complete and Utter Guide to PC Cards and Expansion Bays on the PowerBook, Insanely Great. All about the PCMCIA, PC Card, or CardBus slots used in various PowerBooks.
Power your recycled laptop with a rebuilt battery, John Hatchett, Recycled Computing, 2008.02.20. Old notebook computers usually mean old batteries that may be dead or on their last legs. You can buy a replacement battery, or you can have your old battery rebuilt.
3 ways to better YouTube viewing on older Macs, Dan Knight, Low End Mac Mailbag, 2008.02.06. Watching YouTube videos in your browser on G3 Macs can be painfully slow, but there are several ways to improve your YouTube viewing experience.
Other great USB keyboards, cooler running laptops, the value of old G3 Macs, and more, Charles W Moore, Miscellaneous Ramblings, 2007.12.17. Other alternatives to Apple's aluminum keyboards, booting OS 9 from RAID, weak AirPort reception, and cool running notebooks.
Dell's 802.11g card for PowerBooks, glad for the death of Classic, FireWire cams, and more, Charles W Moore, Miscellaneous Ramblings, 2007.11.05. Also silent computing with 'obsolete' Macs, Leopard and the 867 MHz limit, and Tiger performance on a 600 MHz G3 iBook.
Reasons for sticking with the Classic Mac OS, Tommy Thomas, Welcome to Macintosh, 2007.10.30. Whether it's the simplicity, elegance, speed, or desire not to replace lots of expensive hardware, there are lots of good reasons for sticking with Mac OS 9.
iBook G3 quality, 802.11g for older PowerBooks, installing Tiger on a CD-ROM eMac, and more, Charles W Moore, Miscellaneous Ramblings, 2007.10.29. Also FireWire webcam options for the classic Mac OS and installing Leopard on an upgraded Power Mac G4.
My PowerBook pilgrimage, 1996 to present, Charles W Moore, Miscellaneous Ramblings, 2007.09.24. Starting with a grayscale PowerBook 5300 bought end-of-life in late 1996, the author has used six different 'Book models over the past 11 years
The future of G3 PowerBooks in the Age of Leopard, Dan Knight, Mac Musings, 2007.09.11. There's no G3 support in Leopard. What does that mean for Kanga, WallStreet, Lombard, and Pismo PowerBooks?
Jaguar on WallStreet: Not as slow as you might think!, Leo Titus LeBron V, Collection Spotlight, 2007.07.11. A 233 MHz PowerBook G3 with 192 MB of RAM and a new hard drive performs quite comfortably with Mac OS X 10.2.x.
Silence is golden: Running your existing notebook using flash memory, Dan Knight, Low End Mac Reviews, 2007.05.23. With a new adapter from Addonics, you can replace your laptop's IDE hard drive inexpensively and boot silently from a Compact Flash card.
Why Apple must continue G3 support in Mac OS X 10.5 'Leopard', Dan Knight, Mac Musings, 2007.05.08. "We're worried about what happens if Apple unchecks that box in Xcode to include the instructions necessary to run OS X on G3 processors at all."
Format Any Drive for Older Macs with Patched Apple Tools, Tyler Sable, Classic Restorations, 2007.04.25. Apple HD SC Setup and Drive Setup only work with Apple branded hard drives – until you apply the patches linked to this article.
G4 or Intel mini for video?, G3 support in Leopard, searching for an old Mac, and more, Dan Knight, Low End Mac Mailbag, 2007.04.24. Also connecting a Mac to a Korg keyboard, adding WiFi to a WallStreet PowerBooks, and dealing with a dead iMac.
First Blu-ray drive for Apple's 'Books, replace notebook hard drive with Compact Flash, and more, The 'Book Review, 2007.04.13. Also 160 GB 7200 rpm hard drives, upgrading from a MacBook Pro to a MacBook, Waterfield's flexible new Sling bag, bargain 'Books from $170 to $1,699, and more.
OS X 10.3 or 10.4 on a G4/533?, Lombard to Pismo hard drive swap, 'Book repair, and more, Charles W Moore, Miscellaneous Ramblings, 2007.01.29. The best OS for a G4/533, migrating by swapping hard drives, WallStreet and iBook repair and replacement options, and upgrading RAM in Lombard.
PC Card WiFi for OS X PowerBooks, installing Classic for OS X, Gmail problem with Shiira, and more, Charles W Moore, Miscellaneous Ramblings, 2007.01.15. A low-cost WiFi PC Card for PowerBooks running OS X, tips on installing Classic under Tiger, Gmail broken with Shiira 1.2.2 browser, and stimulating a flashd rive on pre-USB PowerBooks.
Disabling deep sleep on MacBooks, 'Other Red' a scam?, mixed RAM can reduce performance, and more, Charles W Moore, Miscellaneous Ramblings, 2006.11.13. Also other disk utilities Mac owners should know about, Lombard cooling, Netscape 7 on OS 9, Final Vinyl for ripping LPs, and more.
Best OS X for Pismo, mixing RAM speeds, LP to MP3, SpeedFan cools MacBook running Windows, and more, Charles W Moore, Miscellaneous Ramblings, 2006.10.30. Also Lombard still rocks, Powerlogix WallStreet upgrade tip, old Macs still perform admirably, a 64 GB flash drive, and RadTech's clever BT600 mouse design.
Ubuntu on older Macs; Lombard, Pismo, and WallStreet upgrade questions; installing clamshell RAM; and more, Charles W Moore, Miscellaneous Ramblings, 2006.10.09. Also more on why some older Macs can't read modern CR-R discs and Russell Beattie's 'underhanded' criticism of OS X.
Is Ubuntu Linux a sensible alternative for Mac users?, Charles W Moore, Miscellaneous Ramblings, 2006.09.18. If your Mac can run OS X decently, is there any reason to try Ubuntu Linux? If it can't run OS X well, is Ubuntu a reasonable choice?
iMac startup problem solved, PowerBook 5300 and WallStreet memories, removing languages, and more, Charles W Moore, Miscellaneous Ramblings, 2006.09.11. Also Kanga "all I need", another WallStreet upgrade, dual USB iBook thoughts, and problems reading CD-R in older Macs.
Mac OS 8 and 8.1: Maximum Size, Maximum Convenience, Tyler Sable, Classic Restorations, 2006.09.11. Mac OS 8 and 8.1 add some useful new features and tools, and it can even be practical on 68030-based Macs.
Inside your notebook's battery: Ordinary AA Li-Ion cells, Dan Knight, Mac Musings, 2006.09.08. That expensive battery in your notebook computer probably holds less than $30 worth of off-the-shelf AA Li-Ion batteries.
PDQ PowerBook G3 at 8: Still Useful Or Too Long In Tooth?, Charles W Moore, Miscellaneous Ramblings, 2006.09.05. The WallStreet and PDQ PowerBooks were Apple's most expandable 'Books ever, but is even that enough to keep them practical in the era of OS X?
Is the G3 still a practical choice?, Matthew Jay, Macs to the Max, 2006.08.10. Although the G3 is several generations old, it has enough horsepower for most of the things we do on our computers.
Preparing your Mac's hard drive for Linux, Larry Stotler, Linux on the Low End, 2006.08.09. Before you install Linux, you have to partition your hard drive. A look at three different hard drive strategies for Mac Linux.
Customizing Mac OS 9, Nathan Thompson, Embracing Obsolescence, 2006.08.01. Fiddling with themes, picking a browser, and making the Classic Mac OS work just the way you want it to.
The ins and outs of booting Linux on the Mac, Larry Stotler, Linux on the Low End, 2006.07.31. "Old World" Macs can't boot directly into Linux. They need to boot the Classic Mac OS first, then pass control over to Linux.
7 tools for keeping your laptop (uh, notebook) cool, Charles W Moore, Miscellaneous Ramblings, 2006.07.24. A quick look at the Podium CoolPad, ChillMat, ChillHubs, Laptop Desk, Xpad, iLap, and iBreeze – seven stands designed to keep you 'Books running cooler.
Apple's secret battery reset utility for WallStreet and Clamshell iBooks, Joe Rivera, Mac Fallout Shelter, 2006.07.05. If your old 'Books battery isn't taking a charge like it used to, Battery Reset 2.0 could help recover its useful life.
Power strategies for using your 'Book in the field: Batteries and AC adapters, Andrew J Fishkin, The Mobile Mac, 2006.06.05. One or two extra batteries and at least one spare AC adapter can be essential when you're traveling and need to get hours and hours of use from your 'Book.
Apple's WallStreet PowerBook G3 at 8 years old, Charles W Moore, Miscellaneous Ramblings, 2006.05.04. Probably the most flexible, expandable PowerBook ever, the G3 Series offered desktop performance to go – and today it's a good deal on the used market. Also, the WallStreet CPU Upgrade Guide.
New homes for 3 WallStreet PowerBooks, Thomas Ahart, The Productive Mac, 2006.04.07. Although they may need a little restoration work, these are fine machines for using the classic Mac OS in the field.
Many G3 Macs now considered vintage, Mac News Review, 2006.03.31.
Installing OS X on a WallStreet using an external CD-ROM, Charles W Moore, Miscellaneous Ramblings, 2006.03.01. You'll need a Mac OS 9.1 install CD, XPostFacto, a bootable SCSI CD-ROM, and OS X – preferably 10.3 "Panther".
Replacing or upgrading the optical drive in your PowerBook G3 or 1400, Joe Rivera, Mac Fallout Shelter, 2006.01.24. If your CD-ROM or DVD-ROM has died or you want to upgrade to a CD or DVD burner, here's how to do it yourself.
Web browser tips for the classic Mac OS, Nathan Thompson, Embracing Obsolescence, 2006.01.03. Tips on getting the most out of WaMCom, Mozilla, Internet Explorer, iCab, Opera, and WannaBe using the classic Mac OS.
The best browsers for PowerPC Macs and the classic Mac OS, Nathan Thompson, Embracing Obsolescence, 2005.12.16. Two browsers stand out from the pack: iCab 3 is modern and remains under development, and WaMCom brings Mozilla to older Macs.
Is a 1998 'MainStreet' PowerBook good enough for daily use in 2005?, Charles Webb, PowerBook Beat, 2005.11.30. As long as they're running the classic Mac OS, these old, low-end G3 PowerBooks are perfectly servicable machines.
After seven years, is the WallStreet PowerBook obsolete?, Dan Knight, Mac Musings, 2005.05.03. Is the seven-year-old PowerBook G3 Series still useful or ready for retirement?
WallStreet hinge repair saga, Charles W. Moore, Road Warrior, Mac Opinion, 2004.08.31. "Jacek Rochacki…has submitted an illustrated chronicle of how he replaced the broken hinges in his WallStreet with better ones of his own design and hand craftsmanship."
iFixIt Guide: PowerBook G3 WallStreet, PB FixIt. All you need to know to take apart, upgrade, repair, and put your PowerBook back together again. Online and print versions available.
WallStreet and Pismo processor upgrades: Do they make economic sense?, Charles W Moore, Miscellaneous Ramblings, 2004.02.23. A faster clock speed always helps, but should you choose a G3 or a G4 processor?
WallStreet redivivus – and laptop heat issues, Charles W Moore, Road Warrior, Mac Opinion, 2003.11.04. "In which the author's WallStreet rises Phoenix-like from the ashes of a processor meltdown."
Dueling PowerBook G3 CPU upgrades: Which is better for you, a G4 or a fast G3?, Charles W Moore, Miscellaneous Ramblings, 2003.10.20. Which is the better WallStreet or Pismo upgrade, a faster G3 or a 500-550 MHz G4?
Wirelessly Networking a PowerBook 1400 or Other Old Apple Laptop: Step By Step, Derek K Miller, Penmachine.com, 2003.04.12, updated 2004.05.17. You can put one of these older 'Books on an AirPort (802.11b) network for under US$50.
How good a value is a used PowerBook G3 WallStreet?, Dan Knight, Mac Daniel, 2003.03.18. How good a deal is the WallStreet PowerBook under the classic Mac OS – or for running Mac OS X?
Flash memory improves PowerBook, Dan Knight, Mac Daniel, 2002.11.14. Using Compact Flash to boot, save files, run silently, extend battery life, and as virtual memory on a PowerBook.
Rage at being left behind, Dan Knight, Mac Musings, 2001.12.24. It's official – Apple doesn't plan to support graphics acceleration for any Mac with ATI Rage video.
MCE Ships Expansion Bay DVD/CDRW Combo Drive, DVD Decoder Card for WallStreet PowerBook G3 Series, The 'Book Review, 2001.10.08.
Recall: PowerBook G3 AC Adapter Exchange Program. Most WallStreet and Lombard AC adapters recalled. See Apple's page for details.
OS X graphics speedup with early ATI video, Mac OS X: Optimizing for Earlier ATI Graphics Accelerators, 2001.03.09. ATI Rage II+, IIc, Pro, and LT Pro faster displaying thousands of colors, not millions.
SCSI and FireWire Disk Modes, Paulo Rodrigues, Tangerine Fusion, 2000.11.29. How to use SCSI Disk Mode and FireWire Target Disk Mode for ultrafast file transfers.
Hotrodding a WallStreet, RAM and hard drive, Charles W Moore, Road Warrior, Mac Opinion, 2000.11.14.
Upgrading a PowerBook G3, Chris Lawson, 2000.09.11
Newer Tech PowerBook G3 466 MHz upgrade, Accelerate Your Mac, 8/30. US$599 CPU upgrade runs faster and cooler, rivals Pismo 500 performance.
Apple replacing 8 GB WallStreet drives, PowerBook Zone, 8/30. Also nice mock-up image of widescreen Mercury laptop (I want one!).
First taste of Newer Tech G3 WallStreet upgrade, PowerBook Zone, 7/27. Beta tester reports improved speed, battery life.
Accelerate Your Mac! has downloadable color profiles for the iBook and recent PowerBooks that really improve on-screen color.
Recovering a stolen PowerBook, The 'Book Page. One user's experience.
Flaming PowerBooks, The PowerBook Zone
Best Used PowerBook, Mac Daniel
PowerBook G3 Computers: How to Identify Different Models, Apple TIL 24604
keyword: pbwallstreet